£31 Million For The Birds
February 4, 2014
By Paul Homewood
Somerset's New Bird Sanctuary
A few things to round up, with regard to the floods in Somerset.
New Bird Sanctuary
One of the major criticisms of the Environment Agency has been its failure to properly dredge the rivers that drain the Somerset Levels. EA Chairman, Chris Smith claims that this is due to a lack of funding, yet, as local MP Ian Liddell-Grainger, MP for Bridgwater in Somerset, says: "We're just sick to death of it [flooding]. They [the Environment Agency] need to dredge these rivers, stop spending money — £31 million — on bird sanctuaries and spend £5 million, that's all we want, to sort this out."
The bird sanctuary, he refers to, is also in Somerset, at Steart. This was the Press Release when the scheme was launched two years ago
Planning permission has been granted to create one of the UK's largest areas of new wildlife habitat on the Steart Peninsula in Somerset.
The Environment Agency and the Wildfowl & Wetlands Trust (WWT) have worked closely with the local community to develop plans for an innovative flood defence and habitat creation project.
Over the next two years 400 hectares of the Steart Peninsula will be turned into wildlife-rich habitats including saltmarsh and freshwater wetland. These internationally important habitats provide vital feeding and breeding grounds for wading birds and wildfowl as well as homes for animals such as water voles and great crested newts.
Better protection
In addition to boosting wildlife, the scheme will provide better protection for Steart village against flooding from the River Parrett. Stert Drove, the only road linking Steart village with surrounding communities, will also enjoy improved protection.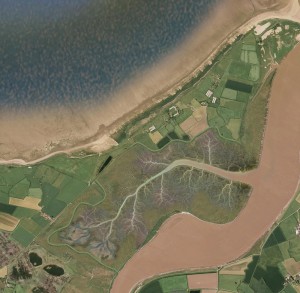 Between 300 – 600 hectares of wetland habitat needs to be created in the Severn Estuary over the next 20 years to compensate for the loss of existing saltmarsh and mudflats through rising sea levels and the construction of new coastal flood defences.
The Government has an obligation to meet these targets and could face legal proceedings if it fails to create enough new coastal wetlands. The habitat creation at Steart will go a long way to meeting the target for the Severn Estuary.
Flooding of the Steart Peninsula is nothing new – it is known to have been prone to flooding for centuries. Given the reluctance of the EA to spend money to improve flood defences elsewhere, it is difficult to avoid the conclusion that the "flood defence" aspect is a bit of a red herring here, and that the real reason for spending so much money is to provide a saltmarsh habitat, partly to meet EU targets.
And then, of course, there's the usual climate change scare, such as this from the WWT:
Recent guidelines predict a rise of one metre in the next 100 years. About 3,700 hectares of intertidal habitat (salt marsh, mud flat and sand flat) will be lost to rising sea levels in the Severn Estuary by the end of the century. About 660 hectares will need to be replaced by 2025 alone. These habitats are rich in biodiversity and important to commercial fishery in the estuary. The Government has a duty to replace them under the EU Birds and Habitats Directives.
It seems as if birds are more important than humans.
Worst Floods For 20 Years
Maybe I am the only one, but I was under the impression, given by the media and official sources, that the Somerset floods were somehow unprecedented or the worst in living memory.
Not according to the Environment Agency, who in their bulletin last week said:
Flood warnings remain in force for south west and southern England
Heavy showers could cause further flooding in south west and southern England through to Wednesday and people should continue to check their flood risk, the Environment Agency said today.
With the ground already saturated, rivers and groundwater levels remain very responsive to rainfall, particularly on the Somerset Levels and Moors– which are currently experiencing the most significant flood for 20 years.
The Brilliant Chris Smith!
Meanwhile, An Environment Agency spokesman said "Chris Smith has done a brilliant job as chairman. But he can only serve two terms as chairman and his second term is coming to an end. There just isn't the option to have him any longer." She added that the agency was working around the clock to alleviate difficulties caused by heavy rainfall.
Well, that will be everybody other than Chris Smith, who has ten other jobs that he has to fit into his busy schedule.