Storm Abigail
November 13, 2015
By Paul Homewood  
http://www.bbc.co.uk/news/uk-scotland-highlands-islands-34794583
So after a night with Abigail, our first named storm, what did it all really amount to?
The BBC have this report:
Gusts of up to 84mph and lightning strikes left 12,000 properties without power at the height of Storm Abigail.
About 1,300 customers remain without electricity after 30 faults affected the Western Isles, Shetland, Skye, Colonsay, Argyll and Angus.
Every school on the Western Isles and Shetland is closed for safety reasons.
The high winds and rain have been followed by wintry showers which have affected driving conditions on the A9 at the Slochd in the Highlands.
Hills, including mountain tops in the Cairngorms and Lochaber, have had fresh falls of snow.
SSE Power Distribution said engineers had restored power to most of the 12,000 customers affected by power cuts and its engineers were working to reconnect 1,300 still without power.
And according to the Met Office, these are the strongest gusts recorded: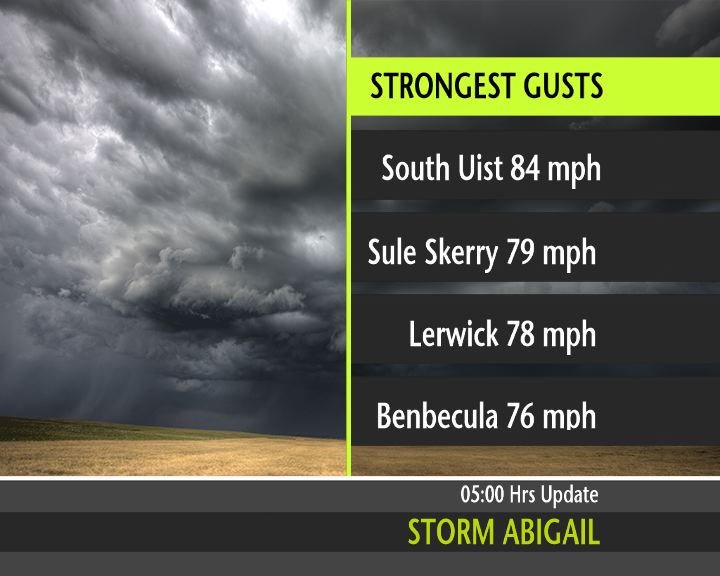 http://www.metoffice.gov.uk/uk-storm-centre/storm-abigail
All four of these sites are extremely exposed island sites, with South Uist being a small island in the Outer Hebrides. In reality, gales like this one are par for the course at this time of year.
There appears to be no evidence at all of winds anywhere near this strength in inland areas.
In comparison with other storms in recent years, there was nothing unusual at all about Abigail. For instance, we can see that the January 2012 storm brought much stronger winds across much of Scotland. (84 mph = 73 Kt)
http://www.metoffice.gov.uk/climate/uk/interesting/2012_janwind
And just a month earlier, winds of 98 mph were recorded in the Shetlands.
http://www.metoffice.gov.uk/climate/uk/interesting/2011_decwind
How long will it be before the Met Office start calling these bigger storms "Super Storms"?
Meanwhile, I have the forecast for the week ahead:
Saturday – Heavy Rain Brian
Sunday – Light Rain Showers Tracey
Monday – Fog Julia
Tuesday – Sunny Intervals Cyril
Wednesday – Drizzle Lucy
Thursday – Light Breeze Rupert
Friday – Snow Showers Viner