The great floods of 1947
March 10, 2017
By Paul Homewood
In the second half of March 1947, the most catastrophic river floods for at least 200 years occurred in the United Kingdom. Aerial view of flooding from the River Thames, Walton, Surrey in 1947
http://www.telegraph.co.uk/news/picturegalleries/uknews/10631218/Deja-vu-Thames-floods-of-1947.html
In 1947, Britain had hardly started the job of recovering from the war which had only ended barely a year before.
The economy was in tatters, many homes and factories were little more than bomb sites and food was still rationed.
As if this was not enough, the country had to endure the snowiest winter for 200 years. Six weeks of snow, which began on January 23, led to thousands of people being cut off by snowdrifts.
But that was only the beginning of the problems the weather was to bring.
Seventy years ago today, the weather was to change disastrously. A depression moved rapidly east across southern England bringing heavy rain.
Between then and the end of the month, depression followed depression across the whole of England. The month ended up being by far the wettest March on record.
http://www.metoffice.gov.uk/climate/uk/summaries/actualmonthly
By the end of the month, the country had experienced the worst floods in living memory.
The Guardian published this account in 2007:
The great floods of 1947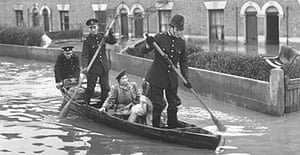 Policemen in a rowing boat rescue inhabitants of Spring Lane, London, where flood waters reached alarming heights after the River Lea burst its banks in March 1947. Photograph: Hulton Archive/Getty images
Britain is no world-beater when it comes to flood prevention and control, but the country has few equals in putting up memorials to great soakings of the past. Everywhere from York to Gloucester via London, notched poles mark the riversides, engraved with historic high-water levels. Prominent on them all is the date 1947, the benchmark year in living memory for every subsequent flood.
Back then, the country, still dazed by the aftermath of war, was gripped by an iron winter and the biggest snowfall anyone could remember. Hundreds of villages were marooned, trains were buried in drifts and queues formed at gasworks during powercuts to fill sacks with coke for fires at home. Then, on March 7, a thaw began in the least helpful way possible. An inch of rain fell in a few hours and could not soak into the still icy ground. Snowmelt followed rapidly and the big rivers rose by a foot an hour. At Windsor, where water streamed off the Great Park "as if off a slate roof", according to royal officials, the borough engineer Geoffrey Baker lamented bluntly, "We could only cope if we had a spare Thames, or two."
Flood defences were pitiful by today's standards and this summer's victims, such as Gloucester and Tewkesbury, became rivers almost at once. Valleys turned into lakes in 40 counties and East Anglia's fens were a sandbagged inland sea. More than 100,000 properties were damaged – at least twice this year's toll – and, then as now, heroic battles were fought by the military to keep water-pumping plants and power stations dry. There was no internet but the sense of crisis was felt worldwide. Canada sent food parcels to stricken villages in Suffolk; the prime minister of Ontario even offered to help dish them out. Relief work in Gloucester was aided by volunteers from the Australian Red Cross.
The floods hit north, south and the flatlands in between, where towns such as Long Eaton, near Nottingham, had just seen furious recriminations about flooding the previous year. No sooner had the town council agreed on warnings from loudspeaker vans and the purchase of six punts and a store of disinfectant for future crises, than the river Trent was rising by a foot an hour. Down the railway line at Nottingham, trains docked like tramp steamers at the city station, taking passengers from platforms which were islands in the flood.
Evacuation was primitive and often unwanted by families who clung to their homes and "upstairs living", with few of the white goods and TVs which lock modern households to the ground floor. Bakers in Upton upon Severn and Shrewsbury – the latter islanded even more completely than Tewkesbury was this year – earned a name for cricket-bowling accuracy in lobbing loaves from skiffs into upstairs windows. In Chiswick, a fleet of small boys earned a relative fortune by going shopping for marooned neighbours in boats converted from zinc baths, equipped with baskets and string. On the river Ouse at Barlby, near Selby, North Yorkshire – spared this year but a major victim in 2000 – national servicemen in the Royal Engineers recounted a different sort of trick.
Their dinghies took bread along the flooded streets but were ordered only to deliver milk if families could show a baby at the window. Street after street produced the necessary infants – "so similar," one veteran of the military operation recalled half a century later, "that we wondered if they had their own boat at the back to pass them from house to house."
The floods peaked after a week and took another 10 days to subside completely, leaving immediate damage estimated by Clement Attlee's Labour government at £12m (£300m at current values). The final cost, after repairs to infrastructure and totting up the devastation to farmland, was between £3bn and £4.5bn, in line with this summer's toll.
Then, as now, saw harking back to even greater swampings. "I was in the 1915 flood and this was only a pond by comparison," a farmer called John Laws told the Ontario PM at Southery Fen. "You can't discourage a man who was born in mud."
https://www.theguardian.com/world/2007/jul/25/weather.flooding1
Perhaps the most outstanding thing about the floods of 1947 was that pretty much the whole of England was affected, from North to South, and East to West.
The Guardian mentions that the East Anglian fens looked like an inland sea. I have come across this collection of films from the Cambridgeshire Fens, which shows just how frightening the floods must have been to the inhabitants at the time.
The first couple of minutes gives a few high-angle shots, but I would recommend watching some of the stuff that follows. (Click on link).
http://www.eafa.org.uk/catalogue/1174
Unless they were alive at the time, nobody now can even begin to understand what life was like in those times.
Years of war followed by ongoing austerity and food rationing, shortages, poverty and an economy that was truly on its knees.
Most people had little enough to start with, and some lost that as well in the snow and floods. Even if not directly affected, many found themselves laid off work, or unable to even buy essential foodstuffs from the shops.
Yet they just got on with life. In reality, they had no other choice.
They did not think of blaming the government, God, and least of all climate change.
Society now has a lot to learn from that generation.