Harrabin's Latest Renewables Disinformation
April 7, 2017
By Paul Homewood
h/t Philip Bratby
http://www.bbc.co.uk/news/science-environment-39513339
From Roger Harrabin:
The world added record levels of renewable energy capacity in 2016, according to the UN.
But the bill was almost a quarter lower than the previous year, thanks to the plunging cost of renewables.
Investment in renewables capacity was roughly double that in fossil fuels, says the report from UN Environment.
It follows news that the cost of offshore wind power has fallen by around a third since 2012 – far faster than expected.
But the report's authors sound the alarm that just as costs are plunging, some major nations are scaling back their green energy investments.
This, they say, reduces the likelihood of meeting the Paris climate agreement.
The paper is published in conjunction with Frankfurt School-UNEP Collaborating Centre and Bloomberg New Energy Finance.
Ulf Moslener, a co-author, told BBC News: "Things are heading the right way, and the learning and technical costs of renewables have done a large part of their job. But investments are not yet there to meet the structural change agreed in Paris."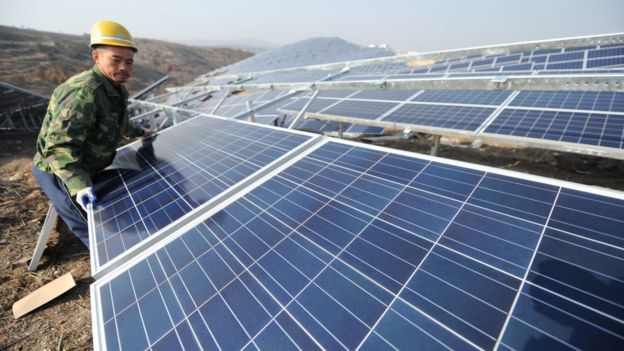 Some countries including China have cut back on their spending on renewables
Europe leads
The report finds that wind, solar and other renewables added 138.5 gigawatts to global power capacity in 2016 – up 8% from 2015. The added capacity roughly equals that of the world's 16 largest existing power producing facilities combined, it says.
Recent figures from the International Energy Agency cited the switch to renewables as one main reason for greenhouse gas emissions staying flat in 2016 even though the global economy grew by 3.1 per cent.
http://www.bbc.co.uk/news/science-environment-39513339
As usual with Harrabin, it is what he forgets to tell you that matters. For instance:
1) He always like to talk in terms of capacity, which as we know grossly overstates the contribution of renewables.
The UN report states:
The proportion of global electricity provided by renewables rose from 10.3% in 2015 to 11.3% in 2016.
This figure excludes large hydro. They do not offer a split, but according to BP wind and solar only contributed 4.5% of electricity in 2015, the last year figures are available for.
If the UN numbers are correct, this would suggest that the remaining 5.8% came from burning biomass, small scale hydro, geothermal and marine.
Whenever he writes about renewables, Harrabin always tries to give the impression that we are really talking about wind/solar. This is backed up by photos of windmills and solar panels. (When was the last time he showed a picture of devastated forests, logs on the way to pellet mills, and backlit images of "black steam" coming out of Drax?)
I suspect that if he had quoted the figures for wind and solar, his readers would have been distinctly unimpressed!
2) Another convenient omission is that electricity only accounts for about 15% of total energy consumption.
Renewables therefore only contribute about 2% of total energy.
3) The report also shows the amount of new generating capacity from other sources:
Added capacity from coal and gas is 91GW, almost as great as renewables. Given that modern fossil fuel plants are capable of running at above 80% loading, this new capacity will probably produce twice as much electricity as renewables.
In fact, the new capacity of gas and coal is greater than shown on the graph, as the UN report explains:
Of course, the new coal plants did not directly replace the closed ones. Most of the new ones are in developing countries in Asia and elsewhere, whereas the ones shutting will tend to be in Europe and the US.
4) Investment in renewable energy has been falling for years. Last year, the biggest reduction was in China, India and Brazil – the very countries that are supposed to be leading the way!
In particular, the UN report states that renewable investment in China has fallen by almost a third.
The claim that this is due to lower costs is  ridiculous – if costs really were falling so fast, countries would be lining up to increase investment.
5) By far the biggest drop in investment has been in solar power, which makes a nonsense of claims that it is one of the cheapest forms of new power.
And the only reason why investment in wind power has not fallen as much is the subsidies thrown at it by governments in Europe:
Investment in renewables did not drop across the board. Europe enjoyed a 3 per cent increase to $59.8 billion, led by the UK ($24 billion) and Germany ($13.2 billion). Offshore wind ($25.9 billion) dominated Europe's investment, up 53 per cent thanks to mega-arrays such as the 1.2 gigawatt Hornsea project in the North Sea, estimated to cost $5.7 billion.
6) It is claimed that the cost of renewable energy is plunging. The renewable lobby has of course been arguing this for years, and using it as a justification for further subsidies.
However, quite apart from the extra costs of connection, Harrabin utterly fails to understand that he is not comparing like with like.
Wind and solar power can only provide electricity intermittently, and to a large extent unpredictably. As such, the power they provide is intrinsically worth less then reliable power provided by fossil fuels and nuclear power.
Cost comparisons are therefore totally meaningless.
It is the job of the BBC to report all of the facts, not just the few that support their agenda.
But we have been here before, haven't we?
Source
The full UN report can be downloaded here:
http://fs-unep-centre.org/publications/global-trends-renewable-energy-investment-2017