English vineyards report 'catastrophic' damage after severe April frost
May 3, 2017
By Paul Homewood
h/t Quaseoveritas
From the Guardian:
English winemakers are reporting "catastrophic" crop damage after the worst frost in a generation wiped out at least half of this year's grape harvest.
Chris White, the chief executive of Denbies Wine Estate in Surrey, said up to 75% of its crop was damaged by last week's sub-zero temperatures: "The temperature dropped to -6C and at that level it causes catastrophic damage to buds," he said.
White said staff had worked in vain using special fans and heaters to protect the vineyard, which at 265 acres in the UK's biggest, after an Arctic blast swept across the UK. "We are very disappointed and it's quite heartbreaking for the people who work in the vineyard all year round," he said. "From what I hear the majority of English vineyards have been affected to some degree."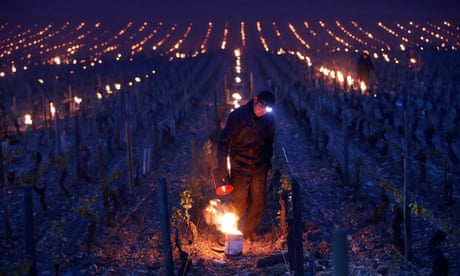 Some of France's most famous winemaking regions, including Champagne, Bordeaux and Burgundy, were also affected by last week's severe frosts. The bad weather is expected to mean another poor year for French producers after last year's cocktail of hail, frost and mildew resulted in one of the smallest harvests in 30 years.
The blow dealt to this year's wine harvest is a setback for an industry enjoying huge success, with Denbies, Nyetimber and Ridgeview among the South Downs vintners winning international acclaim for sparkling – and increasingly still – wine produced in an area that has a geology and microclimate similar to Champagne. It also comes after four record years, a strong run that has encouraged the industry to plan a record 1m vines over the next 12 months.
https://www.theguardian.com/business/2017/may/02/english-vineyards-frost-champagne-bordeaux-burgundy
It is an unfortunate reminder of just how volatile English weather is.
It was only last week that the discredited RHS suggested that we would soon be growing all sorts of exotic varieties.
Last week, the CET recorded two nights below zero, minus 0.7C and minus 0.2c on the 25th and 27th. (Interestingly, I believe that Benson in Oxfordshire went as low as minus 6C, a figure also noted by the Guardian in Surrey. This must cast doubt over the reliability of the CET series).
A look at CET night time temperatures for the last week in April on records back to 1878 shows that this is a perfectly normal occurrence. What is apparent is that there was a run of years in the 1990s and 2000s, when there were no sub zero days.
http://www.metoffice.gov.uk/hadobs/hadcet/data/download.html
Looking at April as a whole, there is also a lot of year to year variability in the number of frost days in the south of England.
http://www.metoffice.gov.uk/pub/data/weather/uk/climate/datasets/AirFrost/date/England_S.txt
We hear a lot about global warming and longer growing seasons, but it is weather which trumps everything.