The Cobalt Cliff
November 25, 2017
By Paul Homewood
John Peterson has developed considerable expertise on the energy storage and renewable energy sectors over many years, and has written regularly about the cobalt supply situation.
This week he has added to the list with a warning about the pending cobalt cliff, which in particular could spell disaster for Elon Musk:
Summary
Volume 1 Issue 2 of Joule features "Lithium-Ion Battery Supply Chain Considerations: Analysis of Potential Bottlenecks in Critical Metals" – an MIT-Berkeley report that confirms my cobalt supply and demand thesis.
A recent Nick French interview on Palisade radio also confirms most of the cobalt supply and demand facts I've summarized over the last 18 months.
After responding to the last caller's question in Tesla's Daliesque Q3 earnings call, Elon Musk launched into a cobalt supply soliloquy that was abruptly aborted by JB Straubel.
The soliloquy did, however, last long enough to confirm my belief that Tesla was less than scrupulous in conducting its Gigafactory due diligence.
Based on the materials discussed below and my prior discussions of cobalt supply and demand dynamics, I believe the cobalt cliff thesis I proposed in March 2016 is no longer debatable and Tesla's (TSLA) management and board were negligent, if not grossly negligent, in starting Gigafactory construction without secure supply chains for cobalt and other critical technology metals.
Since this is a holiday weekend, I'm going to refer readers to my source materials and limit my observations on what those materials say. I strongly encourage everybody to follow the links, read the reports, listen to the recorded interview and then think about how the Cobalt Cliff will impact Tesla and all non-Chinese players in the EV and lithium-ion battery space.
MIT-Berkeley Supply Chain Report
Volume 1 Issue 2 of Joule, a new journal that focuses on ground breaking energy research, featured "Lithium-Ion Battery Supply Chain Considerations: Analysis of Potential Bottlenecks in Critical Metals" – an MIT-Berkeley study that was partially funded by the National Science Foundation and confirms the core of my cobalt supply and demand thesis.
The principal researchers for the study were Elsa Olivetti, the Atlantic Richfield Assistant Professor of Energy Studies at MIT, and Gerbrand Ceder, the Chancellor's Professor of Materials Science and Engineering at Berkeley.
While the MIT-Berkeley study was very comprehensive, it did overlook three points that I discussed last week in a conference call with Professors Olivetti and Ceder:
First, the research team missed the fine point that only 75% to 80% of the cobalt contained in mined ores leave the refinery in useful form. While a 20% to 25% process shrinkage is quite rare, anybody can quickly confirm the facts by comparing the global totals in Tables 8 (mine production) and 9 (refinery production) of the 2015 USGS Cobalt Minerals Yearbook.
Second, the report did not give adequate consideration to inelastic old-line industrial demand for cobalt from industries that will pay any price for a consistent 50,000 to 60,000 tonnes per year, or TPY.
Third, the report did not give adequate consideration to the fact that 80% of cobalt refined in China is used for battery production while only 20% of cobalt refined outside of China is used for battery production.
When the research team's conclusions are adjusted to account for these realities, the cobalt supply chain for non-Chinese EV and lithium-ion battery manufacturers is beyond dire.
From my perspective, the most valuable number in the MIT-Berkeley study was the research team's estimate that total cobalt demand in the battery industry will range between 136,000 and 330,000 TPY in 2025 when cobalt analysts invariably expect non-battery demand of 60,000 tonnes and refined metal supplies of 135,000 to 150,000 tonnes.
Let's get real here, refined cobalt supplies of 135,000 to 150,000 tonnes in 2025 won't be anywhere near sufficient. Something will have to give and it won't be the old-line industrial users.
I was very impressed with this graphic that shows global trade flows of lithium (top) and cobalt (bottom) from miners to refiners. I find it fascinating that big trade flows in lithium go to Europe, Japan and Korea, but the only large cobalt trade flow is DRC to China.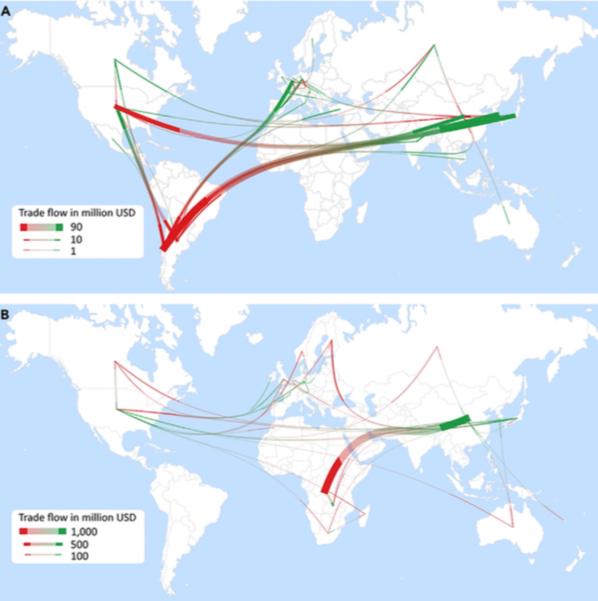 (Source: MIT-Berkeley study)
In addition to the supply chain analysis, the MIT-Berkeley study provides a fine overview of where battery technology is today, where it may go in the future, and how long it will take for new technologies to emerge and achieve cost and performance optimized scale. It's a must read for anyone who believes better and cheaper batteries are just over the horizon.
John Peterson is a lawyer and accountant with over three decades of corporate finance, due diligence, M&A advisory and related legal services for manufacturers, innovators and investors in the energy storage and renewable energy sectors.
Over the last eight years John has earned a global following for his articles on the energy storage and alternative energy sectors. He has contributed to AltEnergyStocks, Seeking Alpha, The Street, NASDAQ.com and Batteries International Magazine and InvestorIntel.
John is a 1979 graduate of the Notre Dame Law School and a 1976 graduate of the W.P. Carey School of Business at Arizona State University. He was admitted to the bar in 1980 and licensed to practice as a CPA in 1981. John's diverse experience in corporate finance, natural resource development and energy storage give him a unique and sometimes unsettling perspective on the technical, economic and supply chain challenges of the battery industry.
Read the full article here.
The map which shows the only really big trade flow goes from the DRC to China.
In an earlier post last month, "Has China Quietly Pushed Tesla, GM, VW And The Rest Of The Auto Industry Over The Brink Of The Cobalt Cliff?", Peterson wrote:
Summary
Annual cobalt use in a handful of essential old line industries grew from 43,600 tonnes in 2006 to 46,800 tonnes in 2016 with an average year-to-year variability of ±6%.
In contrast, cobalt use in battery manufacturing grew from 12,300 tonnes in 2006 to 47,200 tonnes in 2016, an eleven year CAGR of 13%.
In 2006 Chinese interests controlled 23% of the world's refined cobalt supply but by 2016 Chinese control over refined cobalt supplies had stabilized at about 50%.
The overwhelming bulk of Chinese cobalt is used in battery manufacturing, which means the overwhelming bulk of non-Chinese cobalt is used in essential old line industries.
Since industrial cobalt users will have their raw materials at any cost, I think China has quietly pushed all western automakers over the brink of the cobalt cliff.
Conclusion
While the unavailability of non-China cobalt will impact all automakers that have launched or plan to launch EV products with nickel-cobalt batteries, real automakers that have large asset bases and diversified businesses will be able to roll with the punches and adjust their business models to accommodate the vulgar exigencies of cobalt production dynamics.
Tesla stands alone as the one EV manufacturer that cannot implement its business plan, or for that matter continue in business, without ready access to unlimited supplies of cheap cobalt.
This article focuses on a fourth reason why I believe Tesla's business model is doomed and its investment value is zero. Tesla already has been pushed over the brink of the cobalt cliff and while I'm reluctant to predict timing on the SPLAT!, I'm more certain than ever that it will be heard around the world within twelve to eighteen months.
https://seekingalpha.com/article/4111202-china-quietly-pushed-tesla-gm-vw-rest-auto-industry-brink-cobalt-cliff
Peterson has written many articles with similar conclusions, and his website is worth checking out here.
Just one more example. Below is a chart that he built up with data from a Morgan Stanley report on the subject in June:
https://seekingalpha.com/article/4106081-morgan-stanleys-cobalt-report-mirrors-analysis-teslas-supply-chain-risks
Two things stand out:
1) The DRC is forecast to produce 142K tonnes in 2025, 69% of the global total.
2) There will be a shortfall of 21K tonnes by 2025.
Maybe new supplies of cobalt can be found, but what is certain is that demand will rocket if EVs are to take the place of conventional vehicles.
The fact that China has cornered the market for much of the world's supplies is extremely worrying for western countries.