Daily Telegraph Falls For Lord Deben's Extreme Weather Scare
December 13, 2017
By Paul Homewood
https://uk.linkedin.com/in/ashleyjkirk
To the long list of naive young Telegraph journalists, we can add the name of Ashley Kirk.
Last week he penned an article called "What is Britain doing to tackle flooding in the face of extreme weather? " (Unfortunately behind the paywall).
Apparently primed by Lord Deben, he goes on to make apocalyptic predictions that the UK will be hit by a vicious combination of extreme storms, intense downpours and rising sea levels as it faces the next century. This is all apparently predicated on a couple of wet winters in recent years.
Because of climate change he claims that our flood defences simply won't be able to cope with the extreme flooding coming our way.
He quotes Deben as saying that periods of intense rainfall could increase in frequency by a factor of five this century as global temperatures rise, and then goes on to describe all of the problems this could cause in England, with winters being wetter.
There's one slight problem though, which young Mr Kirk might have spotted if he had bothered to check the facts. Winters in England are not becoming wetter. And even the extremely wet winter of 2013/14 had just 8mm more rain than 1914/15.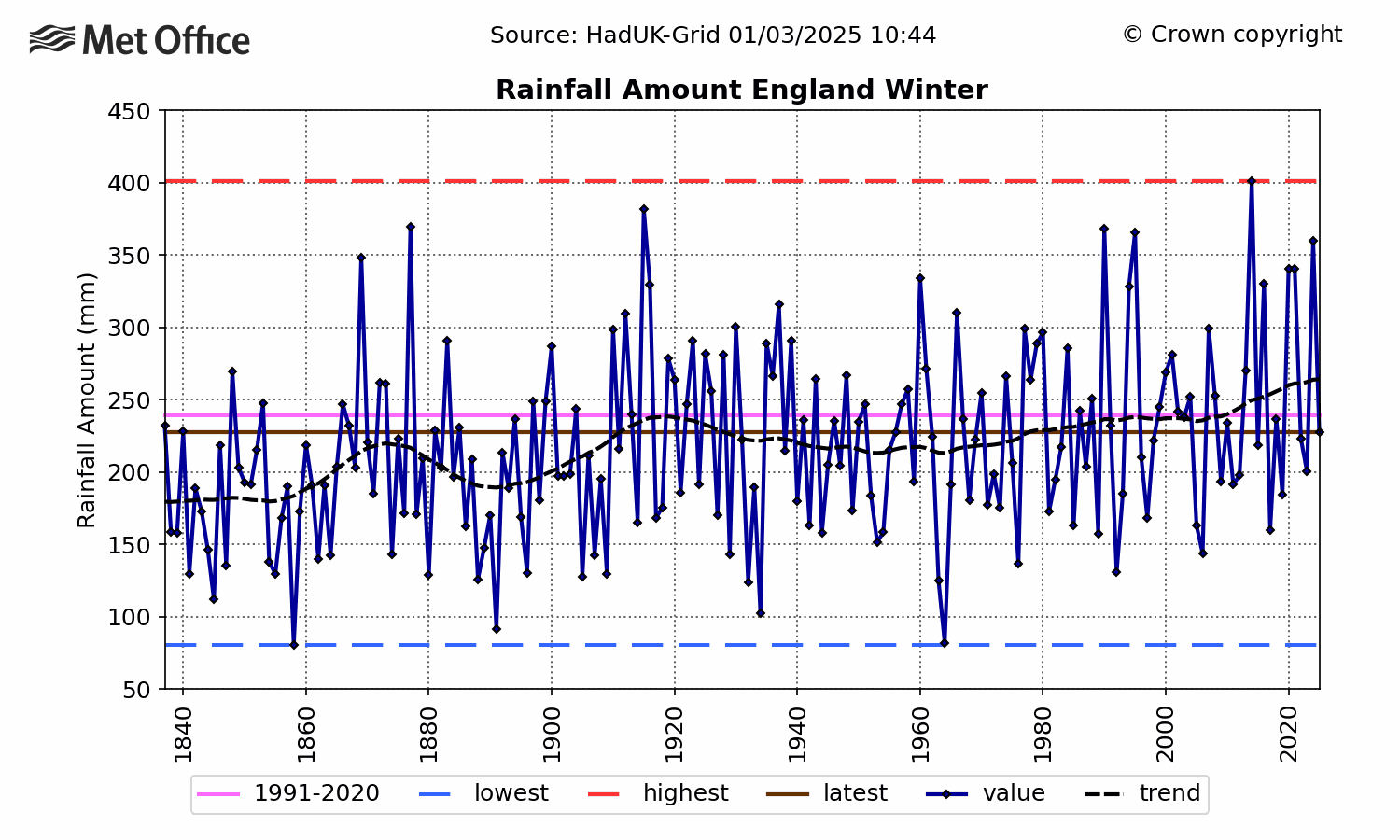 https://www.metoffice.gov.uk/climate/uk/summaries/actualmonthly
Worse still for Deben's little bit of disinformation, there have been several winter months which were much wetter than anything seen recently.
The wettest of the lot was in December 1914.
https://www.metoffice.gov.uk/climate/uk/summaries/datasets
And when we look at all months of the year, we find a similar pattern. Again, the 1910s and 20s stand out as much more extreme.
https://www.metoffice.gov.uk/climate/uk/summaries/datasets
Kirk also reminds us that the Met Office concluded last year that there is around a 10% chance in any given year of existing monthly rainfall records, over any of the large regions, being matched and/or broken. 
Unfortunately it did not occur to him that there are 10 UK regions, as classified by the Met Office, and 3 winter months. In other words, there are 30 possible combinations of regions/months, for which records could be set.
Given that the Met Office data only dates back to 1910, there is statistically about a 1 in 3 chance of such a record being set every year.
If Kirk had bothered to read the Met Office report which he links to, "Met Office science behind the National Flood Resilience Review", he would have discovered this statement near the start:
The flooding in 2013/14 and again in late 2015 was driven by large-scale frontal rainfall, a weather pattern that is often associated with river flooding and typically seen in the UK during winter months. The focus of our work was therefore on looking for synoptic weather patterns that give rise to large accumulations of rainfall that are likely to drive high river flows and flooding.

We also assessed whether climate change has played a clear role in recent rainfall and flooding events and concluded that natural variability is by far the dominant cause and will continue to be so for the next 10 years
The floods of 2013/14 and 2015 were natural variability was the dominant cause, and not climate change.
As for the rising sea levels he is panicking about, he might like to know that they have been rising at a pretty steady 7 to 8 inches a century since 1900, with no sign of acceleration.
The rate of rise was highest prior between 1920 and 1970. In the last fifty years, the rate of rise has fallen to 1.57mm/year. Indeed, at North Shields there has been no rise at all for more than a decade.
https://tidesandcurrents.noaa.gov/sltrends/sltrends_global_station.htm?stnid=170-053
The biggest irony of all of this is that Ashley Kirk claims to be a "data journalist". But apparently he does not believe in actually checking the data himself.