Hurricane Florence–The Myths and The Facts
September 20, 2018
By Paul Homewood
 https://abcnews.go.com/US/million-people-evacuated-coast-hurricane-florence-bears/story?id=57740845
https://www.reuters.com/article/us-storm-florence/mass-evacuations-ordered-as-hurricane-florence-heads-toward-carolinas-idUSKCN1LR0J6
https://www.bbc.co.uk/news/world-us-canada-45517260
http://time.com/5397241/florence-breaks-rainfall-records-in-north-carolina/
 https://www.washingtonpost.com/opinions/climate-change-is-real-welcome-to-the-new-normal/2018/09/17/2ded61e4-bab3-11e8-a8aa-860695e7f3fc_story.html?utm_term=.21f11175fc15 
True to form, the media have been whipping up a state of hysteria about Hurricane Florence. Unlike some of their more irresponsible members, I have waited until all of the data is in, instead of rushing to judgment.
So, to the facts:
Wind Speeds
We will remember some of the original predictions of how Florence was going to be one of the strongest storms ever to hit the Carolinas.
In the event, the hurricane began to weaken long before it reached the coast, where it made landfall as a Cat 1, with sustained wind speeds of 90 mph.
There have been eight major hurricanes which have hit the Carolinas at Cat 3 and over since 1880, including three Cat 4s – Hazel, Gracie and Hugo in 1954, 1959 and 1989 respectively:
 http://www.aoml.noaa.gov/hrd/hurdat/most_intense.html
Fox News reminded us of just how devastating these last three really were:
Hurricane Hugo; 1989
One of the strongest hurricanes to ever hit South Carolina, Hugo made landfall on Sept. 22, 1989, near Sullivan's Island, South Carolina as a Category 4 storm.
Hugo brought massive winds, leveling houses and businesses, tearing down trees and making roads impassable as it hit near Charleston. Overall, it caused $18.7 billion in damage as it wreaked havoc on the Carolinas specifically.
Hugo was blamed for at least 86 deaths, according to the National Weather Service.
Hurricane Gracie; 1959
When it barrelled through the St. Helena Sound in South Carolina on Sept. 29, 1959, Hurricane Gracie was still a Category 4 storm, according to the National Weather Service.
While the storm hit in 1959, it was only designated a Category 4 storm by scientists in 2016, The Associated Press reported.
Gracie caused the deaths of 10 people in South Carolina and brought about $14 million worth of damage, according to The Associated Press.
Hurricane Hazel; 1954
Hurricane Hazel made landfall on the North and South Carolina border on Oct. 15, 1954, according to the National Weather Service. Then, Hazel was a powerful Category 4 hurricane with winds up to 150 mph that brought immense devastation.
An initial report said "all traces of civilization on the immediate waterfront between the state line and Cape Fear were practically annihilated," according to the National Weather Service. Additionally, only five of the 357 buildings in Long Beach, North Carolina, reportedly remained after the storm.
http://www.foxnews.com/us/2018/09/12/hurricane-florence-reminds-carolinas-hugo-other-major-storms.html
Storm Surge
No exact data yet from the National Hurricane Data, but they indicated at the time that storm surge would be between 7 and 11 ft at most. This is well below Hazel, which brought an 18 ft surge.
https://twitter.com/BigJoeBastardi/status/1039708764771893254/photo/1?ref_src=twsrc%5Etfw%7Ctwcamp%5Etweetembed%7Ctwterm%5E1039708764771893254&ref_url=https%3A%2F%2Ftwitchy.com%2Fgregp-3534%2F2018%2F09%2F12%2Fno-clue-joe-bastardi-busts-climate-alarmists-linking-florence-to-global-warming%2F
To give some idea of the devastation wrought by Hazel, read this account from NWS:
Hazel made landfall as a Category 4 hurricane near Calabash, North Carolina, close to the North Carolina/South Carolina state border, halfway between Myrtle Beach and Wilmington. The hurricane brought a storm surge of over 18 feet to a large area of the North Carolina coastline, producing severe coastal damage. Intensifying the damage was the fact that the hurricane coincided with the highest lunar tide of the year. Brunswick County suffered the heaviest damage, where most coastal dwellings were either completely destroyed or severely damaged. For example, in Long Beach, North Carolina, only five of the 357 buildings were left standing.  As a result of the high storm surge, the low-lying sandy barrier islands were completely flooded. The official report from the Weather Bureau in Raleigh, North Carolina stated that as a result of Hazel, "all traces of civilization on the immediate waterfront between the state line and Cape Fear were practically annihilated." The December 1954 NOAA report on the hurricanes of the year states that "every pier in a distance of 170 miles of coastline was demolished".
https://www.weather.gov/mhx/Oct151954EventReview
This certainly puts into the shade anything experienced this year.
Rainfall
Florence set the all time record for rainfall from a single storm, with 35.93 inches, beating the previous record of 24.06 inches from Floyd in 1999.
https://www.wpc.ncep.noaa.gov/discussions/nfdscc4.html
Cue the usual argument that this is because of warmer seas. But nothing could be further from the truth.
Floyd dumped most of its rain on N Carolina in less than a day. It made landfall there on 16th September, but by the next day had torn up the east coast, and emerged at Long Island.
On its way, it continued to inundate everywhere from Virginia to New England.
https://www.weather.gov/mhx/Sep161999EventReview
By contrast, Florence was very slow moving, as a result of interaction with a subtropical ridge:
https://www.nhc.noaa.gov/archive/2018/al06/al062018.discus.062.shtml?
It was this change to a westerly direction which exposed a very small area of the Carolinas to several days of heavy rain, particularly from Thursday to Sunday.
http://time.com/5391394/hurricane-florence-track-path/
For instance, the first 38 hours of the storm (2.0 pm Thursday to 4.0 am Saturday) brought a reported maximum of 23.75 inches:
Because of the slowness of the storm, much more rain was to follow in the next two days.
It is also worth comparing with the Cat 2 hurricane which hit the Carolinas in July 1916. Having made landfall in Charleston, it moved north where it left some of the worst ever floods in N Carolina. In one 24-hour period, it dumped 22.22 inches of rain, still a State record.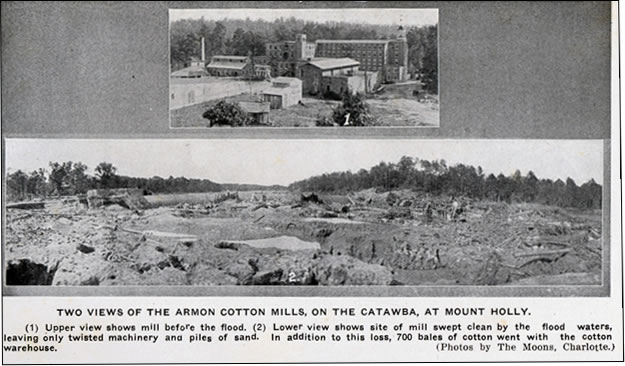 Flooding
Reports of catastrophic and biblical flooding seem wide of the mark, although in some areas it was extremely severe.
According to the NWS, flooding is expected to peak today in most areas. Their latest observations show that major flooding is mainly restricted to the Cape Fear River, which flows through Wilmington (see purple dots). This is unsurprising as that is the area which saw the worst of the rain.
 https://water.weather.gov/ahps/region.php?state=nc
I have also included below the same map with just the major flooding, for better visibility, and annotated the major stations to cross reference with the flood charts which follow:
Burgaw – 1
Fayetteville – 2
Huske Lock – 3
Goldsborough – 4
Kinston – 5
Hookerton – 6
Conway – 7
8
Galivants – 8
Cheraw – 9
Only one station, Burgaw, has broken the record, or appears likely to. Moreover, and this only has historic crest data going back to 1999.
Interestingly, if you look at other Cape Fear River sites, such as Fayetteville and Huske Lock, the records were set back in 1945.
Most of both N and S Carolina have escaped any flooding at all, and the major flooding has been limited to a relatively small area.
This is in stark contrast to Hurricane Floyd:
The record rainfall amounts from Hurricanes Dennis and Floyd led to widespread and prolonged flooding in eastern North Carolina. With the exception of the Lumber River Basin, all of the major river basins in eastern North Carolina experienced flooding at the 500-year recurrence interval
https://pubs.usgs.gov/wri/wri004093/flooding.html 
Final Thoughts
Hurricanes come in all shapes and sizes. They always have and they always will, regardless of global warming. Big, small, fast moving, slow moving, powerful, weak. The difference is often due to tiny variations in meteorological conditions.
Bad though Florence was, there is little doubt that for most living there, N Carolina dodged a bullet. One day, another Hazel, Hugo or Floyd will arrive, and no doubt will be blamed on global warming by those who should know better.
As for Florence, it is already being claimed that the stalling of the storm, and Harvey, close to the coast was made more likely by global warming. Let's run with that then.
The US has just had the longest period on record without a major hurricane, prior to Harvey last year, with atmospheric conditions often steering such storms away from land. Was that  also due to global warming?
Clearly you cannot argue that one set of meteorological conditions is due to global warming, and the other not.
Unfortunately the US East Coast is in the firing line for hurricanes, and all we can do is prepare for them as best as we can.