Cobalt price: Automakers 'waking up too late' as China takes control
October 21, 2018
By Paul Homewood
Apart from all of the other problems posed by the rush to ban petrol and diesel cars, there is one very big one that should really concern us all. The fact that China is moving rapidly to control most of the world's cobalt supply.
Read on and worry:
The auto industry is "waking up too late" to the fact that China will hold most of the world's supply of battery raw material cobalt, Ivan Glasenberg, CEO of top producer of the metal Glencore, said on Tuesday according to a Reuters report.
"If cobalt falls into the hands of the Chinese, yeah you won't see EVs being produced in Europe etc. They are waking up too late … I think it's because the car industry has never had a supply chain problem before," Glasenberg told the FT Commodities Global Summit in Lausanne, Switzerland.
The Democratic Republic of the Congo today has six of the top 10 cobalt mines globally. Due primarily to Chinese investment, by 2022, the central African nation will host the nine largest cobalt producers. Congo also holds half the world's reserves.
Not only is primary production highly concentrated, but the downstream industry is beginning to resemble a monopsony. China, despite having no cobalt resources of its own, is responsible for 80% of the world's cobalt chemical production, which overtook metal production around four years ago.
Glasenberg told FT Chinese refiners and processors "will have most of the offtake of cobalt":
They're not going to sell batteries to the world, more than likely they'll produce batteries in China and sell electric vehicles to the world," Mr Glasenberg told the conference.
Beijing has made electric vehicles a centerpiece of its war on pollution. It also wants the sector to spearhead the country's Made in China 2025 innovation drive.
The China-Congo-Cobalt-nexus poses particular problems for automakers in the US and Europe. Not only in terms of securing supply but also the growing consumer awareness of ethical sourcing of materials. This could lead to premium pricing for cobalt produced outside Congo.
Glencore last week agreed to sell around a third of its cobalt production over the next three years – roughly 52,800 tonnes – to Chinese battery recycler GEM. Glasenberg told the conference he was prepared to sell cobalt mines in the Congo to China if the price was right:
"They may come with a number that blows the lights out. If we get that number I've got to look after shareholders. I'm not here to look after the world politics, so we would sell it, yes," he said.
Electrifying demand forecasts
 Prices for cobalt have quadrupled since hitting record lows two years ago, trading at a decade high of $89,000 a tonne this week.
Mobile phone maker Apple (NASDAQ: AAPL) is said to be in talks to buy long-term supplies of cobalt directly from miners while vehicle manufacturers including luxury carmaker BMW are reportedly close to inking agreements with primary suppliers.
The batteries used in cellphones uses Lithium-Cobalt-Oxide (LCO) compounds with up to 60% cobalt and is is the number one source of cobalt demand at the moment. Nickel-Manganese-Cobalt (NMC) batteries favoured by vehicle makers contain less than 20% cobalt with ratios set to gradually fall to only 6% cobalt through a process of thrifting. (EV pioneer Tesla's favoured battery technology uses relatively small amounts of cobalt.)
Only around 10% of cobalt supply currently end up in electric vehicles, but the boom in electric cars could more than quadruple demand for cobalt to in excess of 450,000 tonnes by 2030 from less than 100,000 tonnes last year, according to Bloomberg New Energy Finance.
http://www.mining.com/cobalt-price-automakers-waking-late-china-takes-control/
If China controlled 80% of the world's oil supply, I suggest we would all be very concerned. Yet governments here and in Europe are falling over themselves to ban technology that works, thus throwing our car industry to the wolves, and instead place the transport systems, upon which our economies are so dependent, at the whims of the Chinese government.
Cobalt prices have already rocketed in the last couple of years, and last month the Democratic Republic of Congo announced it would impose a 10 percent royalty tax on cobalt producers.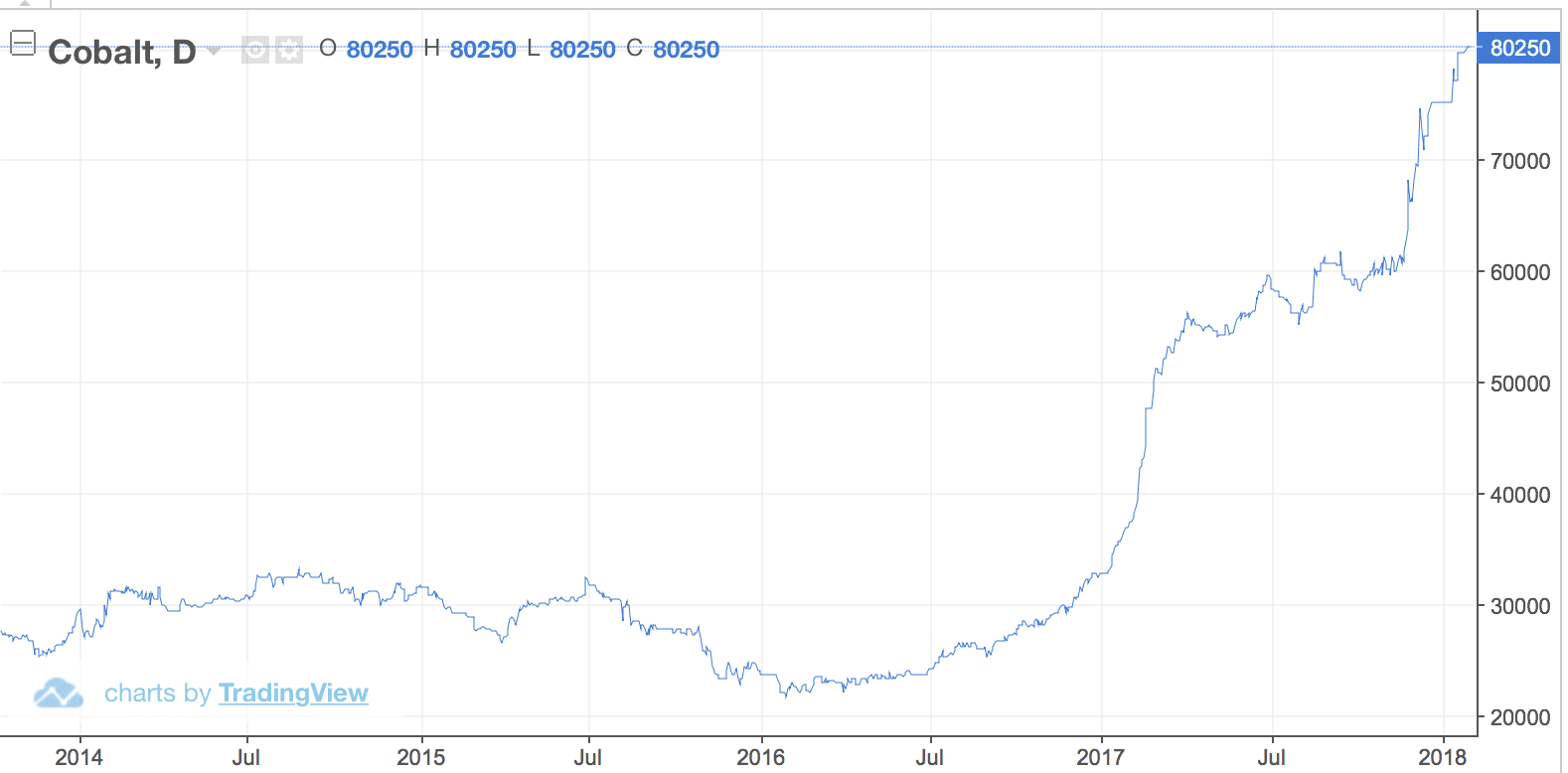 https://limacharlienews.com/africa/cobalt-mining-congo/
Other sources of cobalt may, of course, be developed over the time, and other metals may help to reduce the dependence on cobalt in batteries.
But these are all ifs and maybes. It seems to me to be suicidal for our government to be leading us down this blind alley, having burned our bridges behind us.