Nissan chooses Japan over UK to build new X-Trail car
February 4, 2019
By Paul Homewood
While there have been attempts in some quarters to blame Brexit for Nissan's decision to cancel plans to build the new X-Trail in Sunderland, the truth is much more mundane and worrying, as even the BBC reluctantly admit:
Nissan has confirmed that the new X-Trail originally planned for its Sunderland plant will instead be made in Japan.
In a letter to workers, it said continued Brexit uncertainty is not helping firms to "plan for the future".
In 2016, the carmaker said it would build the new model in the UK after "assurances" from the government.
Unions described the news as "disappointing" and said they were "seriously concerned".
The government said Nissan's decision was "a blow to the sector" but that no jobs would go as a result.
Nissan has made cars at Sunderland since 1986 and employs almost 7,000 people.
Changing environment
Commenting on its decision, Nissan also said that since 2016 "the environment for the car industry in Europe has changed dramatically", including "changing emissions regulations".
In the UK, diesel cars that fail to meet the latest emissions standards now face a levy and a number of European countries, including the UK, have announced bans on both new diesel and petrol vehicles in the future.
As a result, sales of new diesel cars in the UK tumbled by 30% in 2018, according to the Society of Motor Manufacturers and Traders.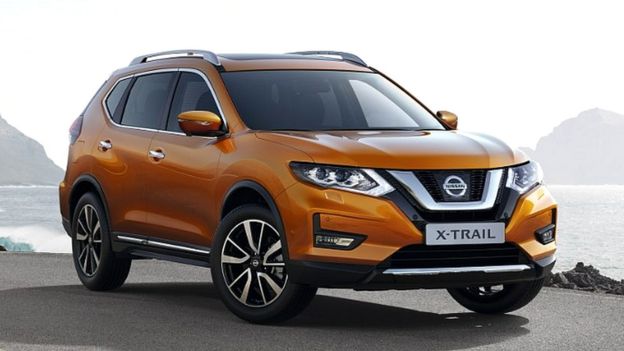 Nissan was always going to produce the X-Trail model at its Kyushu production hub but decided two years ago, "there was a good business case for bringing production to Europe as well," according to the firm's Europe chairman, Gianluca de Ficchy.
He said the company is now planning "to optimise our investments and concentrate production in Kyushu, instead of adding another production site".
https://www.bbc.co.uk/news/business-47107561
Nissan's own figures show how much sales have declined in Europe, by 12% in just the last year:
https://newsroom.nissan-global.com/releases/release-41181d20da4d17b77ed88d7008064d96-190130-01-e?lang=en-US
This is reflected in UK production data, down by 10.7%.
As we have already seen, sales of diesel in the UK have plummeted in the last year or so, as a direct consequence of the government's demonization of diesel cars, and its longer term obsession with EVs.
The UK is not alone either, with others such as France also looking to ban conventional engined cars in the not too distant future.
It is little surprise that potential buyers of diesels are thinking twice, nervous of punitive taxation, congestion charging or even outright bans from city areas. Even if these threats may not be imminent, there is still the worry about residual values.
As the Telegraph pointed out last May, Nissan may pull out of selling diesels completely in Europe. Around a quarter of Nissan's Sunderland plant's output is diesel-powered cars.
The X-Trail is, of course, a purely diesel model. It is hardly surprising then that Nissan are not keen on spending hundreds of millions building its new X-Trail in the UK, when there may be few potential buyers here or in Europe in ten years time.
As I commented a few months ago, the government's obsession with EVs is putting the UK car industry at great risk. The first sign of this would a reluctance of car firms to invest in new models and assembly lines for them, when there may not be a market for them in a decade's time.
As a result, we would start losing market share to imports.
Nissan's decision to manufacture the X-Trail in Japan rather than here may a portent of things to come.