Search For Shackleton's Ship Abandoned As Sea Ice Moves In
February 17, 2019
By Paul Homewood
From the BBC:
The attempt this week to find Sir Ernest Shackleton's missing ship, the Endurance, has ended – without success.
A UK-led expedition to the Weddell Sea sent a sub to the ocean floor to look for the sunken polar yacht, but this robot was itself lost in the process.
The team has now withdrawn from the area because of deteriorating weather and sea-ice conditions.
Shackleton and his crew were forced to give up the Endurance in 1915 when frozen floes crushed its hull.
Their escape across the Antarctic sea-ice on foot and in lifeboats is an astonishing story of fortitude and survival.
The idea of finding the remains of the Endurance has captivated maritime historians and archaeologists for decades.
"As a team we are clearly disappointed not to have been successful in our mission to find Endurance," said Mensun Bound, the director of exploration for the Weddell Sea Expedition 2019 group.
"Like Shackleton before us, who described the graveyard of Endurance as 'the worst portion of the worst sea in the world', our well laid plans were overcome by the rapidly moving ice, and what Shackleton called 'the evil conditions of The Weddell Sea'."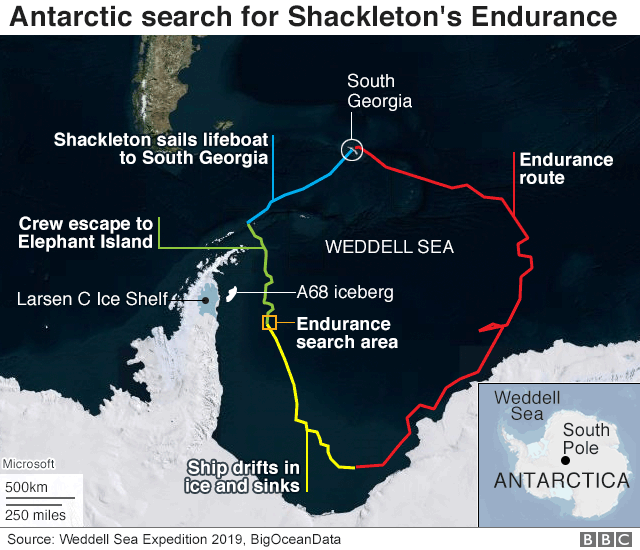 https://www.bbc.co.uk/news/science-environment-47227657
Although the BBC story is a bit vague, the expedition website makes absolutely clear that the ship got out because of the real risk of being trapped in sea ice:
https://twitter.com/WeddellSeaExped/status/1095626803971006465
Indeed, the ship was already surrounded by sea ice before leaving:
https://twitter.com/WeddellSeaExped
Given that the Antarctic is now at the end of summer, it shows that there is just as much sea ice around in that part of the world as there was in Shackleton's time a century ago.
This should not come as a surprise, as Scott and Shackleton's log books gave exactly the same message, as did my analysis of Shackleton's voyage.