Amazon Fires–Latest BBC Fake News
August 24, 2019
By Paul Homewood
I've only been gone a couple of days, and there's already yet more hysterical (and fake) reports across the world's media!
"Record wildfires in the Amazon" shrieks the press, and apparently it is Brazilian President Bolsonaro who is to blame, and not global warming (though there is not much difference. Surprised they did not blame it on Trump as well).
Brazil's Amazon rainforest has seen a record number of fires this year, new space agency data suggests.
The National Institute for Space Research (Inpe) said its satellite data showed an 84% increase on the same period in 2018.
It comes weeks after President Jair Bolsonaro sacked the head of the agency amid rows over its deforestation data.
The largest rainforest in the world, the Amazon is a vital carbon store that slows down the pace of global warming.
It is also home to about three million species of plants and animals, and one million indigenous people.
Conservationists have blamed Mr Bolsonaro for the Amazon's plight, saying he has encouraged loggers and farmers to clear the land, and scientists say the rainforest has suffered losses at an accelerated rate since he took office in January.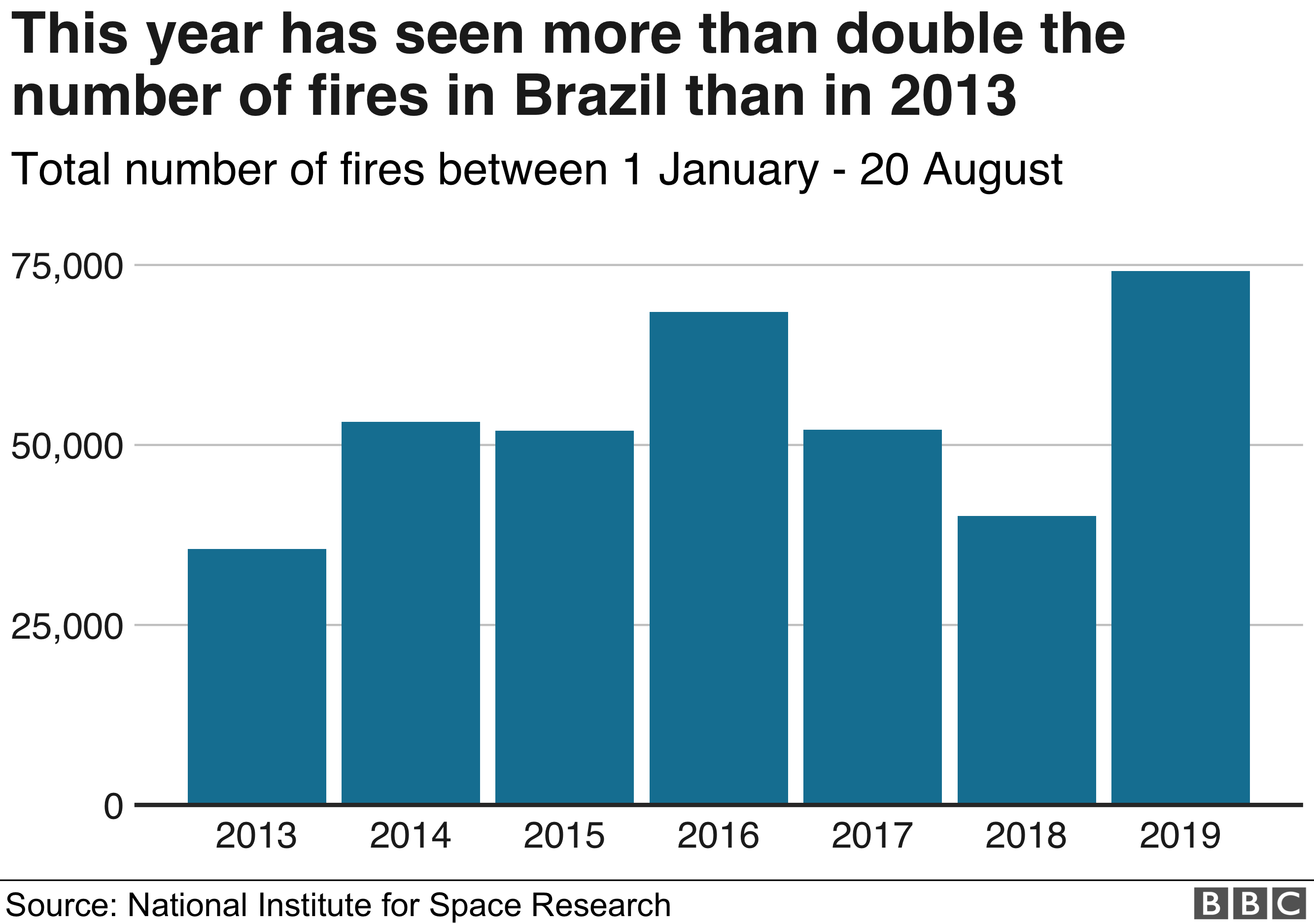 Why are there fires in the Amazon?
Wildfires often occur in the dry season in Brazil but they are also deliberately started in efforts to illegally deforest land for cattle ranching.
Inpe said it had detected more than 74,000 fires between January and August – the highest number since records began in 2013. It said it had observed more than 9,500 forest fires since Thursday, mostly in the Amazon region.
In comparison, there are slightly more than 40,000 in the same period of 2018, it said. However, the worst recent year was 2016, with more than 68,000 fires in that period.
The satellite images showed Brazil's most northern state, Roraima, covered in dark smoke, while neighbouring Amazonas declared an emergency over the fires.
Mr Bolsonaro brushed off the latest data, saying it was the "season of the queimada", when farmers use fire to clear land. "I used to be called Captain Chainsaw. Now I am Nero, setting the Amazon aflame," he was quoted by Reuters news agency as saying.
https://www.bbc.co.uk/news/world-latin-america-49415973
The first thing to notice is that these "records" only date back to 2013, so really are not worth the paper they are printed on. And, as the Science 2.0 website points out, the INPE data is not designed as a fire count system, but as a rapid alert system. Often fires are double counted, which is irrelevant to the system's purpose.
As with all of these detection systems, methods and technology improve all the time. INPE will no doubt spot may fires missed in earlier years, just as satellites can now spot hurricanes previously missed.
However, there is a reliable fire count system, using NASA data, which shows that this year is actually below average for fires in Brazil.
Below is NASA's latest summary:
As of August 16, 2019, an analysis of NASA satellite data indicated that total fire activity across the Amazon basin this year has been close to the average in comparison to the past 15 years. (The Amazon spreads across Brazil, Peru, Colombia, and parts of other countries.) Though activity appears to be above average in the states of Amazonas and Rondônia, it has so far appeared below average in Mato Grosso and Pará, according to estimates from the Global Fire Emissions Database, a research project that compiles and analyzes NASA data.
https://earthobservatory.nasa.gov/images/145464/fires-in-brazil
And this is the key chart from the Global Fire Emissions Database:
https://www.globalfiredata.org/forecast.html#totals
You can hover over the graph to check daily data, but the full summary back to 2003 only appears at the end of each month. From that we can see that the early years between 2003 and 2007, along with 2010, experienced the worst fire totals.
Obviously 2019 (the green line) does not show up for Aug 31st yet, but it is in the middle of the pack, and a long way behind the record year of 2005.
Put simply, the BBC's claims of a "record number of wildfires" is absurd, something which should have been obvious to any competent journalist with a bit of basic factchecking.
Of course, this article is purely intended as a "get Bolsonaro" ploy, no doubt coordinated by the green blob.
Is the Amazon rainforest burning up?
The dishonesty does not stop there, oh no!
The scary headlines hinge on two pieces of propaganda:
1) These wildfires are not normal events.
2) The rainforest is being destroyed.
In fact, as Science 2.0 explain, most of these fires are controlled grassland fires, deliberately set off to destroy shrub. This is a common and necessary process to manage farmland, which may have been originally created by deforestation decades ago.
Occasionally the fires get out of control and burn rainforest too, but this is incidental.
The ranchers use fire for forest clearing, "slash and burn agriculture" as it is called. That is because it is much easier to convert forest into grassland by burning it than to do it by felling the trees. Once it is cut, the way they manage the pastures is to reburn them every few years to clear out the brush and to get the grass to resprout.
So not all the fires you see are burning in virgin tropical rainforest. Many are controlled grassland fires, to get the grass to resprout. We do something similar in the UK where they do controlled burning of heather (muir burn) for grouse, sheep and deer.
It is illegal to start those fires in Brazil during the driest season because though it is the easiest time to burn the grassland the fires can get out of control too easily. But they are not always started with the intention to burn down the tropical forest. It's often just a mistake. The same happens for heather fires in the UK some of our forest fires are due to out of control heather fires
https://www.science20.com/robert_walker/nasa_say_the_amazon_is_burning_at_below_average_rates_yet_many_news_stories_say_record_rates-240959 
We can see what is really going on this photo from the Daily Mail:
It is obvious that this is not rainforest burning, but grassland.
And as the NASA report makes abundantly clear, this is the fire season in the Amazon, the dry time of year when farmers always use fire to clear their land.
In the Amazon rainforest, fire season has arrived. The Moderate Resolution Imaging Spectroradiometer (MODIS) on NASA's Aqua satellite captured these images of several fires burning in the states of Rondônia, Amazonas, Pará, and Mato Grosso on August 11 and August 13, 2019.
In the Amazon region, fires are rare for much of the year because wet weather prevents them from starting and spreading. However, in July and August, activity typically increases due to the arrival of the dry season. Many people use fire to maintain farmland and pastures or to clear land for other purposes. Typically, activity peaks in early September and mostly stops by November.
https://earthobservatory.nasa.gov/images/145464/fires-in-brazil
So the Amazon rainforest is not at risk, as the hyperventilating newspaper reports suggest, and what is going on this year is nothing out of the ordinary.
I mentioned at the start that Bolsonaro is getting the blame this time, and not climate change.
However, there is always one idiot that makes the exception. Step up, Peter Oborne, the Daily Mail hack, who totally lost the plot years ago. Today he had this to say:
Advice to Obore – Please check the facts in future, before you write about matters you quite clearly don't understand.