Hurricane Dorian–The Facts v The Myth
September 6, 2019
By Paul Homewood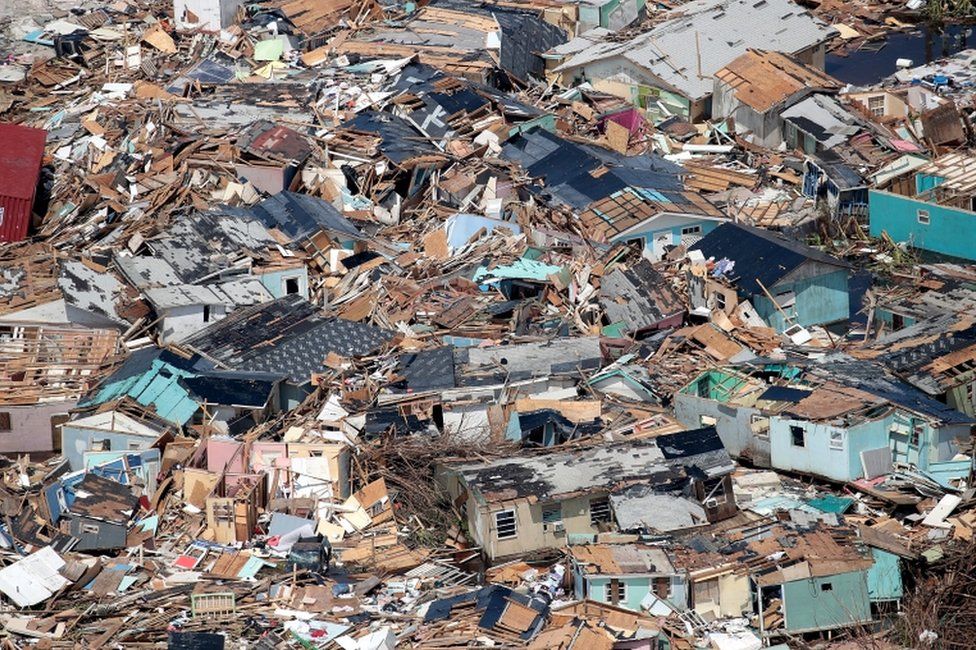 Devastation on the Abaco Islands, after Hurricane Dorian
Let me start by confirming the very real devastation left by Hurricane Dorian in the Bahamas, particularly the Abaco Islands, which took the direct hit.
According to the BBC:
The death toll from Hurricane Dorian in the Bahamas will be "staggering", the country's government has warned as aid efforts are being stepped up.
The official death toll stands at 30, but is expected to rise further.
Officials are sending morticians and 200 body bags to the Abaco Islands, the worst-hit part of the archipelago.
Nevertheless, we need to analyse what actually happened.
It has been widely reported that sustained wind speeds reached 185 mph, with a peak pressure of 910 mb.
This would make Dorian the second strongest Atlantic hurricane:
https://en.wikipedia.org/wiki/List_of_Atlantic_hurricane_records#By_pressure
But are we comparing like with like? I have even seen the BBC claim that Dorian was as strong as the Labor Day hurricane of 1935. But this is simply absurd.
There were no satellites or hurricane hunter aircraft around in 1935 to measure wind speeds. All hurricanes lose intensity when making landfall, so the numbers for the Labor Day storm, which were based on landfall, cannot be compared to Dorian's, taken out in the Atlantic. (Peak intensity for Dorian occurred just before its eye hit the Abacos, which, being small and low lying, would have had little impact on its intensity.)
As with most hurricanes of that era, the wind speeds in 1935 were not directly measured. In the Labor Day's case, it was estimated from the barometric pressure, which was recorded on land at the centre of the hurricane as 892 mb. The instrument was subsequently carefully checked by the Weather Bureau in Washington, and found to be accurate. Theoretically, such a pressure should indicate windspeeds of 186 to 189 mph, but this was adjusted down to 185 mph at the time. Almost certainly though, winds before landfall would have been higher, probably around 190 mph.
Clearly, in theory, Dorian should have been nowhere near as powerful as the Labor Day, with a much higher pressure of 910 mb.
Indeed, when we look at the most intense Atlantic hurricanes by pressure, we see a much different picture than the one portrayed by the supposed wind speeds:
https://en.wikipedia.org/wiki/List_of_Atlantic_hurricane_records#By_pressure
At 910 mb, Dorian had the same pressure as the Cuba hurricane of 1924, which only had windspeeds of 165 mph. The comparison is a telling one.
As with Labor Day, Cuba's windspeeds were estimated from nearby barometer readings, both at sea and on land. It is, of course, rare that there would be any such readings at the centre of powerful hurricanes, not least because ships would try to avoid them.
If the same methodology of using barometric pressure had been used for Dorian, the winds would have been estimated at 165 mph.
The other "Cuba" hurricane on the list, in 1932, also makes a pointed comparison. The hurricane had been tracked (involuntarily, as its funnel had been blown off!) by a ship, the SS Phemius. Shipboard instruments recorded a minimum pressure of 915 mb, now accepted as the official figure. However, as the ship was not within the hurricane's eye, the true pressure must have been less. The record says Cuba was not as strong as Dorian, but how do we know?
Inevitably, there must have been many more hurricanes in that earlier era, where there was no pressure data available to record the peak intensity of the storm.
Clearly the numbers being spewed out these days from satellite data can in no way be compatible with measurements form earlier hurricanes.
Which brings us back to Dorian.
As I have pointed out many times before, the "actual windspeeds" are nothing of the sort. They are only what the "forecast track" predicted.
In Dorian's case, the actual data from satellites suggested speeds of around 120 kts, or 138 mph.
http://rammb.cira.colostate.edu/products/tc_realtime/storm.asp?storm_identifier=AL052019
Digital Dvorak estimates also imply speeds of not much more then 120 kts:
http://rammb.cira.colostate.edu/products/tc_realtime/storm.asp?storm_identifier=AL052019 
According to the National Hurricane Centre, the warning intensity was based on data from a reconnaissance plane:
https://www.nhc.noaa.gov/archive/2019/al05/al052019.discus.034.shtml?
This aircraft data was actually provided by Stepped Frequency Microwave Radiometers (SFMR), but these have only been in operational use since 1984. Whether this system is more reliable in estimating surface wind speeds than other methods is immaterial, as you are comparing apples and oranges.
Using it to compare with hurricanes prior to 1984 is grossly misleading.
In any event, there are acknowledged problems with the system, particularly shoaling, as the National Hurricane Center admit:
 https://r.search.yahoo.com/_ylt=AwrJQ5vgZXJdWQsAaHVLBQx.;_ylu=X3oDMTBydWZibG83BGNvbG8DaXIyBHBvcwM4BHZ0aWQDBHNlYwNzcg–/RV=2/RE=1567807072/RO=10/RU=https%3a%2f%2fwww.nhc.noaa.gov%2foutreach%2fpresentations%2fnhc2013_aircraftData.pdf/RK=2/RS=sbCHHAqqEGsPkCUDwXYD6uvcMHE-
All of the evidence suggests that Dorian was no more than a 165 mph storm, and maybe less, still of course Cat 5 and extremely damaging. But nonetheless an altogether too common event in that part of the world.
Indeed, the damage on the ground, much of which was presumably due to storm surge, catastrophic as it is, could have nevertheless been consistent with a Cat 4 storm.
There is no evidence whatsoever that Dorian was the second most powerful Atlantic hurricane on record.