Faster pace of climate change is 'scary', former chief scientist says
September 18, 2019
By Paul Homewood
h/t Philip Bratby
Harrabin is getting ever more hysterical these days:
Extreme events linked to climate change, such as the heatwave in Europe this year, are occurring sooner than expected, an ex-chief scientist says.
Prof Sir David King says he's been scared by the number of extreme events, and he called for the UK to advance its climate targets by 10 years.
But the UN's weather chief said using words like "scared" could make young people depressed and anxious.
Campaigners argue that people won't act unless they feel fearful.
Speaking to the BBC, Prof King, a former chief scientific adviser to the government, said: "It's appropriate to be scared. We predicted temperatures would rise, but we didn't foresee these sorts of extreme events we're getting so soon."
He said the world had changed faster than generally predicted in the fifth assessment report from the UN's Intergovernmental Panel on Climate Change (IPCC) in 2014.
He referred especially to the loss of land ice and sea ice, and to the weather extremes in which he said warming probably played a role.
Several other scientists contacted by the BBC supported his emotive language.
The physicist Prof Jo Haigh from Imperial College London said: "David King is right to be scared – I'm scared too."
"We do the analysis, we think what's going to happen, then publish in a very scientific way.
"Then we have a human response to that… and it is scary."…
We tested Prof King's views with the main authors of the authoritative Intergovernmental Panel on Climate Change (IPCC) Fifth Assessment Report (AR5), published in 2014.
The consensus among those who replied was that climate models had accurately forecast the rise in global mean temperature.
But the models hadn't been sufficiently sophisticated to foresee events like this year's extreme European heatwave or the slow-moving Hurricane Dorian – described by Nasa as "extraordinary" and "a nightmare scenario".
Others mentioned severe ice melting at the poles; Tasmania suffering record droughts and floods in consecutive years; record wildfires in the Arctic and an unprecedented two large cyclones in Mozambique in one year.
Changes 'anticipated for decades'
Gerald Meehl, a senior scientist at the US National Center for Atmospheric Research (NCAR) in Boulder, Colorado, told us he'd been anticipating changes like these for four decades, although he hadn't been certain when they would arrive.
"I have a sense of the numbing inevitability of it all," he said.
Few of the scientists we contacted had faith that governments would do what was needed to rescue the climate in time.
They're alarmed that global warming of just over 1C so far has already created a new normal in which historic temperature records will inevitably be broken more often. This is the predictable side of climate change.
Prof King argues that some changes were not well forecast.
What is the science behind extreme weather events?
The loss of land ice in Antarctica, for instance, is at the upper range of predictions in the IPCC AR5. And there are record ice losses in Greenland
Then there's this year's French heatwave.
Dr Friederike Otto from Oxford University is an expert in the attribution of extreme events to climate change.
She told us that in a pre-climate change world, a heatwave like this might strike once in 1,000 years.
In a post-warming world, the heatwave was a one-in-a-100 year phenomenon.
In other words, natural variability is amplifying human-induced climate heating.
"With European heatwaves, we have realised that climate change is a total game-changer," she said. "It has increased the likelihood (of events) by orders of magnitude."
Researchers had not yet had time to investigate the links between all of the major extreme weather events and climate change, she said.
With some phenomena such as droughts and floods there was no clear evidence yet of any involvement from climate change.
And it was impossible to be sure that the slow progress of Dorian was caused by climate change.
'We can't wait for scientific certainty'
Prof King said the world could not wait for scientific certainty on events like Hurricane Dorian. "Scientists like to be certain," he said.
"But these events are all about probabilities. What is the likelihood that (Dorian) is a climate change event? I'm going to say 'very high'.
"I can't say that with 100% certainty, but what I can say is that the energy from the hurricane comes from the warm ocean and if that ocean gets warmer we must expect more energy in hurricanes."
He continued: "If you got in a plane with a one in 100 chance of crashing you would be appropriately scared.
"But we are experimenting with the climate in a way that throws up probabilities of very severe consequences of much more than that."
Should the UK bring climate targets earlier?
Pierre Friedlingstein from Exeter University said he'd been surprised by the onslaught of extreme weather. He said he expected extremes to happen as forecast by the IPCC – but had not expected them so quickly.
Prof King said the situation was so grave that the UK should bring forward its date for cutting emissions of greenhouse gases to almost zero from 2050 to 2040.
Some of the IPCC scientists we contacted didn't share his urge to engage with the public on an emotional level.
Others agreed with him.
Prof John Church from the University of New South Wales in Sydney, Australia told us: "Some things appear to be happening faster than projected. This may be partially related to the interaction of climate change and natural variability as well as the uncertainty in our understanding and projections.
"In my own area of sea level change, things are happening near the upper end of the projections.
"What is scary is our lack of appropriate response. Our continued lack of action is committing the world to major and essentially irreversible change."
https://www.bbc.co.uk/news/science-environment-49689018
This piece is strangely garbled, and it is not clear who is claiming what. But let's look at some of the more outlandish claims:
1) The heatwave in Europe.
Heatwaves have always occurred. They may be slightly hotter now than in the past, just as bitterly cold winters might be slightly less cold. This does not mean extreme weather events are on the rise.
This year's events quoted were actually no more than a few days' worth of hot weather, and so cannot be due to "climate change".
If we look at the UK, for instance, which boasted its "hottest day evah", we find that the summer as a whole was pretty average. Comparison with 1976 shows how intense the heat was for long periods in that year:
To present a day's weather this as somehow "scary" or proof that "the world is changing faster than predicted" is the sort of absurd nonsense we have been used to hearing from King.
2) Land and sea ice
King also refers to to the loss of land ice and sea ice.
Even though the Arctic sea ice minimum is relatively low this year, it is plain that it has been stable since 2007.
http://ocean.dmi.dk/arctic/icecover_30y.uk.php
Meanwhile in the Antarctic, the long term trend is slightly upwards: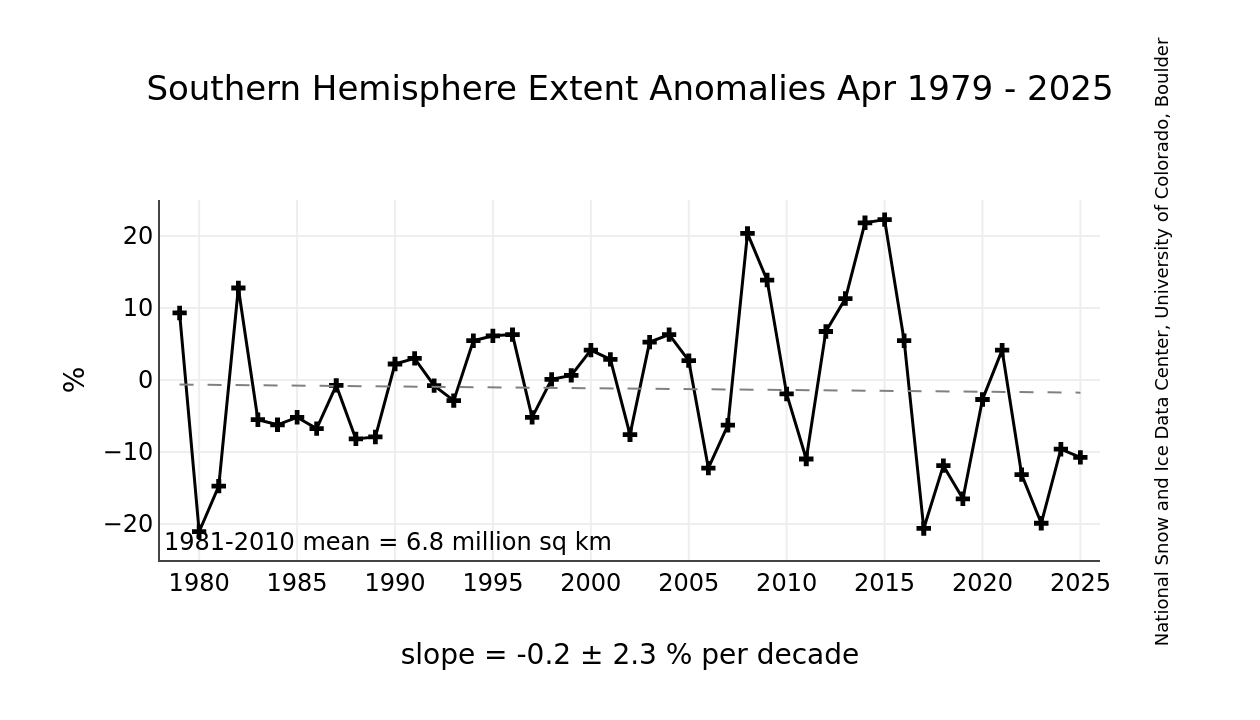 https://nsidc.org/data/seaice_index/
As for land ice, the ice sheet in Greenland grew at above average levels in 2017 and 2018. more than offsetting this summer.
https://realclimatescience.com/ 
And according to NASA, the ice sheet on Antarctica has been growing since 1992.
3) King claims that climate models had accurately forecast the rise in global mean temperature.
But that was not what the IPCC declared in 2013:
https://notalotofpeopleknowthat.wordpress.com/2019/05/02/overheating-climate-models/
 4) King then attempts to link Hurricane Dorian to climate change, particularly the fact it was slow moving.
I have seen no evidence whatsoever that any scientist forecast such a thing, prior to Harvey in 2017, which was blocked due to perfectly normal meteorological conditions. King, of course, can find no evidence anyway that hurricanes have become more slow moving, and simply splutters that the world could not wait for scientific certainty on events like Hurricane Dorian.
He then goes on to claim that warmer oceans must lead to more powerful hurricanes.
Yet the IPCC's AR5 categorically stated there was no evidence of any long term increase in tropical cyclone activity.
And the actual data confirms this:
http://www.policlimate.com/tropical/
5) Record wildfires in the Arctic
Evidently neither King or Harrabin have read the BBC's own report on wildfires two weeks ago, "Are forest fires as bad as they seem?"
Most of the Arctic fires referred to have been in Siberia, but using NASA data the BBC themselves showed that there was nothing unusual about this year's fires there.
https://www.bbc.co.uk/news/world-49515462
6) Sea level is "happening near the upper end of the projections."
BS!!
In the first IPCC report in 1992, they predicted a rise of 200mm by 2030, that is 5mm a year:
https://www.ipcc.ch/report/climate-change-the-ipcc-1990-and-1992-assessments/ 
And the actual rate of rise? Just 2.9mm a year:
https://www.star.nesdis.noaa.gov/sod/lsa/SeaLevelRise/LSA_SLR_timeseries_global.php
Sea levels were rising at a similar rate in the early 20thC, so there is no evidence of acceleration, as the IPCC admitted in AR5:
https://www.ipcc.ch/report/ar5/wg1/
https://notalotofpeopleknowthat.wordpress.com/2018/07/04/latest-sea-level-junk-science/
The simple reality is that the world's climate is not becoming more extreme, nor is it changing faster than expected. And it certainly is not "scary".
Of course, King gives the game away, when he concludes:
"The UK should bring forward its date for cutting emissions of greenhouse gases to almost zero from 2050 to 2040"
Cutting UK emissions will not make the blindest bit of difference, as he well knows. It is a political statement, pure and simple, which has nothing to do with science.