Watch Out, They're Coming For Your Boiler!!
October 15, 2019
By Paul Homewood
h/t oldbrew
Well done Roger, you're only six months late!!
The UK will not meet its climate change targets without a revolution in home heating, a think tank says.
A report from the cross-party Policy Connect says gas central heating boilers also threaten the UK's clean air goals.
But a poll conducted among MPs suggests that most do not consider pollution from home heating to be a priority.
That is despite the fact 14% of UK greenhouse gases come from our homes, a similar level to emissions from cars.
In major cities gas boilers are also a main source of nitrogen dioxide emissions.
The government wants low-carbon heat systems to be standard for all new homes built after 2025.
But that will still leave the vast majority of existing homes in the UK with polluting heat systems.
A spokesman for the Treasury said a plan to support the move to sustainable heating systems would go out to consultation later this year.
The task is huge. Policy Connect says more than 20,000 homes a week must switch to low-carbon heating between 2025 and 2050 to meet UK climate goals.
The think tank says many innovations need to be pursued. They include smart systems and controls; more use of the "internet of things"; hydrogen boilers; biogas; electric heat and direct infrared heat among others. …
A report from the advisory Committee on Climate Change said it would cost £4,800 to install low-carbon heating in a new home, and £26,300 in an existing house.
https://www.bbc.co.uk/news/business-50041077
As readers will know, I flagged up this issue in April, after the CCC published its latest plan.
And whatever solution you go for, one thing is certain – it will cost a fortune.
With about 27 million homes in the country, £26300 adds up to a mind boggling £710 bn. Even spread over 25 years this is still totally unaffordable.
And that's before factoring in higher running costs, which all of the proffered "solutions" involve.
And all for what?
With so many demands on the public purse, is it surprising that the government is getting cold feet? Much better to kick the can down the road.
FOOTNOTE
According to Harrabin, Policy Connect said future heating systems might also need to supply home cooling as UK temperatures rise along with climate change.
What rising temperatures?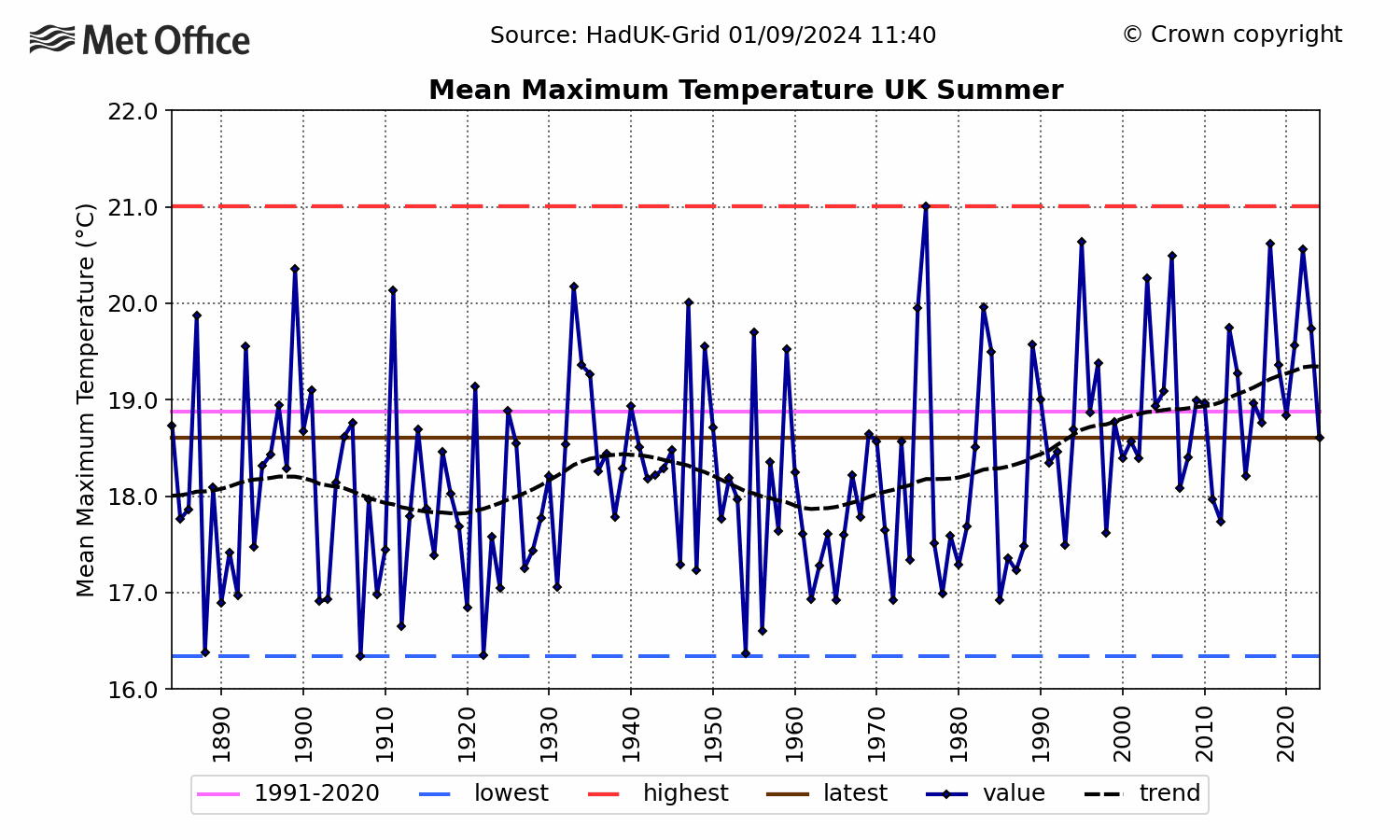 https://www.metoffice.gov.uk/research/climate/maps-and-data/uk-temperature-rainfall-and-sunshine-time-series