BBC Plan New Climate Change Propaganda Blitz
January 17, 2020
By Paul Homewood
h/t Robin Guenier
The BBC long ago gave up any pretence of impartiality and objectivity when it comes to climate change.
Now they have unashamedly become advocates for the most extreme forms of climate alarmism, preaching from on high about their new religion.
This year we can look forward to the propaganda being ramped up even further, with a year-long series of "special programming" (no change there then!)
The BBC has announced plans for a year-long series of special programming and coverage on climate change.
A raft of news services and shows are planned as part of the Our Planet Matters project.
These include a new monthly Climate Check video feature from BBC Weather, and coverage of debates and events around the globe.
Digital, TV and radio outlets will all take part.
Sir David Attenborough also plans a new hour-long documentary for the Our Planet Matters programmes. Extinction: The Facts will examine the fragile state of the natural world.
"We have to realise that this is not playing games," Sir David told the BBC. "This is an urgent problem that has to be solved and, what's more, we know how to do it."
How can I follow?
Online, the BBC will produce new explainers, interactive tools and guides to help sort through the jargon and analyse what's happening in the UK and across our changing planet. You can check back on everything that has been published so far here.
BBC.com will launch Future Planet, looking at how people around the world are confronting the problems created by climate change.
In a new series for BBC Two, Ade Adepitan travels to countries on the frontline of climate change to find out what humanity is doing to face up to possibly the greatest challenge in our history in a three part series, Ade on the Frontline of Climate Change.
Radio 4's PM programme will air The Environment in 10 Objects. Each episode will look at the environmental impact of one household item, and how we can respond to the climate crisis at home.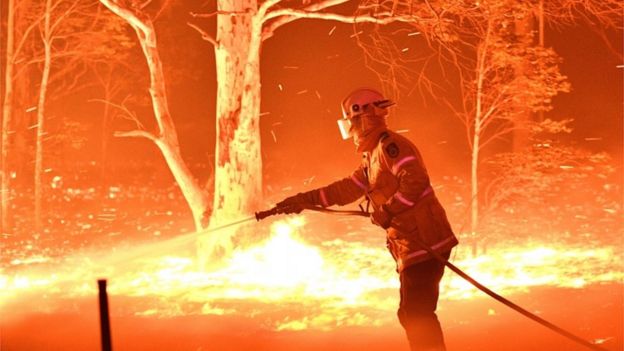 Image copyright Getty Images Image caption Devastating wildfires in Australia have raised even greater awareness of the dangers posed by climate change
A new weekly podcast on the World Service will examine climate change from scientific, business and policy perspectives with the help of journalists from around the world.
BBC Weather meanwhile plans to bring in a monthly Climate Check service, to help audiences see trends behind the daily weather.
Adam Bullimore, head of BBC Weather, says it will be a chance to "share something more with audiences than just the typical weather forecast", and will focus on the impact of data like CO2 emissions and Arctic sea ice measurements on our planet.
https://www.bbc.co.uk/news/world-51104776
As for that new Attenborough programme, this is what he has to say:
"The moment of crisis has come" in efforts to tackle climate change, Sir David Attenborough has warned.
According to the renowned naturalist and broadcaster, "we have been putting things off for year after year".
"As I speak, south east Australia is on fire. Why? Because the temperatures of the Earth are increasing," he said.
Sir David's comments came in a BBC News interview to launch a year of special coverage on the subject of climate change.
Scientists say climate change is one of several factors behind the Australian fires; others include how forests are managed and natural patterns in the weather.
Sir David told me it was "palpable nonsense" for some politicians and commentators to suggest that the Australian fires were nothing to do with the world becoming warmer.
"We know perfectly well," he said, that human activity is behind the heating of the planet.
https://www.bbc.co.uk/news/science-environment-51123638
I'm not sure who he is referring to when he says "we have been putting things off for year after year".
The UK has been at the forefront of reducing emissions of carbon dioxide, having cut them by 30% since 2008. (Based on BP data up to 2018). Reductions in the EU and US have been slower, 18% and 11% respectively, but still going in the right direction.
However emissions in non-OECD countries have risen by 27% over the same period, resulting in a global increase of 11%.
Attenborough does actually recognise this problem, when he says:
"Where on the bigger scale are these decisions needed to come next? Answer: China. If the Chinese come and say: 'Not because we are worried about the world, but for our own reasons, we are going to take major steps to curb our carbon output because our climate is changing, we are going to do it,' everybody else would fall into line, one thinks. That would be the big change that one could hope would happen."
All very well in theory, but it ain't going to happen is it, no matter how much Attenborough proselytizes about it. Maybe the Chinese don't see the climatic disasters he does!
He finishes by saying:
"This is an urgent problem that has to be solved and, what's more, we know how to do it – that's the paradoxical thing, that we're refusing to take steps that we know have to be taken."
By which he means stop using fossil fuels. However, there is a very simple reason why the world refuses to "take those steps".
Quite simply, there is no evidence that the world can give up fossil fuels just like that, when they currently supply 85% of its energy. It is naive in the extreme to believe that these can rapidly be swapped out for renewable energy, currently running at 4%.
Given the desire of billions living in developing nations to improve their lives, such an energy transition would be disastrous.
Is Attenborough really prepared to the world's population sacrificed on the altar of his eco-extremism?