UK Facing Heightened Flood Risks, Claims New Report
February 7, 2020
By Paul Homewood
I thought extortion was illegal!
From Business Green:
The number of UK residents facing significant flood risk is larger than the population of Birmingham and Manchester combined, according to a major new report from a coalition of leading environmental campaign groups.
The numbers at risk were highlighted in a study from The Climate Coalition, a collection of over 130 organisations including conservation bodies WWF, the RSPB, and The Wildlife Trusts, aid agencies such as Oxfam, and community groups like the Women's Institute.
The UK is experiencing wetter winters and more frequent and intense weather extremes, which scientists have attributed to climate change and which are widely expected to worsen over the coming decades. The report outlines how communities have suffered in the aftermath of floods, such as those in Yorkshire and the Midlands at the end of last year.
The years 2007-19 have seen a major flood event nearly every year, with almost 100,000 properties damaged in England, according to data drawn by the report from the Environment Agency.
The November 2019 floods led to more than 2,250 insurance claims for flood damage from homeowners with at least £45 million expected to be paid out to cover damaged homes and possessions, according to information given to report authors by the Association of British Insurers (ABI). Coastal, surface or river flooding is now estimated to cause more than £1bn worth of damage a year in the UK.
https://www.businessgreen.com/news/4010093/flood-risk-insurance-cost-fears-highlighted-million-uk-residents
The study referred to is this one:
https://notalotofpeopleknowthat.files.wordpress.com/2020/02/4b828-hometruths-reportembargoeduntil2230040220.pdf
The claim of 1.8m people at risk of flooding is absurd. We have seen similar claims made in the past by the Environment Agency and Committee on Climate Change, which have been easily discredited – see here.
But if 1.8m is a genuine figure, the major flooding events listed in the report are a pretty insignificant proportion, albeit extremely traumatic on a personal level:
The only major floods were in summer 2007 and winter 2015/16. But more on that later.
Let's first address the claim of wet winters.
On the face of it, it is correct. However, when we drill down we see that the UK trend is almost solely due to greater rainfall in Scotland. In England there is no long term trend, or rise in the frequency of extremely wet winters: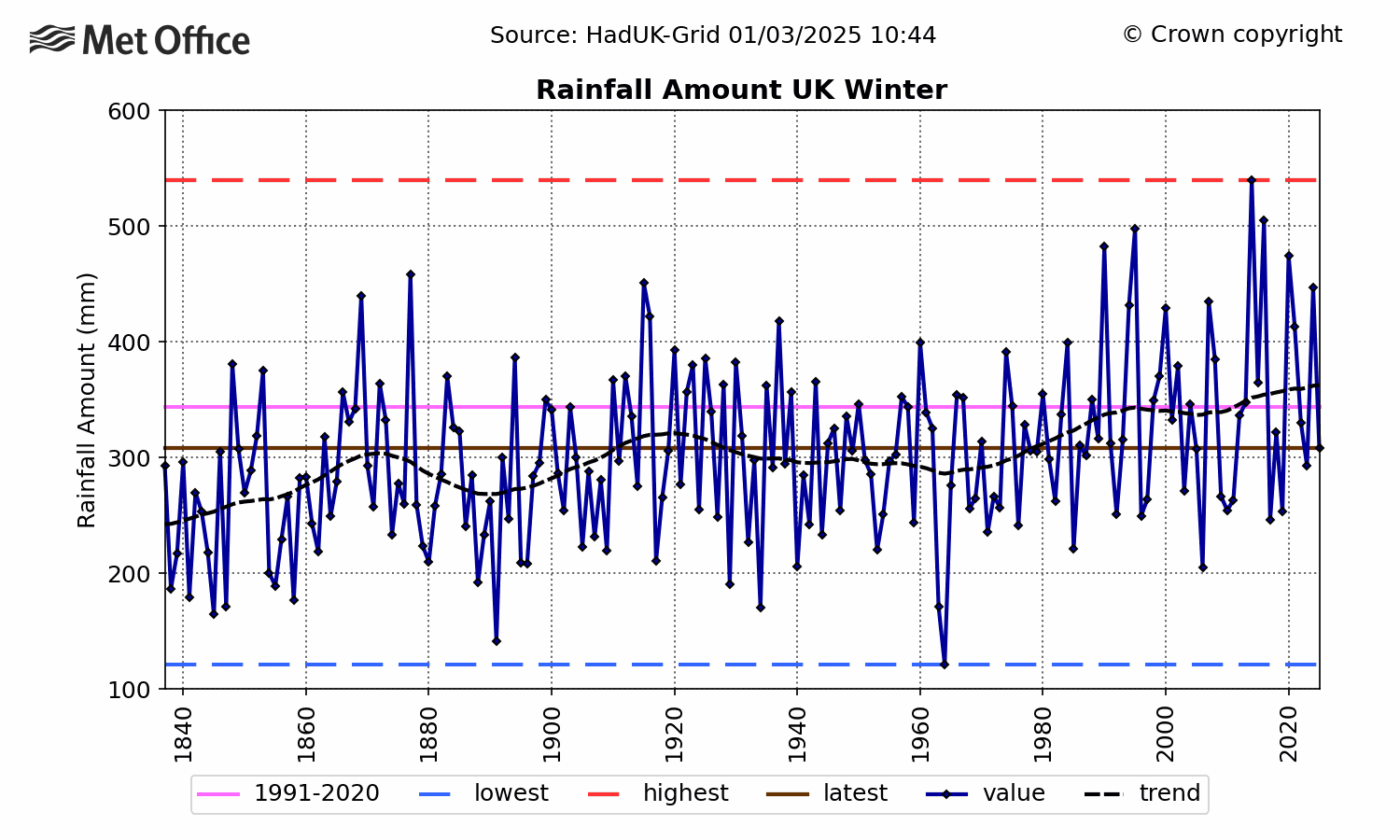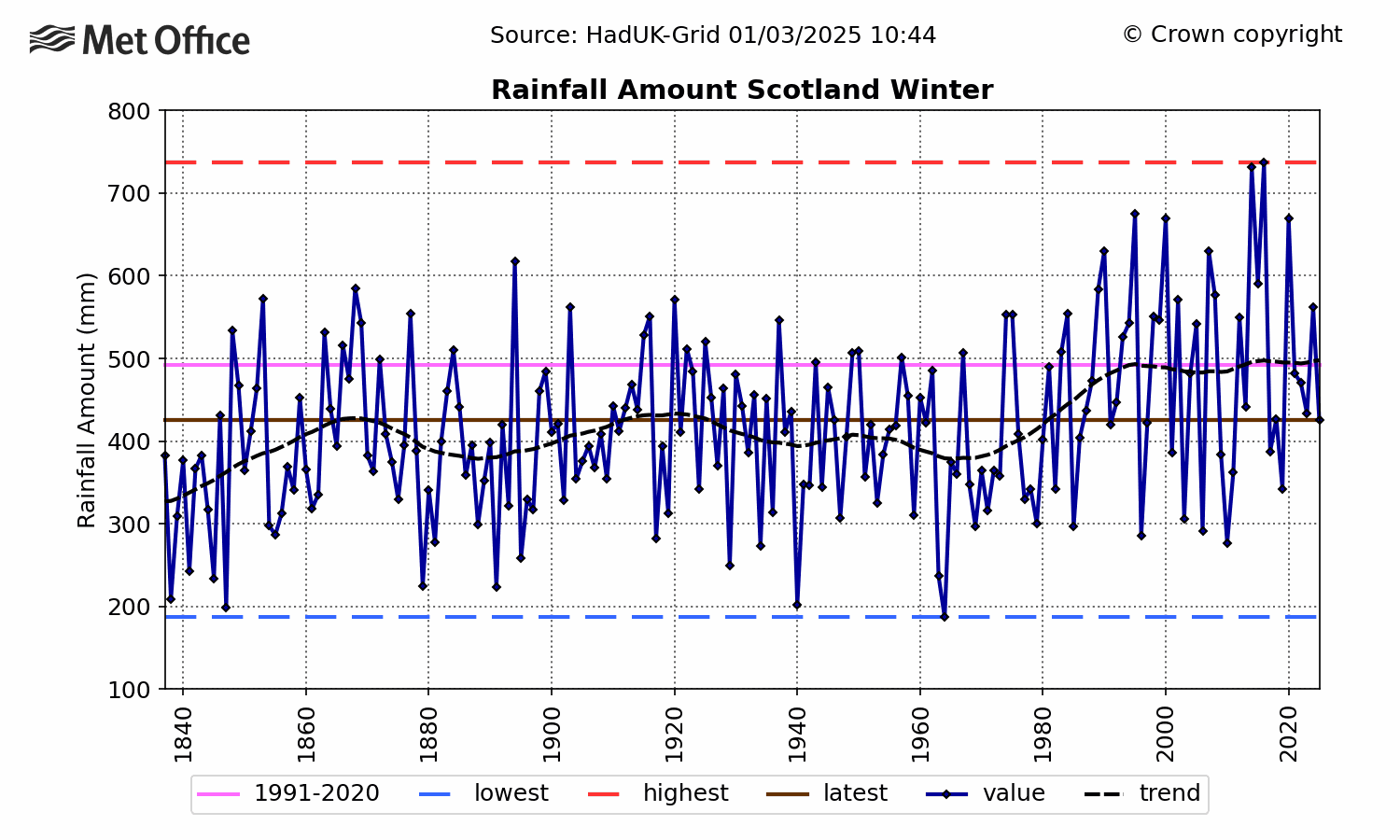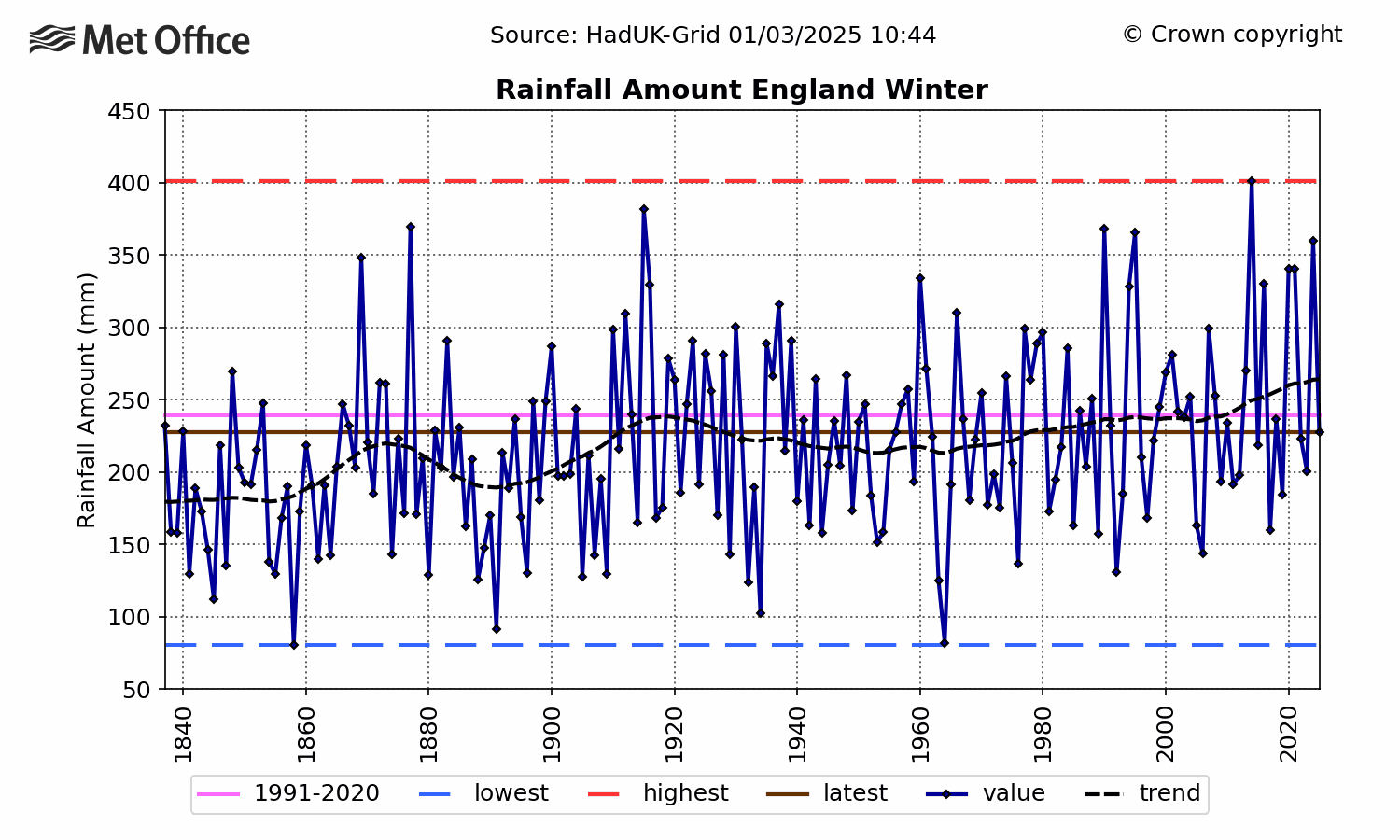 https://www.metoffice.gov.uk/research/climate/maps-and-data/uk-temperature-rainfall-and-sunshine-time-series
Without wishing to dismiss the rest of the UK, it is of course England where the vast majority of those 1.8m live, and where all of the severe floods listed have occurred.
As for extreme rainfall in winter, the actual data shows the opposite. Peak rainfall in individual months during winter in England used to be far worse, with the wettest being Decembers in 1868, 1876 and 1914.
I have also looked at autumn and winter months combined, as many floods occur in autumn. Again we find exactly the same result – high rainfall months have been relatively scarce in the last two decades, and the most extreme months were in the 19th and early 20thC.
https://www.metoffice.gov.uk/pub/data/weather/uk/climate/datasets/Rainfall/date/England.txt
As for extreme daily rainfall, again we find no evidence of anything untoward, looking at the year as a whole:
 https://www.metoffice.gov.uk/hadobs/hadukp/ 
Quite clearly the study's claim of a heightened risk of floods does not stand up to scrutiny.
There are lots of numbers bandied around, but no assessment of how any of this fits into the long term perspective. For instance it is claimed that nearly every year since 2007 has seen a "major flood". I would certainly dispute the use of the word major, because most of the floods listed have been purely localised events, such as the Fishlake flood last autumn.
But nevertheless, is it not the case that exactly the same statement could have been made about nearly every decade in the past? Similarly the claim of £1bn worth of damage every year. (I will ignore the desperate reference to the £360m paid out during the Beast from the East – As we are supposed to be seeing milder winters, such costs should drop significantly in years to come?)
For instance, the 1950s. A trawl through the Met Office monthly weather reports of the time finds these references to severe floods:
Feb 1950 – Considerable flooding in some districts.
Nov 1951 – Severe flooding in many parts of the country
Aug 1952 – Lynmouth floods
Nov 1952 – Serious flooding in Sussex
Jan 1953 – The Great North Sea floods
May 1953 – Severe storms brought heavy rain and floods, particularly in West Scotland causing "much damage"
June 1953 – Severe thunderstorms brought "exceptionally heavy rain" causing "severe flooding and considerable damage"
July 1953 –Widespread thunderstorms seriously affected crops in West Midlands and Central Scotland, with local damage due to lightning and floods, with some loss of life.
Aug 1954 – Considerable flooding in some areas
Oct 1954 – Severe flooding in NW England, N Wales and S Scotland
Nov 1954 – Serious floods in many parts of the country
March 1955- Serious floods in the Midlands
July 1955 – Record daily rainfall in Dorset led to severe flooding there. (279mm at Martinstown is still the highest daily total for any station in the UK)
Aug 1956 – Widespread flooding
Oct 1957 – Floods in Wales and NW England, with 12.71 inch of rain recorded at Blaenau Ffestiniog in a four-day spell.
Nov 1957 – Torrential rain led to floods in many areas, particularly the Midlands
Sep 1958 – Widespread flooding in Wales
These are just the major flood events. There would be many more minor ones which never got a mention in the monthly summaries.
I suspect you could go back to virtually any decade and find a similar number of floods.
Naturally the insurance companies will make hay from using this as an excuse for putting up premiums. But it is shameful that climate scientists should enable this with their junk science.
And the authors of the study give the game away when they reveal their true objective:
The idea that cutting UK emissions will make Britain's weather better belongs in the kindergarten, and not real science.