Pollution From Diesel Cars Grossly Overhyped
April 15, 2020
By Paul Homewood
Pierre Gosselin has an interesting post about NO2 pollution:
The Corona crisis is bringing it to light: car traffic has decreased significantly, but the air quality in city centers has hardly changed," Tichy comments.
Environmental claim exposed as false
Recall that a major reduction of diesel engines was supposed to improve air quality. After all, experts at the Baden-Württemberg State Institute for the Environment (LUBW), for example, have attributed a large 80 percent share of air pollutants especially to diesel vehicles – so they have to be banned soon.
Yet Tichy notes: "If this is true, the 'shutdown' would have to have a drastic effect. But it does not."
It turns out that the involuntary "corona experiment" with its widespread stop of car traffic has exposed bare the false claim made by environmental activists: Diesel cars are responsible for polluting the air of German cities.
Diesel car bans "pointless"
According to Tichy, the "Corona Experiment" exposes just how pointless driving bans issued by the green transport ministers can be. "They obviously have no effect on the NO2 concentrations in the air."
"The measured values, for example, at the Am Neckartor station in the Stuttgart city center were already below the limit value of 40 µg/m3 in February and March, " writes Tichy. "At that time, traffic was still flowing and 'shutdown' had not yet been announced."
Other larger factors
Tichy adds that engineer and measurement expert Martin Schraag accuses proponents of car bans of data "manipulation" and reminds that today's "newer vehicles and those retrofitted with software updates hardly emit any exhaust gases. This should also have been reflected in the results."
Schraag notes that NO2 values fluctuate strongly and depend heavily on Stuttgart's weather conditions and wintertime  heating can be the cause.
"The weather, if you look at the data, has a decisive influence," Tichy comments. "The experts of the LUBW environment office obviously did not care about these influences and officially know nothing about them. They still assume that traffic accounts for 80 percent of air pollutants."
Read the full post here.
I looked at one of the Sheffield monitoring sites last week to see what the effect of the lockdown might have been. It showed a drop in NO2 this month, but if anything an increase in PMs.
To get a fuller picture, I have now got graphs for the other Sheffield site on Barnsley Road.
Unlike the other site on Devonshire Green, this one is bang next to a busy road. I actually know it well, as I used to work a few hundred yards away!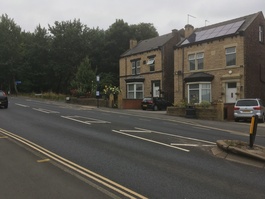 https://uk-air.defra.gov.uk/networks/site-info?uka_id=UKA00622&search=View+Site+Information&action=site
Although we see a drop in NO2 levels this month, they don't appear to be hugely lower than the equivalent time last year.
What is much more significant though is the increase in NO2 levels in winter months, backing up Tichy's claims that much of the NO2 arises from heating of homes.
While it would be silly to pretend that cars emit no NO2 at all, it appears that they only play a minor role.
https://uk-air.defra.gov.uk/data/data_selector_service?q=2051795#mid
As for PMs, the lockdown appears to have had absolutely no effect at all. Day to day variation, presumably due to weather conditions, dominate.