April 2020 Almost As Warm As 1865!
May 2, 2020
By Paul Homewood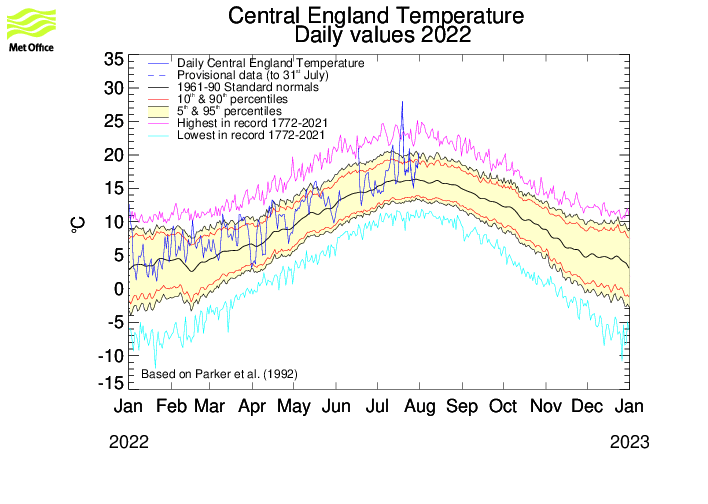 https://www.metoffice.gov.uk/hadobs/hadcet/cet_info_mean.html
After a lot of hype about how April 2020 was going to be the warmest in Britain by a long way, it turns out that it was not even as hot as April 1865, at least as far as the CET is concerned:
https://www.metoffice.gov.uk/hadobs/hadcet/cetml1659on.dat
As the graph at the top shows, (and zoomed below), temperatures at no time of the month have been exceptionally high, mostly falling within the 95th percentiles:
In other words, all we have had is "weather", and of the type we have had plenty of times in the past.
What has made the month much warmer than average is the persistence of this weather. Indeed this has been the pattern all year, with daily temperatures consistently above average, but within the normal band.
Put another way, we have had the temperatures which we would have expected from the weather experienced.
In January and February, this weather was predominantly brought in from the Atlantic, courtesy of a strong jet stream.
Last month, until the last few days, the weather has been sunny, and again fetched up from the south west. The Met Office has already declared it as the sunniest on record. At this time of year, the temperatures we have seen are pretty much guaranteed with such sunny weather.
This message is rammed home by a look at the daily maximum temperatures:
https://www.metoffice.gov.uk/hadobs/hadcet/data/download.html
Daily temperatures themselves have not been unusually high. In fact, only two days last month exceeded 14C. In comparison there were five last year.
No day exceeded 15C, an event quite common in the past.
Yet the month as a whole was 3.6C above the 1981-2010 average.
To repeat, at no time in the month were daily temperatures unusually high. It was the almost total absence of colder than average days which forced the average up.