BBC Plug Silly Survey
May 25, 2020
By Paul Homewood
h/t Jonathan Scott
BBC confuse "CO2" with "clean air":
British drivers are ready to change their behaviour to maintain the cleaner air of the lockdown and protect the environment, a survey suggests.
Of the 20,000 motorists polled for the AA, half said they would walk more and 40% intended to drive less.
Four in five would take some action to reduce their impact on air quality.
It comes after researchers warned the dramatic improvements in air quality in recent weeks could be quickly reversed as the coronavirus restrictions ease.
As well as walking more and driving less, a quarter of motorists said they planned to work from home more, another quarter said they would be flying less, while one in five plan to cycle more.
"We have all enjoyed the benefits of cleaner air during lockdown and it is gratifying that the vast majority of drivers want to do their bit to maintain the cleaner air," said AA president Edmund King.
"Walking and cycling more, coupled with less driving and more working from home, could have a significant effect on both reducing congestion and maintaining cleaner air."
Meanwhile, the AA is warning drivers in England – now able to drive to destinations for exercise or open-air recreation – against travelling to tourist destinations this Bank Holiday Monday.
"Drivers should think about how far they need to travel to enjoy the great outdoors," Mr King said.
Traffic surge fears
The UK government has pledged £250m for improvements in cycling and walking infrastructure and many British towns and cities are already making more road space available for pedestrians and those on bikes.
It is the first part of a £5bn investment announced in February, the Department for Transport said.
But the official advice from Transport Secretary Grant Shapps as some people start to go back to work is that people should drive rather than use public transport, when walking or cycling is not a viable option.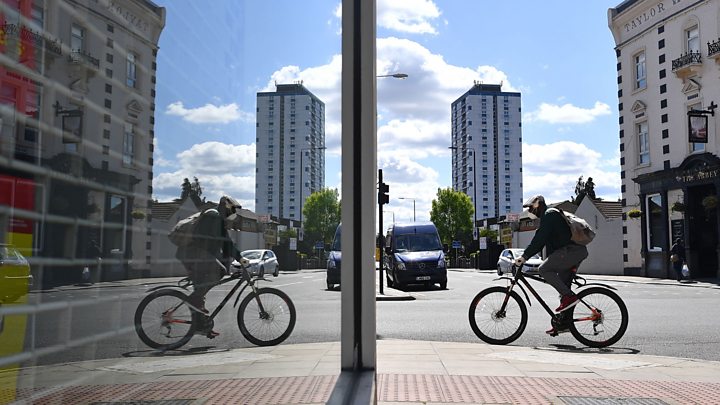 Researchers warned that traffic could surge back onto the roads, in a study published last week.
They found the dramatic fall in traffic has been key to the 17% reduction in carbon dioxide emissions that was recorded at the peak of the coronavirus crisis in early April.
Surface transport emissions emissions – including vehicles and industry – declined by 43%, the same as the drop from industry and power generation combined.
https://www.bbc.co.uk/news/uk-52793230
In addition to Harrabin, who is the Environmental Analyst, the BBC also now have a "chief environment correspondent", Justin Rowlatt. Formerly the BBC's SE Asia correspondent, he started his new role last year.
Quite what the difference between the two roles is, I have no idea. But it is not their money they are spending, so why should the BBC worry? Besides it must be very tiring for Harrabin, having to produce all the fake news and propaganda all on his own!
As for the article, all I can say is dream on, Mr Rowlatt!
Nothing has actually changed. When we all go back to work, we will still need our cars as much as ever before, just for the same reasons.
People always want to virtue signal in polls like these, just as they say they will pack up drinking every January.
Getting out walking and cycling during these last weeks of sunny furlough no doubt is enticing to many. But when the sun disappears and we are back to wind and rain, forget it.