Press & Bookies Work "Hottest July Evah" Scam Again
July 24, 2020
By Paul Homewood
 The same thing happens very year. Out comes the sun for a couple of days and the press and bookmakers start their "hottest month evah" scam:
This was the Mirror on June 30th, before the month had even started:
Bookmakers have slashed the odds on it being the hottest July on record as UK temperatures are set to soar again.
The odds have been cut from 5/1 to 5/2 on it being a record-breaking July.
https://www.mirror.co.uk/news/uk-news/uk-weather-bookmakers-slash-odds-22275679
And the Express on July 13th:
HOT weather could be making a return to the UK this weekend, as some parts of Europe could see temperatures as high as 38C. Here are the latest weather forecasts, maps and charts…..
June was a record month for UK weather, with many regions seeing heatwave conditions….
For the UK, this month could prove to be the hottest July on record according to bookmakers Ladbrokes.
Jessica O'Reilly of Ladbrokes said: "July's forecast is looking joyful and it looks like the mercury is going up and up for the rest of the month."
Ladbrokes have cut their odds to 13/8 that July 2020 sets a new record as the hottest ever.
https://www.express.co.uk/news/weather/1308803/UK-hot-weather-map-heatwave-Met-Office-forecast-Europe-latest
Certainly by mid-month there was no chance at all of a record, given that temperatures were already below average:
https://www.metoffice.gov.uk/hadobs/hadcet/cet_info_mean.html
And the idea that there was a 5/2 chance even before the month started is absurd, given that no year has got within 0.6C of the July record set in 2006: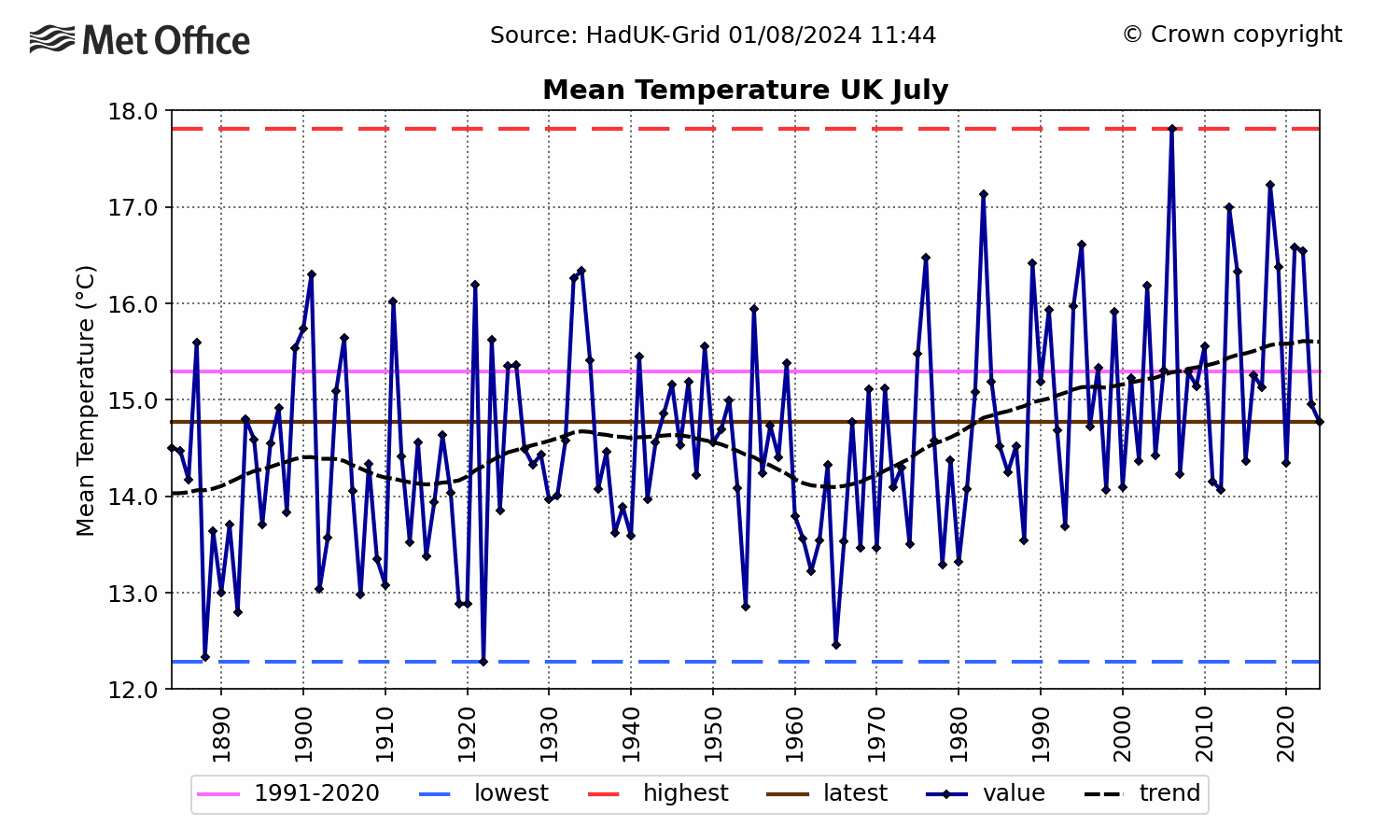 https://www.metoffice.gov.uk/research/climate/maps-and-data/uk-temperature-rainfall-and-sunshine-time-series
I sometimes wonder whether the newspapers and bookies are in league. The papers get their click-bait and Ladbrokes get punters throwing their money away on no hope bets. (I wonder what odds they were offering that July would not be the hottest!)
Of course, bookies are preying on the sad naivety of people who have fallen hook, line and sinker for the global warming scam. They seem genuinely to believe that the world is burning up, that heatwaves are increasing, and all of the other lies thrown at them.
Throw in a forecast of a few sunny days, and the fools and their money are easily parted.