Climate change 'driving UK's extreme weather'-Claims Harrabin
July 31, 2020
By Paul Homewood
  Harrabin promotes the Met Office's ludicrous claim that "climate change is driving UK's extreme weather":
Climate change driven by industrial society is having an increasing impact on the UK's weather, the Met Office says.
Its annual UK report confirms that 2019 was the 12th warmest year in a series from 1884.
Although it does not make the top 10, the report says 2019 was remarkable for high temperature records in the UK.
There was also a severe swing in weather from the soaking winter to the sunny spring.
The temperature extremes were:
A new UK maximum record (38.7° C) on 25 July, in Cambridge
A new winter maximum record (21.2° C) on 26 February, in Kew Gardens, London – the first time 20C has been reached in the UK in winter
A new December maximum record (18.7° C) on 28 December, in Achfary, Sutherland
A new February minimum record (13.9° C) on 23 February, in Achnagart, Highland
No national low temperature records were set in the State of the UK Climate report, published by the Royal Meteorological Society.
It shows that UK temperatures in 2019 were 1.1° C above the 1961-1990 long-term average.
Mike Kendon, lead author of the report, said: "Our report shows climate change is exerting an increasing impact on the UK.
"This year was warmer than any other year in the UK between 1884 and 1990, and to find a year in the coldest 10 we have to go back to 1963."
The Central England Temperature series is the longest instrumental record of temperature in the world, stretching back to 1659.
Dr Mark McCarthy, from the Met Office, added it was a particularly wet year across parts of central and northern England.
He said Lincolnshire, Nottinghamshire, Derbyshire, Leicestershire and Cheshire received between a quarter to one third more rainfall than normal. For northern England this was the ninth wettest year in a series from 1862.
He said: "It's worth noting that since 2009 the UK has now had its wettest February, April, June, November and December on record – five out of 12 months."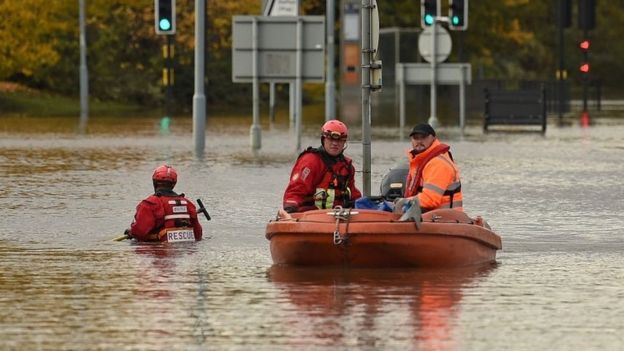 Hannah Cloke, professor of hydrology at the University of Reading, identified a number of concerning trends.
She said: "As well as extreme hot temperatures, the stand-out weather events in 2019 were the many different types of floods, causing millions of pounds worth of damage and causing misery to many people.
"The picture that emerges is of the multiple flooding threats that are facing the UK, many of which are exacerbated by climate change."
She cited as examples summer flash floods caused by extreme downpours, extensive autumn and winter river floods caused by persistent heavy rain and storms, and a backdrop of continued sea-level rises heightening the risk of coastal floods.
https://www.bbc.co.uk/news/science-environment-53601257 
In fact the Met Office's report offers no evidence that our weather is getting more extreme, never mind because of climate change.
Let's start with record temperatures.
As the UK's climate is about half a degree warmer than it was half a century ago, it would be expected to see more temperature high records being set, and fewer low ones. And as the Met Office themselves admit:
No national low-temperature records were set during the year.
And this goes to the heart of the matter – average temperatures may be higher, but that does not mean weather is more extreme. After all, London tends to be warmer than Edinburgh, but does that mean London has more extreme weather? The whole idea is absurd. There may be more very hot days, but there also fewer very cold ones.
What is far more significant, however, is that although the climate became warmer between 1980 and 2000, that warming has stopped for the last two decades: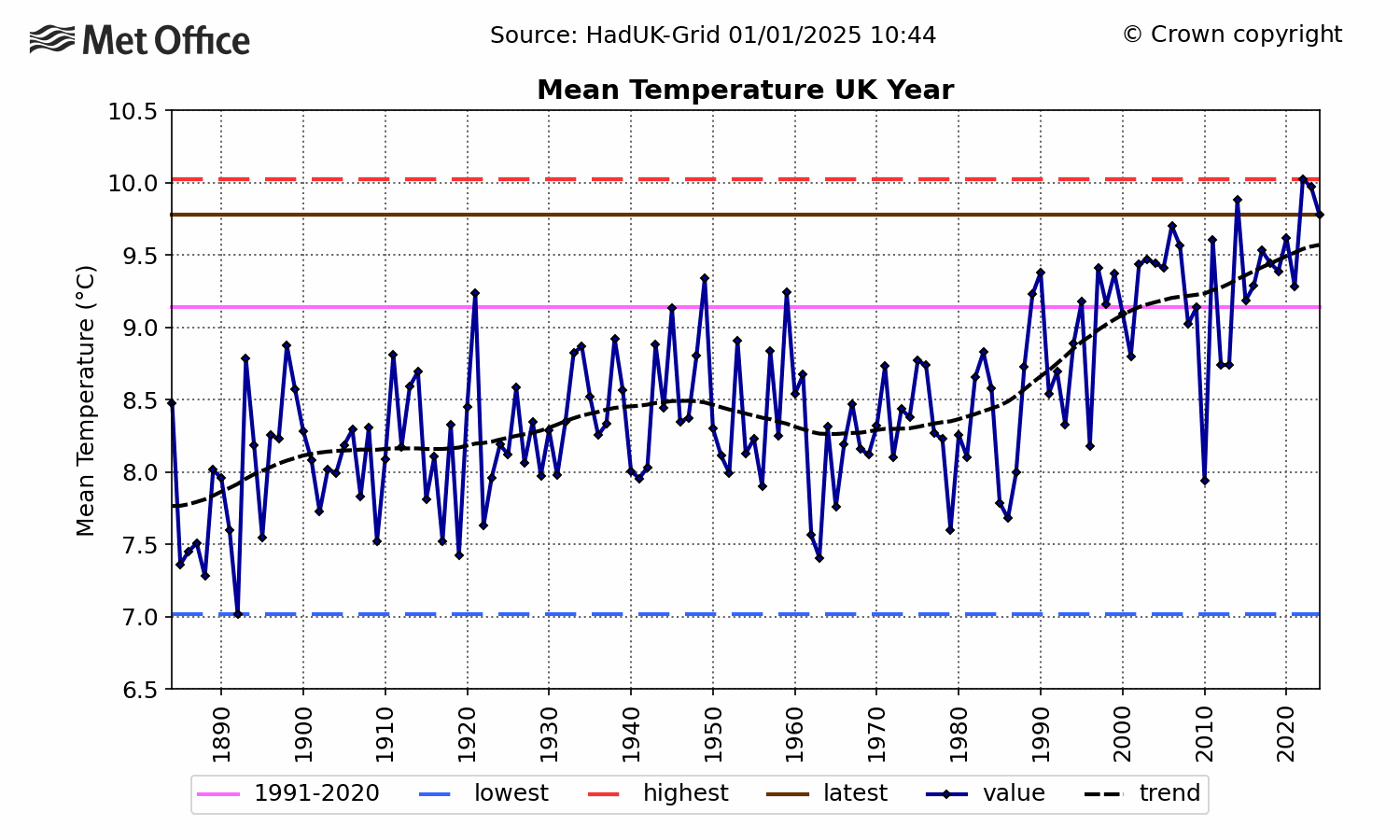 https://www.metoffice.gov.uk/research/climate/maps-and-data/uk-temperature-rainfall-and-sunshine-time-series
Indeed, decadal average temperatures have actually dropped slightly since 2000-2009:
https://www.thegwpf.com/new-paper-2019-floods-nothing-out-of-the-ordinary/
This is an important fact, and I am perplexed why the Met Office did not think to mention it.
Rainfall
The Met Office's various statements about rainfall do not support Harrabin's claims about extreme weather:
1) The UK rainfall total for 2019 was 1,227 mm, 107% of the 1981–2010 average
In other words, a very ordinary year. Since 1862, 92 years out of a total of 158 have had rainfall either more than 107% or less than 93% of the average.
2) For northern England (north of a line from the Wash to North Wales) this was the ninth wettest year in a series from 1862.
Again, not a hugely impressive statistic. Analysis shows that the region is not getting wetter, with the wettest year back in 1872.
https://www.metoffice.gov.uk/research/climate/maps-and-data/uk-and-regional-series
3) It's worth noting that since 2009 the UK has now had its wettest February, April, June, November and December on record – five out of 12 months.
According to the longer running England & Wales series, between 2000 and 2019 three monthly records were set – April and June 2012, and January 2014.
However, clusters of this sort are not unprecedented. Between 1903 and 1918, three monthly records were also set.
In any event, such calendar records are not particularly significant, and are often flukish. When we look at the wettest months of any month, a different picture emerges. Only one month since 2000 is amongst the top 10 – Nov 2009.
There have only been four months with more than 150mm of rain, in line with the average, and well below most of the 20thC. No month since 2014 has exceeded 150mm.
https://www.metoffice.gov.uk/pub/data/weather/uk/climate/datasets/Rainfall/date/UK.txt
Sea Levels
Finally there is this curious statement in the Met Office's press summary:
The National Oceanography Centre (NOC) contributed to the sea-level section of this report. The NOC's Director, Professor Edward Hill, said: "Sea-level around the UK is expected to continue to rise due to an increased rate of ice loss from the Greenland and Antarctic ice-sheets, as well as continued glacier mass loss and warming of the ocean. An immediate consequence will be higher extreme sea-levels, which cause flooding and threaten lives, property and key infrastructure.

"However, the report highlights continuing concerns around the quality of UK sea-level measurements. As the report states, we have been unable to calculate the uncertainty of the UK sea-level index for 2018 and 2019, as only one of the long-term tide gauge sites is producing data of sufficient quality.

"High-frequency, high-accuracy, coastal sea-level monitoring is essential."
https://www.metoffice.gov.uk/about-us/press-office/news/weather-and-climate/2020/state-of-the-uk-climate-report-2019
Maybe Hill is concerned that the actual data from North Shields and Newlyn, both long running sites with high quality records, does not support his theory of higher extreme sea-levels, which cause flooding and threaten lives, property and key infrastructure.
Instead the tidal gauges show that sea levels are rising at a very modest 1.9mm a year or so, with no acceleration: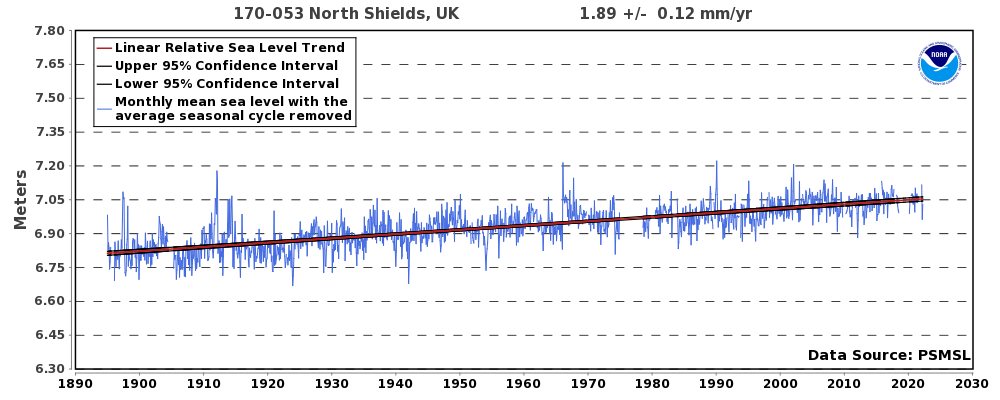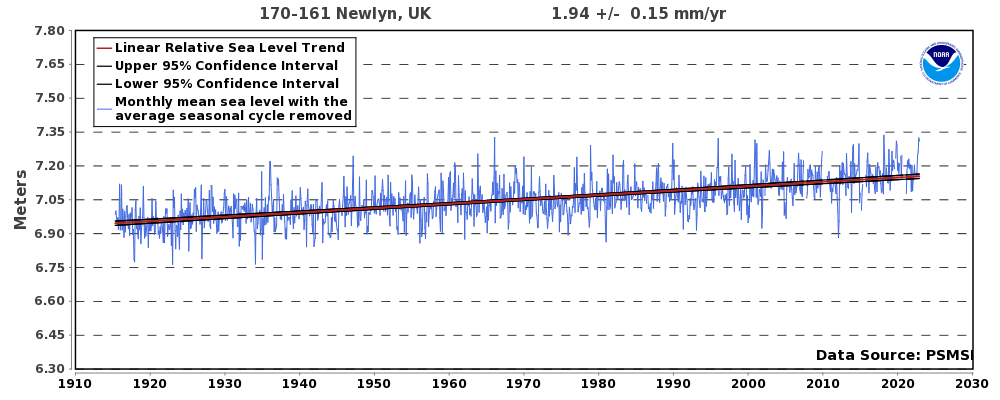 https://tidesandcurrents.noaa.gov/sltrends/sltrends_global_country.html?gid=1222
Maybe he thinks the data is wrong?
If this is the best the Met Office can come up with to scare people about extreme weather, I suggest they try harder next year!