English vineyards introduce new grapes due to global heating- Grauniad
September 19, 2020
By Paul Homewood
h/t Dennis Ambler
On a hot morning in Devon, a single field stands as a barometer of climate change. Charlie Brown, 30, an assistant winemaker at Sandridge Barton vineyard, explains that the site in which they will soon start planting pinot noir, chardonnay and pinot meunièr wine grapes would once have been considered unsuitable for growth.
"The climate has changed. When you are the top of that brow the wind does rip through it a bit but we can plant here now," he says.
The plot of land will become the focus of "Dijon clones 114, 115, 667 and 777", he says. "These are clones that we now feel are suited to help us continue making world -lass pinot noir. Previously we had to use champagne clones due to the climate."
The vineyard in Totnes is one of many across England to have used increasing temperatures year on year to their advantage. This summer is following the trend, with 36.4C recorded on the hottest August day for 17 years. Recent research showed the likelihood of the UK experiencing 40C temperatures for the first time was "rapidly accelerating" because of the climate emergency.
"Traditionally England was a hard region to ripen grapes as it was not warm enough," says Greg Dunn, head of the wine division at Plumpton College, which runs land-based courses, "but in the last 10-15 years temperatures have increased to such an extent that we can now grow a number of grapes and make outstanding wines."
In 2018, they had one of the warmest years on record. "The land used for planting grapes has increased substantially in the last five years and in the next three to four years we expect to go from 3,500 hectares up to 6,000 hectares of vines."
England's position in the wine market has been cemented in recent years with Taittinger becoming the first champagne house to plant vines in the country, closely followed by Champagne Pommery. A total of 1.6mvines were planted in 2018 and 3m vines in 2019.
In Totnes, the humidity in August this year was perfect for growing. "If it starts getting really hot then the grapes ripen early and won't produce that character we want – then the sugar levels start getting really high and we're not looking to produce a really overripe jammy Pinot Noir."
Changing climates, however, also bring weather unpredictability. "The growing season was fantastic in 2019 and we had really good flowering … But then when harvest came around the middle of September, the floodgates just opened. It rained and it didn't really stop. So basically the grapes just stopped developing and you weren't getting any phenolic characters coming through. They're picking up water and they saw the disease come in. It's a case of picking quickly as opposed to picking when you think the grapes ready," Brown says.
https://www.theguardian.com/food/2020/sep/18/english-vineyards-introduce-new-grapes-due-to-global-heating
Unsurprisingly this Guardian article is yet another grossly inaccurate piece. For a start, it is not true that pinot noir, chardonnay and pinot meunièr are new to the UK.
In fact one of the best known English vineyards, Nyetimber in Sussex, began operations in 1988 with those very same grapes:
https://nyetimber.com/our-story/
And the three account for 78% of UK vineyard area:
 https://www.winegb.co.uk/trade/industry-data-and-stats-2/
And, according to Wikipedia, Pinot Noir has been growing here much longer:
 With the decline of wine producing most of England's grape varieties were lost. However a known survivor of these lost varieties is Wrotham Pinot which has been found to be a distinctive clone of Pinot noir and is speculated to be up to 2,000 years old and to have possibly been introduced with the Romans. Wrotham Pinot was found by accident growing wild up a cottage wall near the village of Wrotham in Kent. The variety is noted for its unusual furred leaves and great disease resistance, particularly to powdery mildew. In appearance it more closely resembles Pinot Meunier but DNA testing has revealed it to be a clone of Pinot noir.
It is also not true that English wine making has only been made possible by "global heating", as the The History of English Wine website makes clear:
Domesday & Middle Ages

It is more certain that by the time of the Norman Conquest, vines were grown, and wine made, in a substantial number of monastic institutions in England, especially, southern England. The legacy of street names (such as Vine street or the Vineyards) in London and provincial towns and cities – suggests that vines and vineyards were certainly no great rarities.

At the time of the compilation of the Domesday Survey in the late eleventh century, vineyards were recorded in 46 places in southern England, from East Anglia through to modern-day Somerset. By the time King Henry VIIIth ascended the throne there were 139 sizeable vineyards in England and Wales – 11 of them owned by the Crown, 67 by noble families and 52 by the church.

It is not exactly clear why the number of vineyards declined subsequently. Some have put it down to an adverse change in the weather which made an uncertain enterprise even more problematic. Others have linked it with the dissolution of the monasteries by Henry VIII. Both these factors may have had some part to play but in all probability the decline was gradual (over several centuries) and for more complex reasons.

Eighteenth & nineteenth century experimenters

In the seventeenth, eighteenth and nineteenth century there is evidence of various noblemen experimenting with growing grapes and making wine – such as the Hon. Charles Hamilton who grew vines at Painshill in Surrey (a garden which has in recent years been restored).

In the late nineteenth century, the Marquess of Bute established a vineyard on a commercial scale at Castell Coch in South Wales – this is very well documented. The Marquess died in 1900 but in 1905 there were 63,000 vines at Castell Coch and Swanbridge superintended by the Marquess's 19 year old son who had succeeded him, but no wine making seems to have been carried out after the First World War.

Twentieth century gap

The period from the end of the First World War to shortly after the end of the Second World War may well be the only time in two millennia that vines to make wine on a substantial scale were not grown in England or Wales. Doubtless, during that time, there were some vines being grown on a garden scale by amateur growers, but for more than 25 years there was a total cessation of viticulture and winemaking on a commercial basis.

Post-war pioneers

After the Second World War, two men seem to have been the inspiration for the re-establishment of the English Wine industry. One was Ray Barrington Brock (who died only this year). He was a research chemist and set himself a private research mission to discover which varieties of grape would grow and ripen well in Britain. The other was Edward Hymans, a writer on garden matters who planted a vineyard and researched for a book he was writing on the history and practice of grape-vine cultivation in England.

The work of these two pioneers inspired others: Major General Sir Guy Salisbury-Jones planted a vineyard at Hambledon, north of Portsmouth, in Hampshire. He initially planted 4,000 vines on a 1.5 acre site in 1952 and in 1955 the first English Wine to be made and sold commercially since the First World War went on sale.

Exponential growth

The rest, as they say, is history. An ever-increasing number of pioneers followed these leads and especially during the 1960s, 70s and 80s there was a rapid increase in the number of English vineyards to a figure well over 400 by the late 80s/early 90s. The total area under cultivation rose to more than 2,000 acres.

Look carefully – a superb crop of black Rondo grapes at Sedlescombe Organic Vineyard in East Sussex (1996)

The vast majority of these vineyards were small (5 acres or less, many less than 1 acre), whilst a few much larger vineyards emerged, such as Three Choirs near Newent in Gloucestershire. Denbies at Dorking in Surrey has, so far, marked the apogee of size in English vineyards, with around 250 acres under cultivation. Clearly such vineyards have been very serious commercial developments, but many small English vineyards have been retirement or "second-career" ventures, quite often by individuals or married couples wanting to escape the urban rat-race whilst still pursuing an occupation requiring both manual and intellectual challenges.
http://www.english-wine.com/history.html
We are familiar with wine making in the Middle Ages. What is probably less known is that winemaking was going strong in the 18th and 19thC.
Winemaking took off again in the 1950s, and following decades saw rapid growth.
The Guardian also claims "Changing climates, however, also bring weather unpredictability."
This is absurd. As The History of English Wine points out:
In England, it is only in about 2 years in every 10 that grape production will be really good, 4 years will be average and 4 years poor or terrible – largely due to weather and/or disease exacerbated by weather.
English weather has always been totally unpredictable, and has always swung wildly from year to year.
As for the Guardian's image of some sort of Mediterranean climate in England, brought by global heating, this is equally balderdash. No summer since has been as hot as that of 1976. Neither are summers getting drier: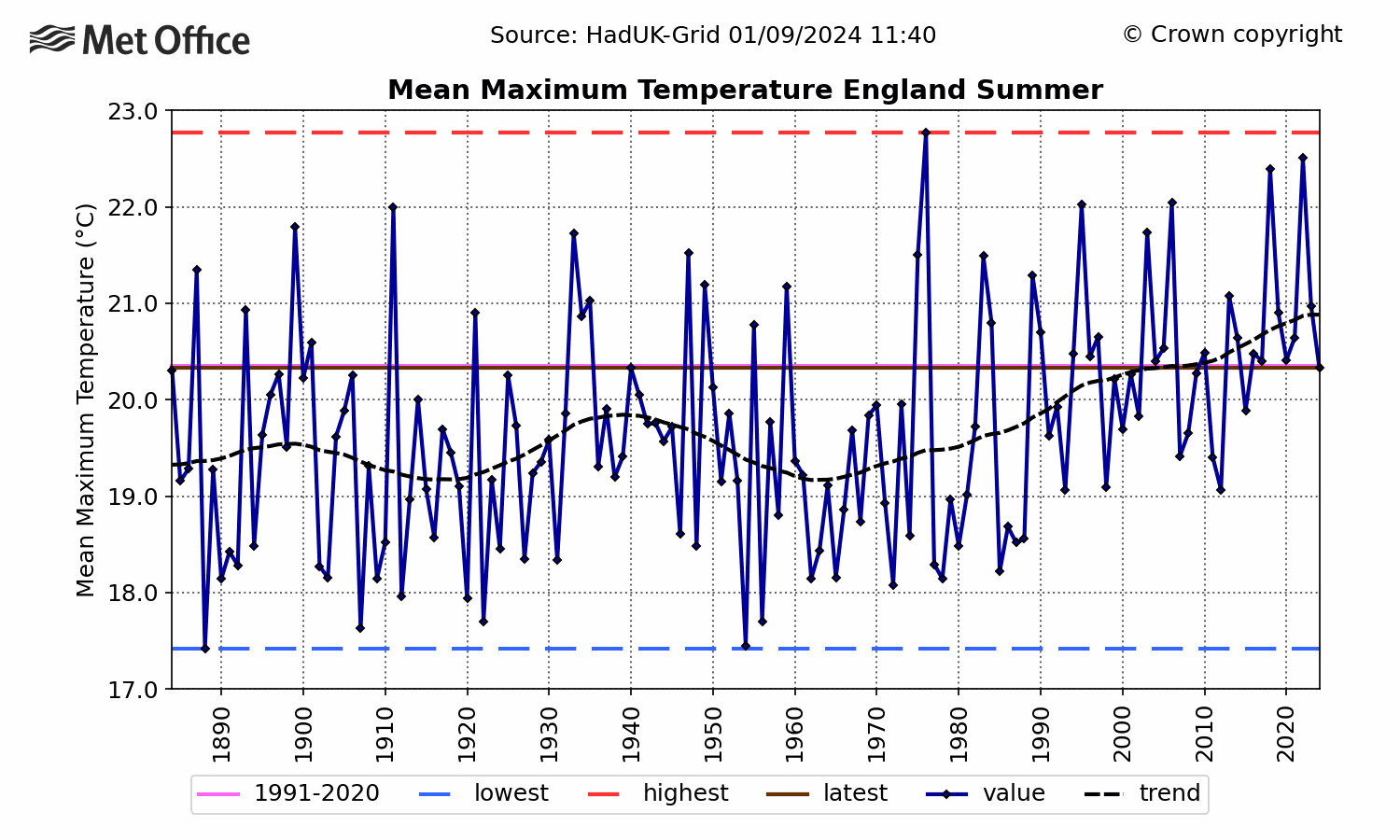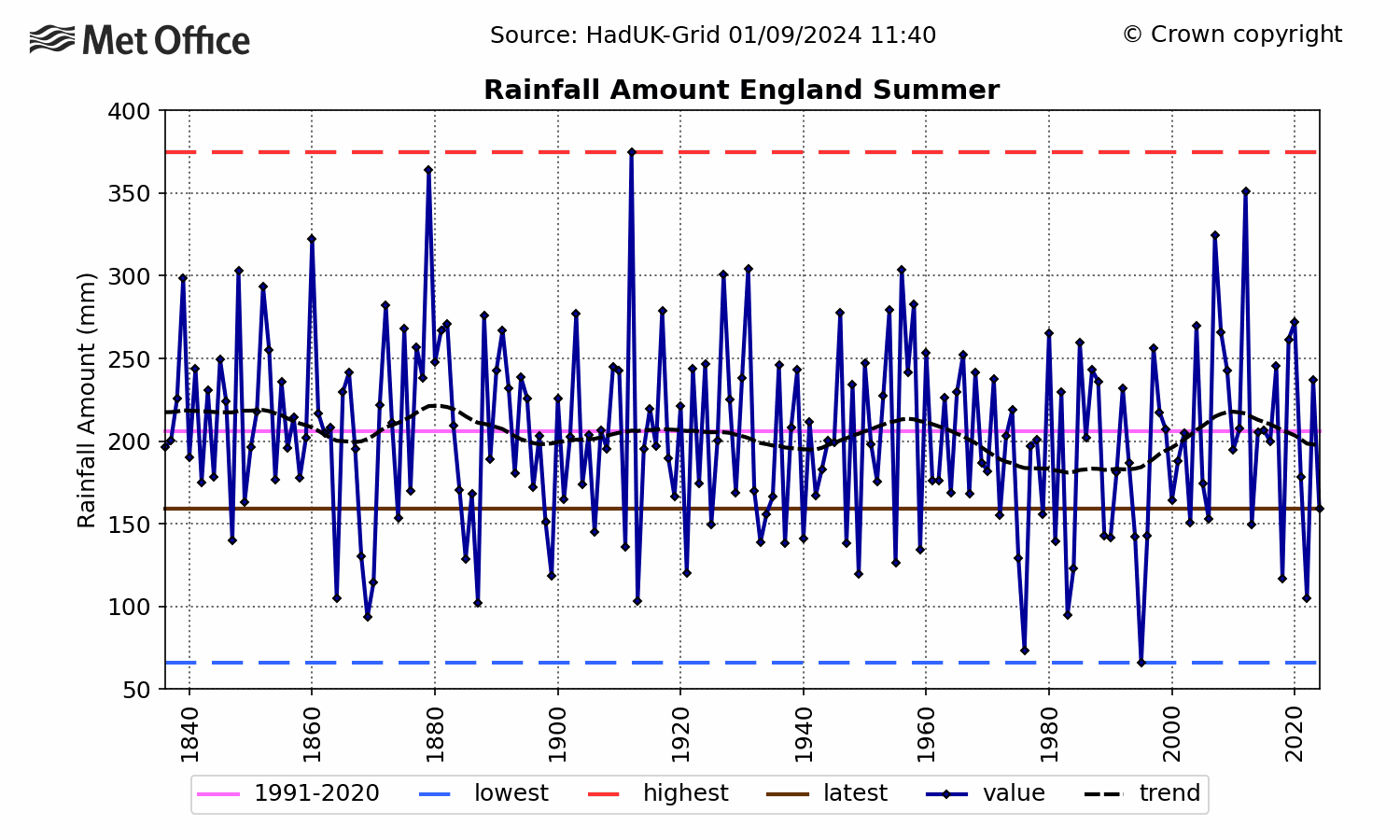 Temperatures are not increasing year-on-year, as the Guardian falsely claims, and winemakers do not rely on that. What matters most to them is that a decent summer comes along every two or three years, to compensate for the occasional cold and wet ones.
The continued expansion of English winemaking has nothing to do with global warming. It is rather soundly based around economics. With the skills and reputation of English winemakers now high class, there is a lot of profit to be made.
As Wikipedia note:
Significant plantings have been happening across the south of the country with a number of farmers contract growing vines for some of the major English producers. Farmers are looking at the potential benefits of growing vines, as the return per tonne for grapes over more traditional crops are not to be ignored. A field of wheat might yield 3 tonnes per acre at around £120 per tonne. Growing grapes could yield 3 to 4 tonnes per acre at around £950 to £1100 per tonne.
But what does the Guardian know about making money?