Met Office Guilty Of Fake "Wettest Month In London" Claims
November 5, 2020
By Paul Homewood
h/t Ian Magness
 There have been persistent attempts by the Met Office to mislead the public into believing that last month's rainfall was in some way extreme.
This particular attempt appeared last week:
It is typical Met Office fare – claim a record even before the month has ended, and when it proves fake? Well, just ignore it afterwards.
The claim was always absurd and without basis.
October 2020 finished with 142.2mm of rain at Heathrow, putting it in only tenth place since 1948, as far as all months are concerned. By far the wettest month was October 1987, the month of the Great Storm of course.
Last month was not even the wettest October, only ranking fourth behind 1987, 1960 and 2000. There is clearly no trend either in October rain stats:
https://www.metoffice.gov.uk/pub/data/weather/uk/climate/stationdata/heathrowdata.txt
Kew Gardens of course have a much longer record, though strangely the Met Office no longer publish it. But KNMI confirm that monthly totals of 160mm and over used to be commonplace. The record of 184mm was set in July 1782.
https://climexp.knmi.nl/getprcpall.cgi?id=someone@somewhere&WMO=3672.2&STATION=KEW_GARDENS_(X)&extraargs=
Nationally, last month was the fifth wettest October, well below the record set in 1903.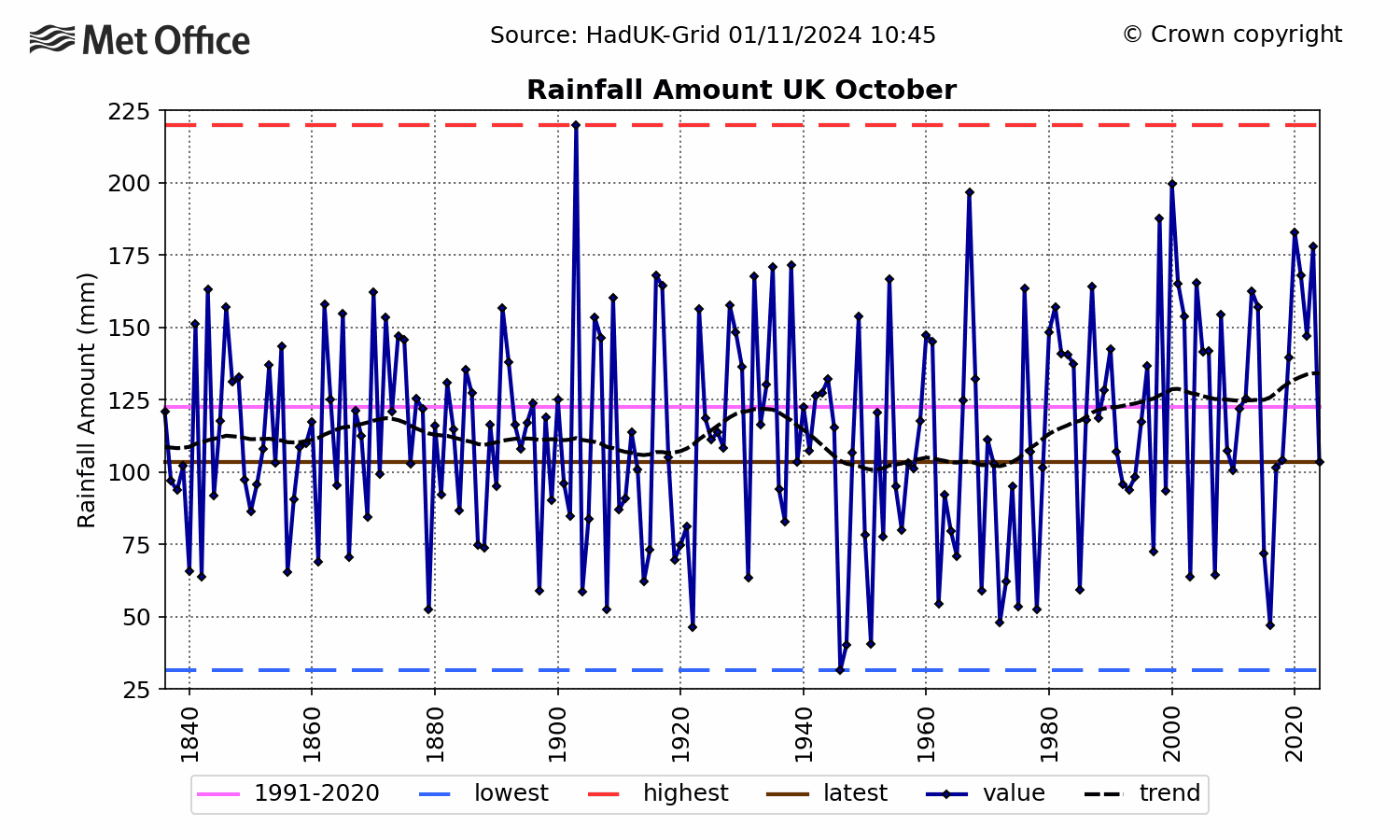 October 1903 remains far and away the wettest of any month in the UK since 1862. It was an astonishing month, not only because of the astonishingly heavy falls at times, but the persistence of the rain throughout the month.
According to the British Rainfall publication, many areas experienced rainfall every single day of the month. Virtually the whole country experienced at least 25 raindays.
Meanwhile, large swathes of England & Wales received more than double the average rainfall. In terms of percentages, the worst affected are was just west of London.
https://digital.nmla.metoffice.gov.uk/SO_4d68c8c7-d554-4593-9892-37981eb71b47/
Perhaps the Met Office should spend more time educating the public about the past, and less trying to con them about climate change.