China's Dystopian Lake–Courtesy Of The World's Lust For Rare Earths
December 24, 2020
By Paul Homewood
 Further to my post on neodymium, it is worth taking a closer look at just why China dominates most of the world's production, their share being estimated at 90%.
Although neodymium is classified as a "rare earth", there is actually plenty of it about. The real problem is that extracting and refining it, and other rare earths, is a highly hazardous and toxic process.
Quite simply, few countries, other than China, are prepared to take the environmental hit.
Back in 2015, the BBC published this account of Baotou, where rare earths are mined: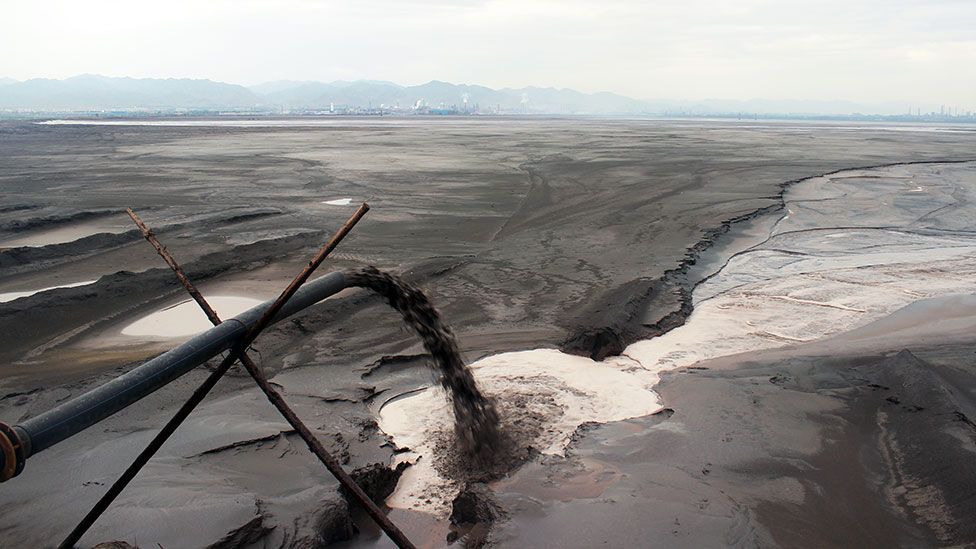 Hidden in an unknown corner of Inner Mongolia is a toxic, nightmarish lake created by our thirst for smartphones, consumer gadgets and green tech, discovers Tim Maughan.
From where I'm standing, the city-sized Baogang Steel and Rare Earth complex dominates the horizon, its endless cooling towers and chimneys reaching up into grey, washed-out sky. Between it and me, stretching into the distance, lies an artificial lake filled with a black, barely-liquid, toxic sludge.
Dozens of pipes line the shore, churning out a torrent of thick, black, chemical waste from the refineries that surround the lake. The smell of sulphur and the roar of the pipes invades my senses. It feels like hell on Earth.
Welcome to Baotou, the largest industrial city in Inner Mongolia. I'm here with a group of architects and designers called the Unknown Fields Division, and this is the final stop on a three-week-long journey up the global supply chain, tracing back the route consumer goods take from China to our shops and homes, via container ships and factories.
You may not have heard of Baotou, but the mines and factories here help to keep our modern lives ticking. It is one of the world's biggest suppliers of "rare earth" minerals. These elements can be found in everything from magnets in wind turbines and electric car motors, to the electronic guts of smartphones and flatscreen TVs. In 2009 China produced 95% of the world's supply of these elements, and it's estimated that the Bayan Obo mines just north of Baotou contain 70% of the world's reserves. But, as we would discover, at what cost?
https://www.bbc.com/future/article/20150402-the-worst-place-on-earth
It's well worth reading the whole piece. But this paragraph sums it up:
The intriguing thing about both neodymium and cerium is that while they're called rare earth minerals, they're actually fairly common. Neodymium is no rarer than copper or nickel and quite evenly distributed throughout the world's crust. While China produces 90% of the global market's neodymium, only 30% of the world's deposits are located there. Arguably, what makes it, and cerium, scarce enough to be profitable are the hugely hazardous and toxic process needed to extract them from ore and to refine them into usable products. For example, cerium is extracted by crushing mineral mixtures and dissolving them in sulphuric and nitric acid, and this has to be done on a huge industrial scale, resulting in a vast amount of poisonous waste as a byproduct. It could be argued that China's dominance of the rare earth market is less about geology and far more about the country's willingness to take an environmental hit that other nations shy away from.