Guardian Scum Strike Again
December 31, 2020
By Paul Homewood
Is there a more pathetic rag in the world than the Guardian?
When lockdown began, climate scientists were horrified at the unfolding tragedy, but also intrigued to observe what they called an "inadvertent experiment" on a global scale. To what extent, they asked, would the Earth system respond to the steepest slowdown in human activity since the second world war?
Environmental activists put the question more succinctly: how much would it help to save the planet?
Almost one year on from the first reported Covid case, the short answer is: not enough. In fact, experts say the pandemic may have made some environmental problems worse, though there is still a narrow window of opportunity for something good to come from something bad if governments use their economic stimulus packages to promote a green recovery.
During the northern hemisphere spring, when restrictions were at their strictest, the human footprint softened to a level not seen in decades. Flights halved, road traffic in the UK fell by more than 70%. Industrial emissions in China, the world's biggest source of carbon, were down about 18% between early February and mid-March – a cut of 250m tonnes. Car use in the United States declined by 40%. So light was humankind's touch on the Earth that seismologists were able to detect lower vibrations from "cultural noise" than before the pandemic.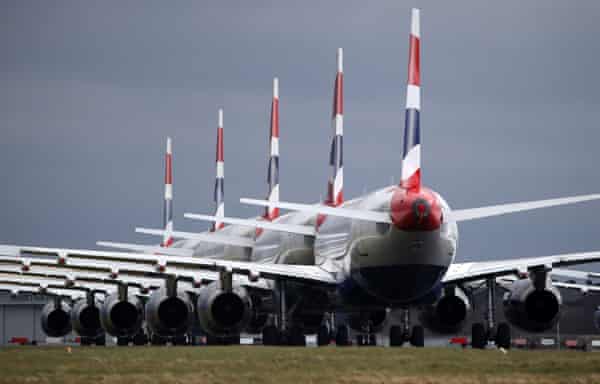 British Airways planes parked on the tarmac at Glasgow Airport in March 2020. Photograph: Andrew Milligan/PA
The respite was too short to reverse decades of destruction, but it did provide a glimpse of what the world might feel like without fossil fuels and with more space for nature.
Wildlife did not have time to reclaim lost territory but it had scope for exploration. Alongside apocalyptic images of deserted roads, the internet briefly buzzed with heartwarming clips of sheep in a deserted playground in Monmouthshire, Wales, coyotes on the Golden Gate Bridge in San Francisco, wild boar snuffling through the streets of Barcelona, and deer grazing not far from the White House in Washington DC. Wildflowers flourished on roadsides because verges were cut less frequently.
In the global south, the picture was more mixed. Rhino poaching declined in Tanzania due to disruption of supply chains and restrictions on cross-border movements, but bushmeat hunting, illegal firewood collection and incursions into protected areas increased in India, Nepal and Kenya because local communities lost tourist income and sought other ways to care for their families.
https://www.theguardian.com/world/2020/dec/29/could-covid-lockdown-have-helped-save-the-planet
How on earth could anybody normal welcome a year which has seen millions of deaths , global economic dislocation and third world poverty, all as a result of the Wuhan virus? Which according to this nobhead, Jonathan Watts, did not last long enough to have a "real" effect.
Evidently this utter prat would prefer it if even more workers had lost their jobs, whole populations locked up for years on end, and millions more die, just so that a few wildflowers can grown by the roadside.
I'm not sure who are more depraved – idiots like Watts who write this drivel, or the sad, pathetic rabble who read it.