Environment Agency Blames Storm Christoph On Climate Change!
January 24, 2021
By Paul Homewood
It did not take long for the Environment Agency to blame Storm Christoph on climate change!
.
The flooding caused by Storm Christoph is a harbinger of worsening "climate shocks" in the UK, the chair of the Environment Agency has warned.
England and Wales faced a deluge this week as the storm brought high winds, heavy rainfall and snow. The flooding has so far affected around 400 homes in England and forced thousands more to evacuate.
Emma Howard Boyd, chair of the Environment Agency, visited an affected area in Didsbury, Greater Manchester on Thursday alongside the prime minister. She told The Independent: "We know from our research that from every home that is flooded, 16 other people are affected by flooding to infrastructure. You see it in the roads, the rail, the disruption to sewage works."
Storm Christoph caused particularly heavy rainfall across northern England. Parts of North Yorkshire received more than their average January rainfall in just two days from Tuesday to Wednesday, according to provisional data from the Met Office. 
Meanwhile, Honister in Cumbria received 123.8mm of rainfall on Tuesday alone – the highest amount seen in a single day this winter.
The storm arrived after a particularly wet autumn, meaning soils were already saturated and unable to absorb much additional water. 
The sight of swollen rivers and rushing water seen across much of northern England this week are a visual sign of "the changing dynamic we're now seeing in our climate", said Ms Howard Boyd.
"The climate crisis is happening right now," she said. "What we've seen in the past 24 hours should remind us that we continually need to enhance the way we prepare for the climate shocks that we're going to see."
https://www.independent.co.uk/environment/climate-change/storm-christoph-floods-uk-weather-b1791414.html
In reality, Storm Christoph was no more than a typical winter storm, which we see several times every year.
The 400 homes "affected", which they refer to, is also a tiny number in comparison with historical floods. There is actually no evidence of any serious river flooding last week, merely a handful of localised events on low lying ground.
https://www.dailypost.co.uk/news/north-wales-news/gallery/gallery-storm-christoph-causes-flooding-19677907
As for the rainfall data, the best they can seemingly come up with is 123.8mm at the notoriously unrepresentative mountain site at Honister Pass (now obviously the go-to place for the Met Office to bandy "record rain" claims.) And the significance of 123.8mm? The highest daily rain this winter!!! Utterly pathetic.
The Met Office have more detail on the storm, but I am afraid this does not help Emma Boyd's claims one iota:
 https://www.metoffice.gov.uk/about-us/press-office/news/weather-and-climate/2021/end-of-storm-christoph
The wettest January day in a few locations in Lancashire since 1954? Seriously? What on earth significance does this have, given that there are 12 months every year? Daily rainfall of 40mm is common in places like Preston, and there is no trend towards heavier downpours there:
https://www.ecad.eu/utils/showindices.php?av5nbr500k2i3rq38d48hnsit3
As for Cleveland, average January rainfall is 41mm, and there is nothing remotely unusual to see this amount of rain in two days up in that part of the country. It is grossly dishonest for the Met Office to imply that there is.
 https://www.metoffice.gov.uk/research/climate/maps-and-data/uk-climate-averages/gcxn3ykru
 https://www.ecad.eu/utils/showindices.php?av5nbr500k2i3rq38d48hnsit3
Finally, let's deal with the implication that winters and autumns are getting wetter, or that we have just has a particularly wet autumn. As ever such claims have no basis in fact.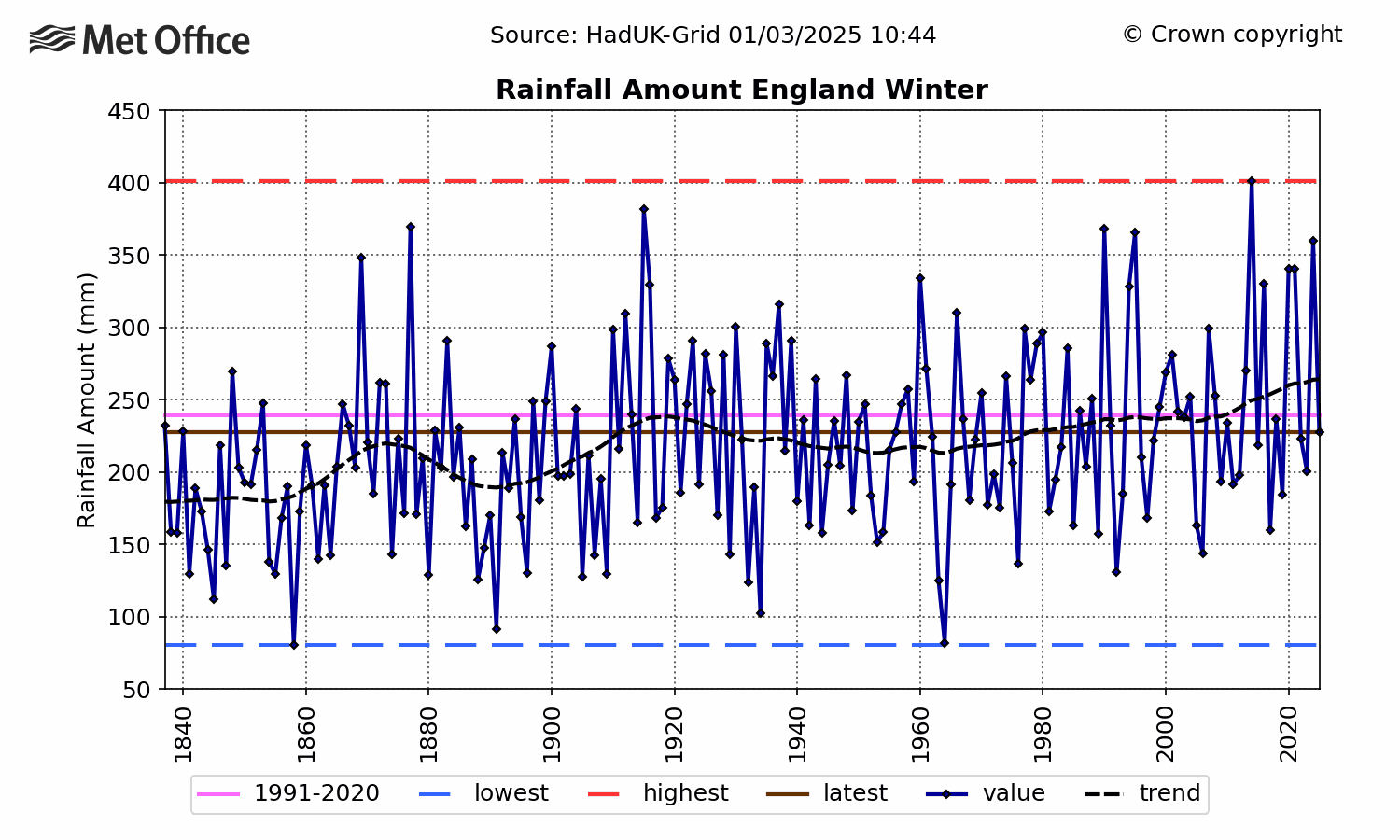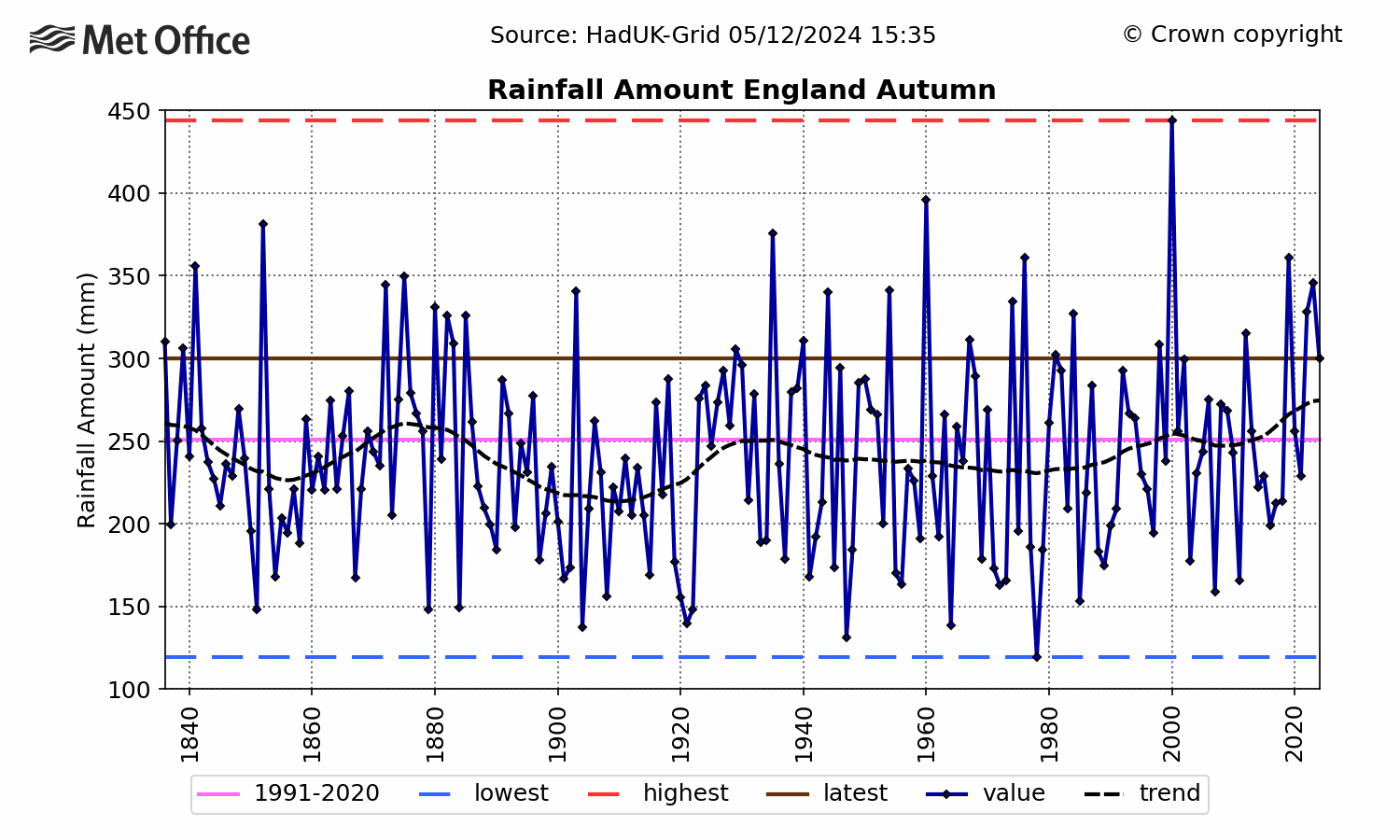 https://www.metoffice.gov.uk/research/climate/maps-and-data/uk-temperature-rainfall-and-sunshine-time-series
It is really quite shameful that both the Met Office and the Environment Agency keep peddling lies like this.