Adapt or Die, Warns Environment Agency
October 13, 2021
By Paul Homewood
h/t Ian Magness
.
We are used to absurd, over the top articles like this from the BBC, but Emma Boyd, chair of the Environment Agency should be sacked for producing this latest preposterous report:
.
Hundreds of people could die in floods in the UK, the Environment Agency has warned in a hard-hitting report that says the country is not ready for the impact of climate change.
Earlier this year in Germany, dozens of people died in floods.
"That will happen in this country sooner or later" unless the UK becomes more resilient to increasingly violent weather, the agency concludes.
Emma Howard Boyd, chair of the agency, said: "It is adapt or die."
The apocalyptic tone is deliberately intended to startle governments, companies and communities into preparing for global warming effects such as higher sea levels and more extremes of rainfall and drought.
The new report, seen by the BBC ahead of its publication on Wednesday, assesses the country's readiness to cope with the many different risks of climate change.
We are currently heading for an increase in the global average temperature of just under 3C by the end of the century.
But the agency projects that even a smaller rise of 2C would have severe consequences:
Winter rainfall up by 6% by the 2050s and 8% by the 2080s (compared with 1981-2000)
Summer rainfall down by about 15% by the 2050s
London's sea level up by 23cm by the 2050s and 45cm by the 2080s
By the 2050s, peak river flows could be up 27% while summer flows could be down as much as 82%
An extra 3.4 billion litres of extra water needed every day before 2050, on top of the 15 billion used now
According to Ms Howard Boyd: "We can successfully tackle the climate emergency if we do the right things, but we are running out of time to implement effective adaptation measures.
"Some 200 people died in this summer's flooding in Germany. That will happen in this country sooner or later, however high we build our flood defences – unless we also make the places where we live, work and travel resilient to the effects of the more violent weather the climate emergency is bringing."
https://www.bbc.co.uk/news/science-environment-58883234
None of her apocalyptic projections have any basis in fact. Winter  rainfall, for instance, is not peaking any higher. The slight increase in average trends is due to fewer really dry winters.
Meanwhile, there is no downward trend in summer rainfall, with droughts much less common than in the past: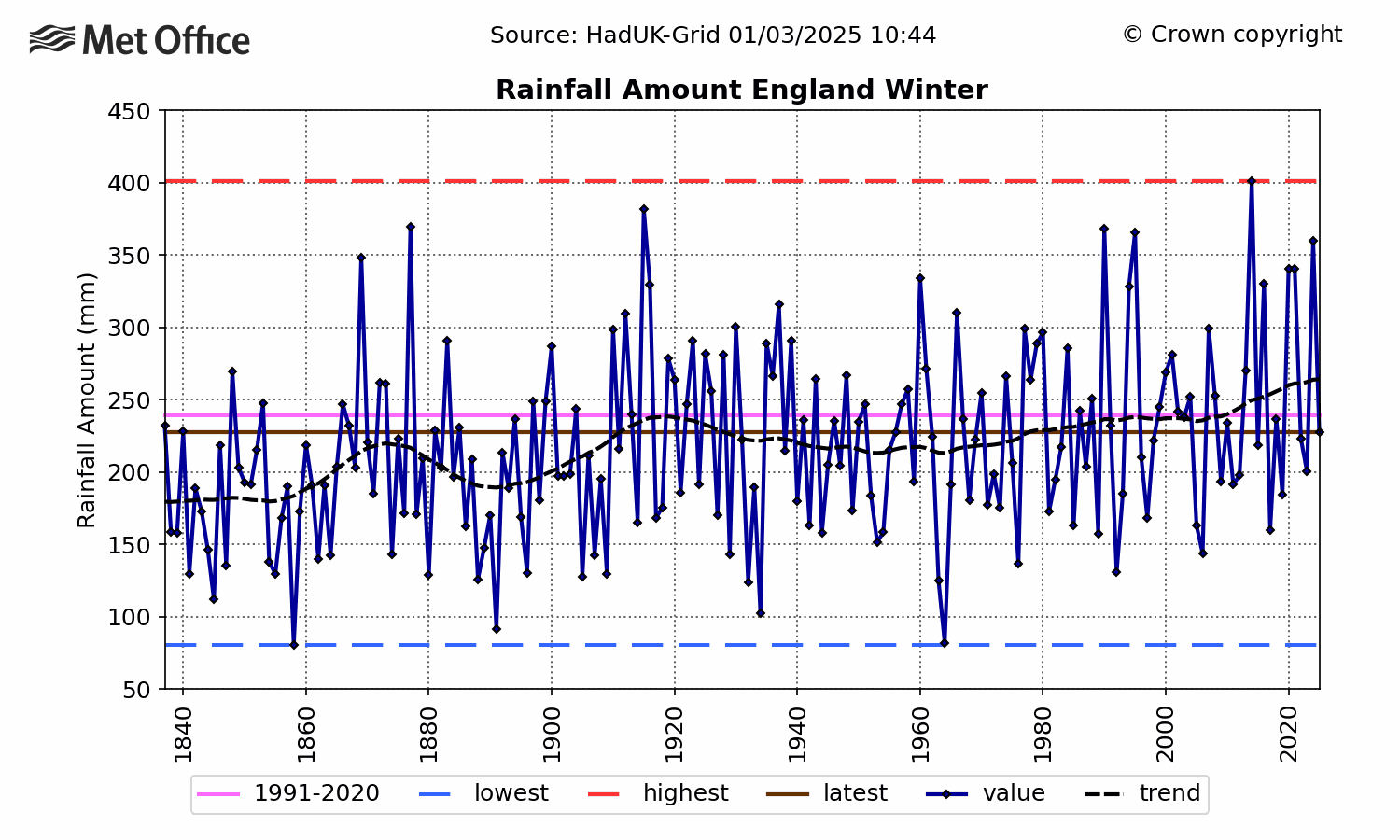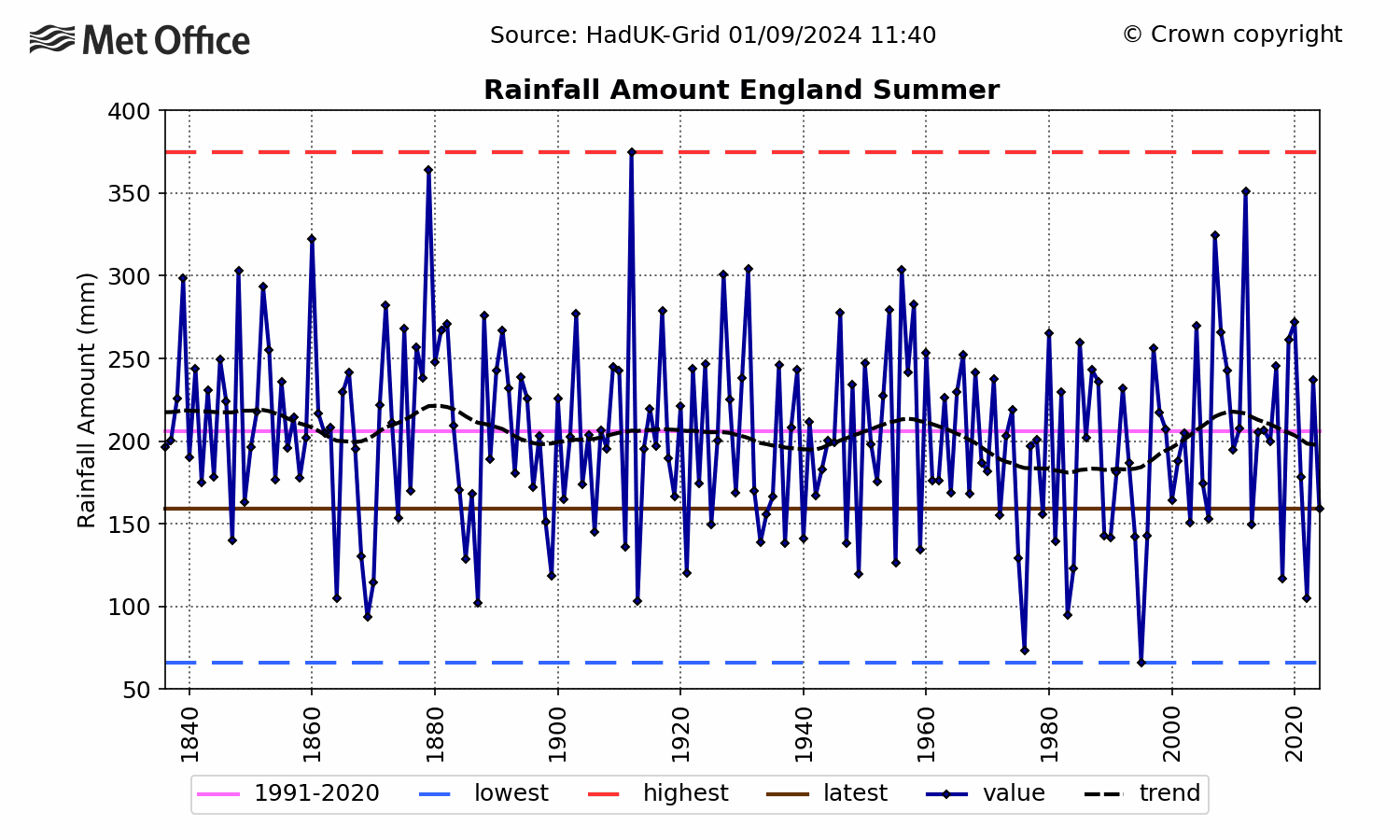 It follows then that her projections for river flows and water shortages are nothing more than gibberish.
And sea levels?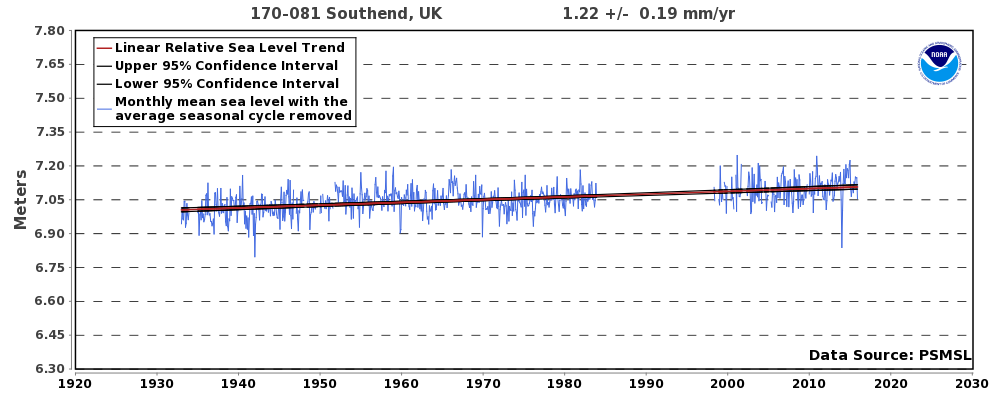 Her projections of a 45cm rise by the 2080s would equate to an annual rise of about 7mm. In reality, sea levels on the Thames Estuary are rising at just 1.22mm/year, with no sign of acceleration.
Since when was it OK for a public body such as the EA to publish such a misleading, unsubstantiated report?