BBC Exaggerate Drought Claims
July 27, 2022
By Paul Homewood
Today's disinformation from the BBC:
The period between January and June this year was the driest in England since 1976, the Met Office has said.
With water levels running low, the National Drought Group met on Tuesday to discuss how to cope with conditions.
The group stopped short of declaring a drought but water companies have been putting the early stages of their drought plans into action by urging people to save water.
It comes after the UK's record temperature was broken last week….
Environment Agency executive director Harvey Bradshaw, who chairs the National Drought Group, said the group would continue to monitor the situation with further dry weather forecast for August.
Nowhere in England is currently considered "in drought" but most of the country except for the north-west has moved into "prolonged dry weather" status, with low river flows which can impact farmers and wildlife.
Months of below-average rainfall has also led to low groundwater levels, dry soils and low reservoir levels.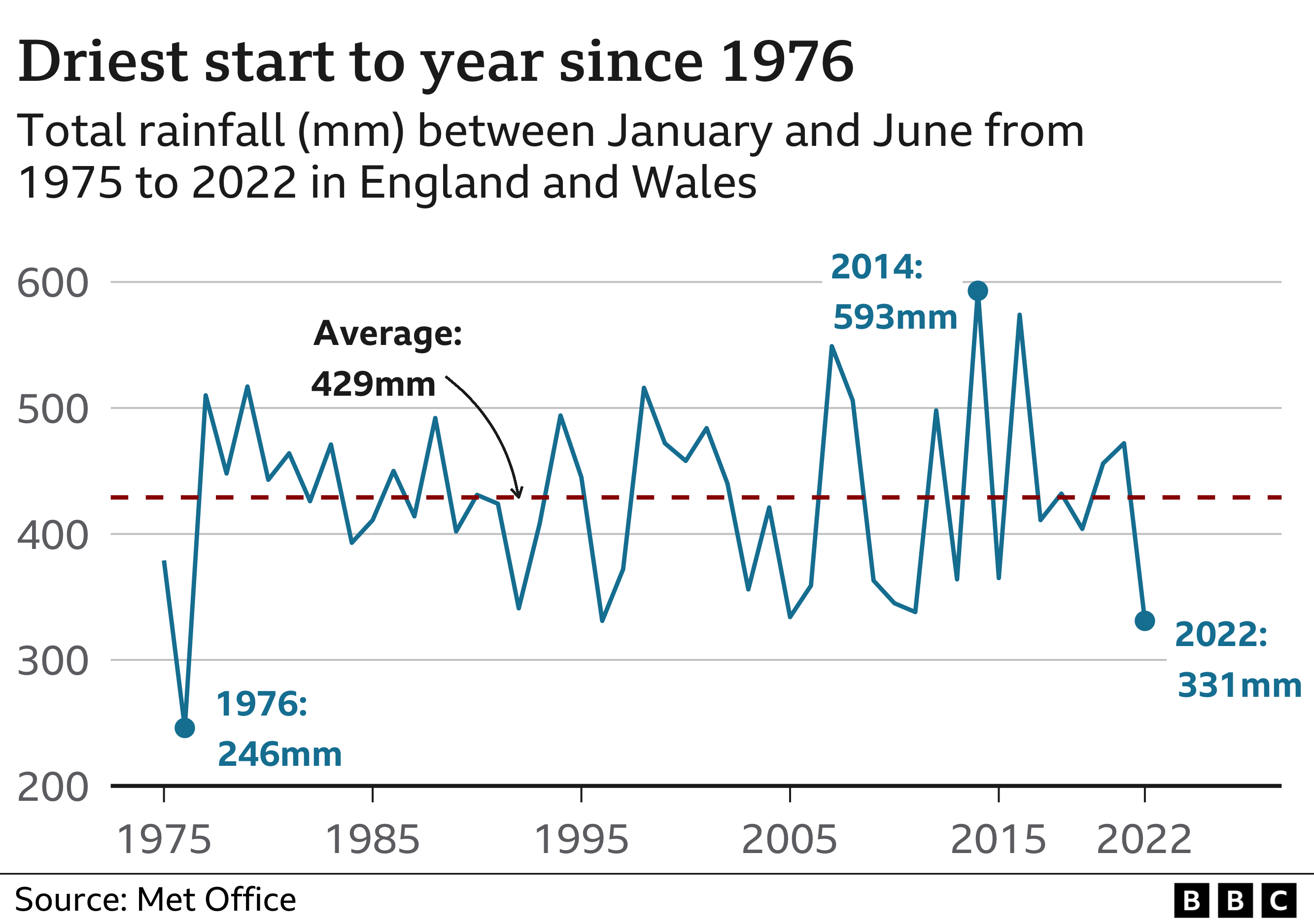 https://www.bbc.co.uk/news/uk-62303330 
To compare this year with 1976 is really quite mendacious, as the latter was much, much drier. And as the BBC's own chart shows, there have been eight other years since then with similar rainfall levels to this year. Indeed, in England, as opposed to England & Wales, both 1996 and 2010 had drier starts to the year).
In other words, this year is not an exceptional event, merely something you expect to see every few years or so.
And if you go back through the full Met Office record to 1836, we can see again that there is nothing at all unusual about this year.( Indeed, all of the really dry years occurred in 1976 and before:
https://www.metoffice.gov.uk/research/climate/maps-and-data/uk-and-regional-series
.
And that photo, which pretends that we are running out of water?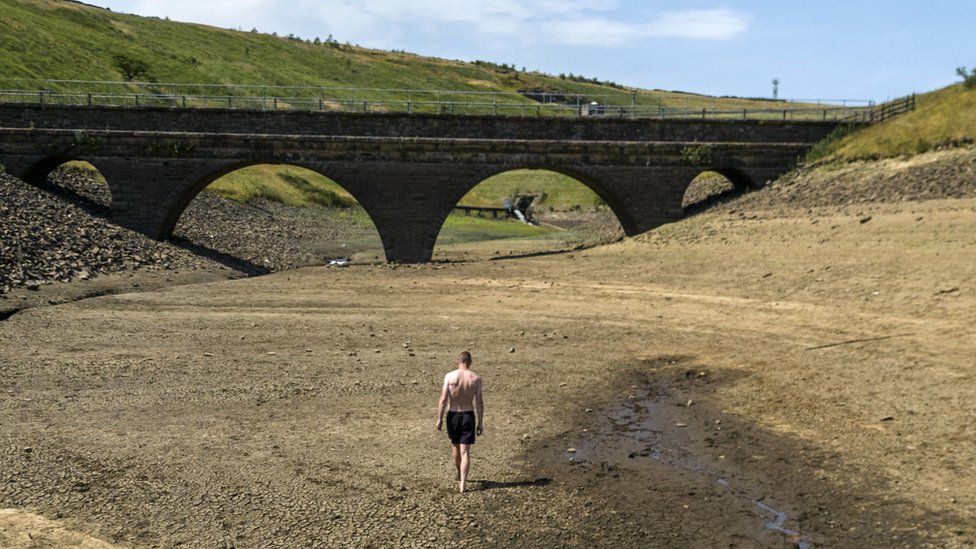 .
It was taken at Dowry Reservoir, near Oldham. A quick internet check shows similar images published in 2013:
.
https://www.dailymail.co.uk/news/article-2378992/UK-weather-Tornado-pictured-Scotland-storms-sweep-Britain.html
.
And 2019:
.
https://www.politicshome.com/thehouse/article/the-water-industry-values-profit-over-people-or-planet–we-need-to-love-every-drop-to-fight-climate-change
.
It is one of those favourite go-to photographs for the media, which conveniently omit the full scale of the reservoir – (the same photo has appeared in two Guardian articles, one Independent one, and various obscure publications this month):
https://vnexplorer.net/praying-for-rain-parched-english-regions-will-be-in-official-drought-and-handed-hosepipe-bans-unless-the-heavens-open-as-britain-heads-into-another-week-of-25c-sunshine-s2818187.html
Half full reservoirs like this are actually a common sight in English summers.
This by the way is the dam at the end of our road today. I remember several years when there was no more than a puddle at the top end: