Fact Checking BBC's Hurricane "Reality" Check
October 2, 2022
By Paul Homewood
The BBC has packed three lies into a 3-minute "Reality Check". That's some performance, even by their standards!
https://www.bbc.co.uk/news/av/61843574
Weather girl Louise Lear introduces the latest reality check on hurricanes, which is just a clumsy attempt to use Hurricane Ian to fool the public that they are getting worse because of global warming.
In particular there are three outright lies:
1)  "There's evidence they're getting more powerful"
There is no such evidence.
US landfalling hurricanes, which offer the longest, most complete and reliable record, clearly show there is no such trend:
https://www.aoml.noaa.gov/hrd/hurdat/All_U.S._Hurricanes.html
And last year's paper by Vecchi et al, "Changes in Atlantic major hurricane frequency since the late-19th century", establishes that there are also no century scale trends in Atlantic basin major hurricanes, once changes in observation practices are taken into account.
There has been no long term increase either in the number or proportion of major hurricanes:
https://www.nature.com/articles/s41467-021-24268-5
.
Meanwhile on a global basis we also see no increase in major hurricane frequency or accumulated energy:
.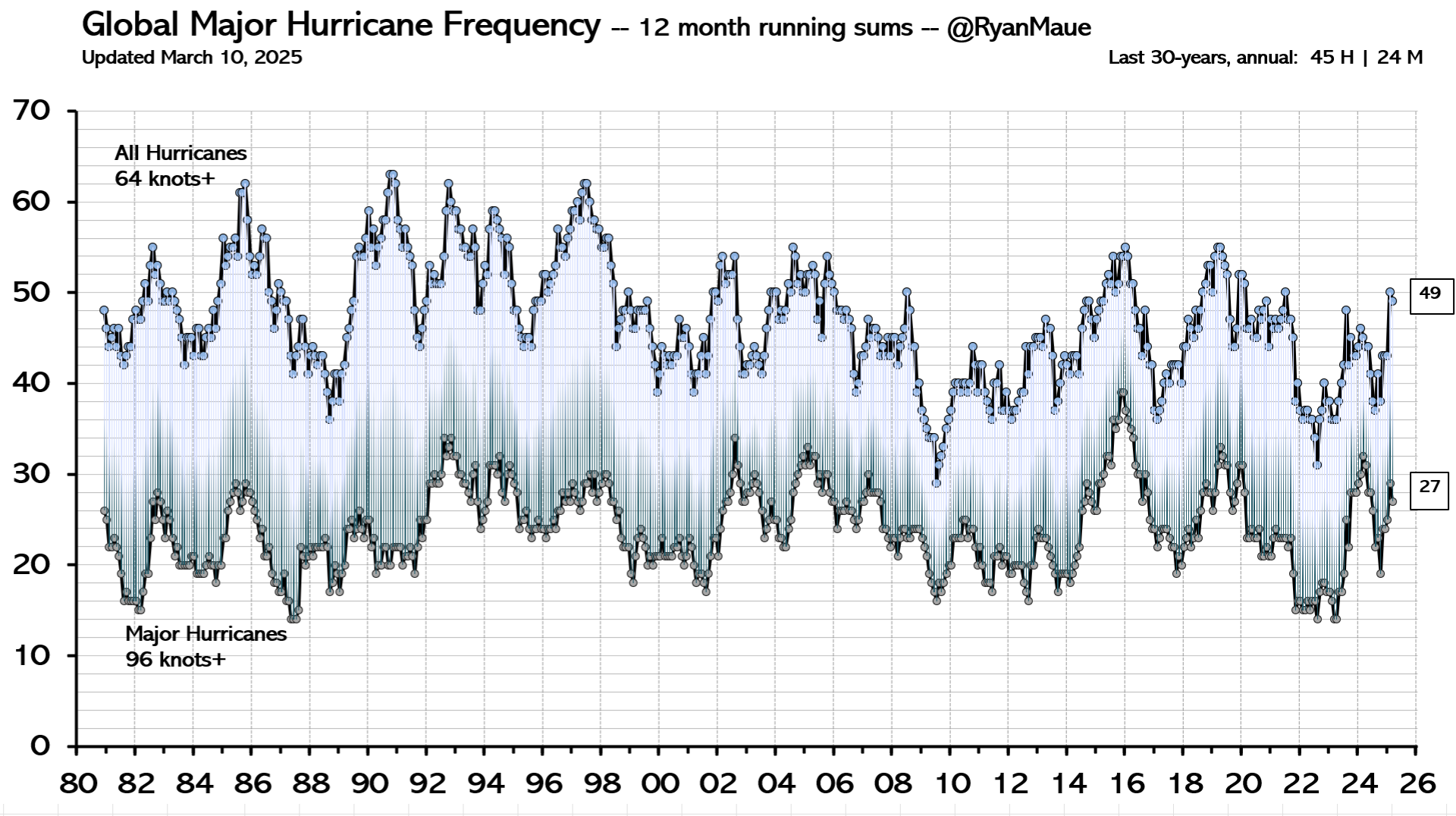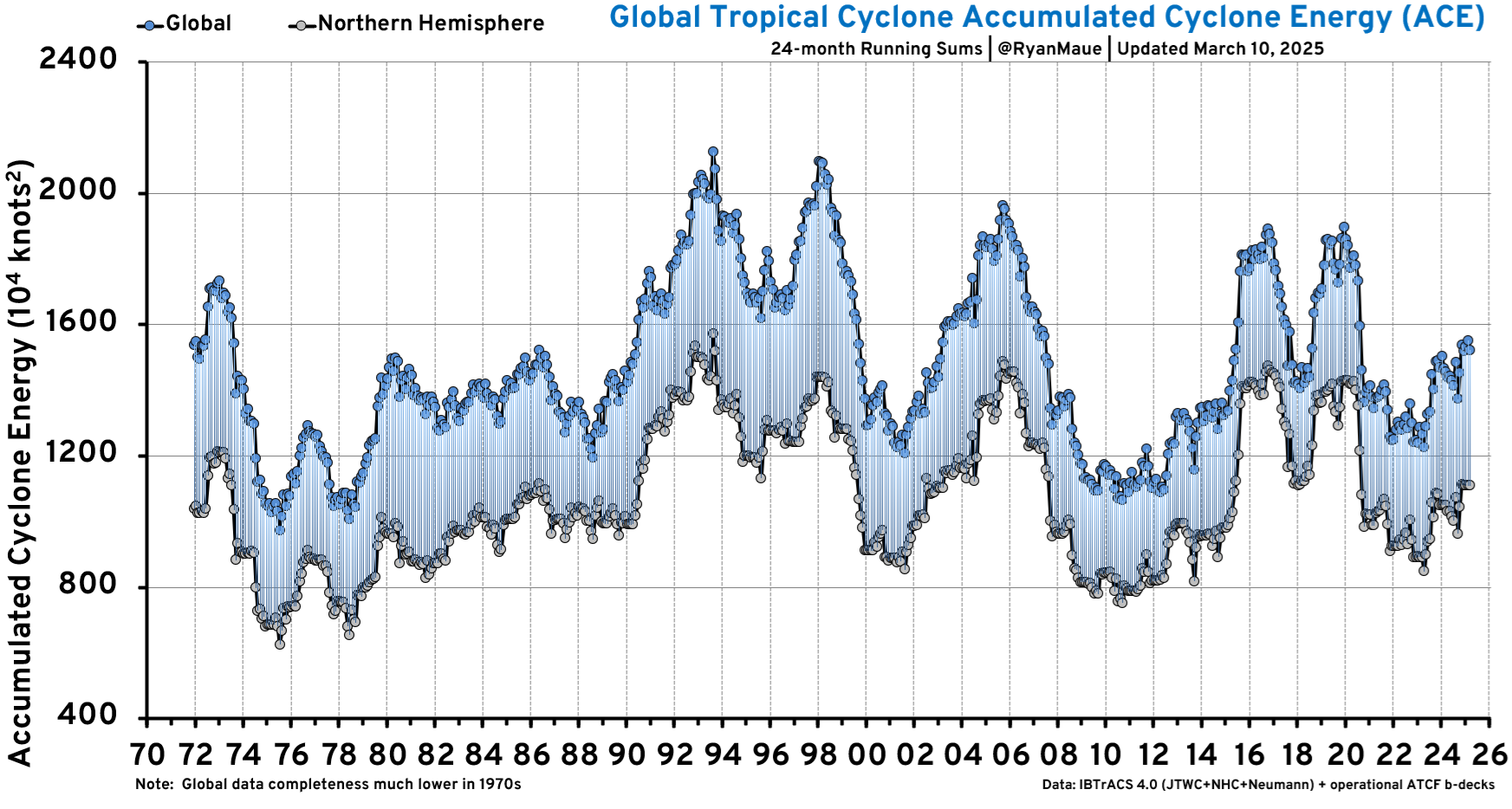 https://climatlas.com/tropical/
Don't believe me though – this is what NOAA themselves said last year, when reviewing the IPPC's AR6: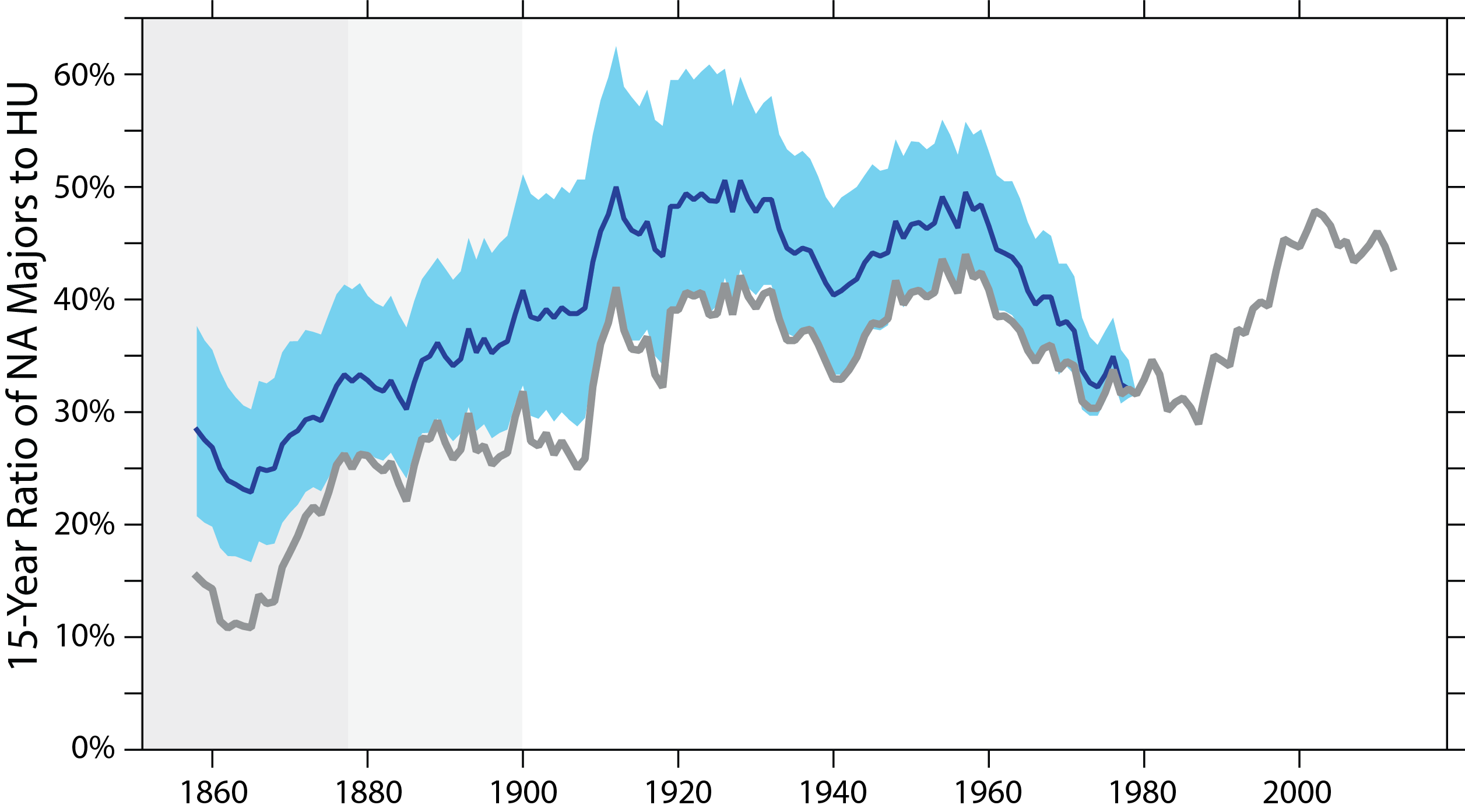 https://www.gfdl.noaa.gov/global-warming-and-hurricanes/
.
2) We actually started naming hurricanes in the 1940s [in alphabetical order]. But in recent years the hurricane season has been so busy, they've used up the list and had to start again"
The increasing number of named storms has nothing to do with the climate, but is a consequence of observational changes:
a) Many more hurricanes and tropical storms * are spotted nowadays thanks to satellites.
The BBC itself reported this fact last year:
"Over the past 10 to 15 years, though, named storms have formed prior to the official start about 50% of the time.
And the way they are defined and observed has changed significantly over time.
"Many of these storms are short-lived systems that are now being identified because of better monitoring and policy changes that now name sub-tropical storms," Dennis Feltgen, meteorologist at the US National Hurricane Center (NHC) told BBC Weather.
The number of named storms has increased over the decades, but there is no real evidence this is the result of a warming world.
Dr McNoldy, senior researcher at the University of Miami's Rosenstiel School, notes "the big shift in counts is simply that there were several inactive seasons from 1981-1990 and several active seasons from 2011-2020".
"Once that inactive period drops out of the average, and is replaced by the active, it will increase the numbers"
The overall increase from 1961 is also likely to be due to better technology, along with observations over the Atlantic Ocean.
Since satellites came along in the 1980s, we can spot and monitor the development of tropical cyclones and name them when they meet the threshold.
We are simply able to record more"
https://notalotofpeopleknowthat.wordpress.com/2021/03/16/increasing-hurricane-frequency-due-to-better-observation-not-climate-change-bbc/
* As well as hurricanes, tropical storms are also named, even though wind speeds may be as low as 39 mph.
.
b) Many more storms are now classified as tropical storms and named, which in the past would have been regarded as sub-tropical or winter storms.
Dr Neil Frank, who was Director of the US National Hurricane Center from 1974 to 1987 goes further, maintaining that many of the storms now named would not have been in his day.
He made two particular complaints about current methods two years ago:
1) Many named storms are actually winter storms, not tropical storms. He states that the first six tropical storms in 2019 would not have been counted in his time.
2) Nowadays the NHC rushes to name a storm, simply based on wind speeds. His team would have waited until the central pressure dropped to confirm that it really was a tropical storm, and not just a thunderstorm. This often explains why named storms are often so short lasting now
https://climaterealism.com/2020/11/no-2020-was-likely-not-a-record-hurricane-season/
.
.
3) "Hurricanes usually weaken when they hit land, but in 2021 when Ida hit land , it had picked up enough moisture for the rain to keep falling…… a months worth of rain fell in one day in New York City."
One weather event is not climate.
The rainfall from Ida amounted to 7 inches over the space of two days to New York.
In 1955, Hurricane Diane brought 12" of rain in 24 hours, and 20" over two days to Connecticut, after a similar overland track:
Hurricane Diane 1955
There is nothing unusual about a month's worth of rainfall falling in a day, particularly where tropical storms are concerned. It is dishonest for Lear to suggest that it is.
.
Summary
Louise Lear finishes by claiming :
"The current evidence suggests that ….. hurricanes that do develop have the potential to be stronger, wetter and more devastating"
There is no evidence for any of these false claims.
Is she aware of this? Does she even care that what she is telling the public is a pack of lies?
Or does she just do what she is told?