A Post-Brexit Framework For Electricity Markets From The IEA
March 24, 2017
By Paul Homewood
h/t Joe Public:
The Institute of Economic Affairs has just published a damning indictment of UK energy policy:
https://iea.org.uk/publications/a-post-brexit-framework-for-electricity-markets/
The con merchants at the Committee on Climate Change, along with successive govt ministers, have consistently argued that electricity bills have been coming down as a result of low carbon policies.
This new study shows this to be nonsense. This is the key graph:
Remember that these are at real prices.
The rise between 2004 and 2008 was associated with the rapidly rising cost of fossil fuels, partly relieved during the 2008 crash.
It is since 2010 that the real costs of govt climate policies has started to kick in. Although overall charges have remained flat since, this has disguised the fact that wholesale prices of electricity have fallen sharply in that time.
In reality, climate policy costs have been hidden by falling market prices.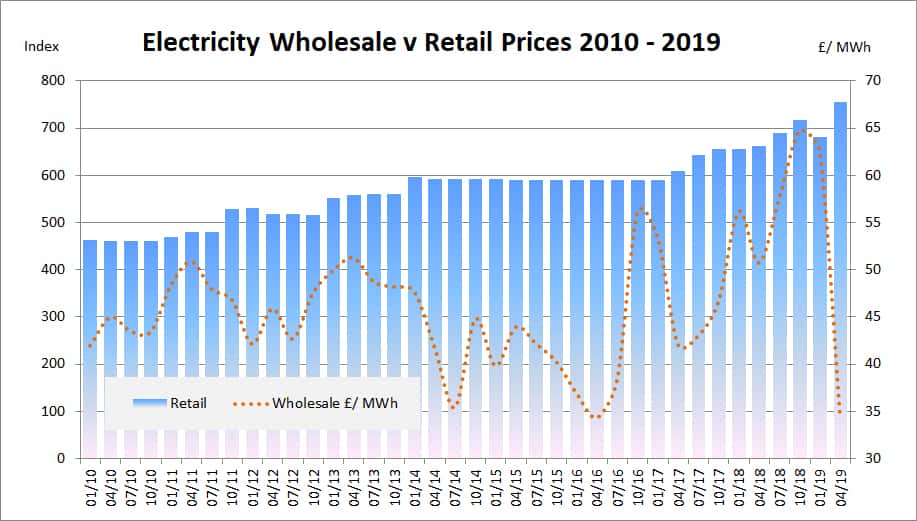 Note – Retail costs are £pa
https://www.businesselectricityprices.org.uk/retail-versus-wholesale-prices/
The above graph is up to last July, when the wholesale price was around £38/MWh.
Since then, prices have risen to £46/MWh, and this increase is beginning to reflect in domestic bills. This is likely to see average household bills going above £600pa, based on the IEA data.
http://www.catalyst-commercial.co.uk/reports/
We know as well that the cost of environmental levies, which are added to electricity bills, will nearly double in the next five years.
2.7 Environmental levies


£ billion


Outturn
Forecast


2015-16
2016-17
2017-18
2018-19
2019-20
2020-21
2021-22
Carbon reduction commitment
0.7
0.6
0.6
0.5
0.5
0.0
0.0
Warm home discount1
0.0
0.3
0.3
0.3
0.3
0.4
0.4
Feed-in tariffs1
0.0
1.3
1.3
1.4
1.5
1.5
1.6
Renewables obligation
3.9
4.6
5.4
6.3
6.6
6.8
7.0
Contracts for difference
0.0
0.1
0.7
1.3
1.9
2.7
3.2
Capacity market
0.0
0.0
0.2
0.7
1.0
1.3
1.4
Environmental levies
4.6
6.9
8.7
10.7
11.9
12.6
13.5
Memo: Expenditure on renewable heat incentive (RHI)
0.4
0.6
0.7
0.9
1.0
1.1
1.2
Note: The 'Environmental levies' line above is consistent with the 'Environmental levies' line in Table 4.6 of the March 2017 Economic and fiscal outlook.
1 The ONS have yet to include Warm Home Discount and Feed-in Tariffs in their outturn numbers. If they were included, they would have been £0.3bn and £1.1bn respectively.
https://notalotofpeopleknowthat.wordpress.com/2017/03/11/environmental-levies-to-cost-57-in-next-five-years/