Hurricane Camille Remembered
August 19, 2019
By Paul Homewood
Above: A boat hurled into a house in Biloxi, Mississippi by the storm surge of Hurricane Camille in 1969. Image credit: NOAA Photo Library.
 This month marks the 50th anniversary of Hurricane Camille, the second most powerful to git the US coast. The strongest was the Labor Day Hurricane of 1935.
The NWS has issued this press release:
Hurricane Camille
August 17, 1969
Late in the evening on August 17 in 1969, Hurricane Camille made landfall along the Mississippi Gulf Coast near Waveland, MS. Camille is one of only FOUR Category 5 hurricanes ever to make landfall in the continental United States (Atlantic Basin) – the others being the 1935 Labor Day Hurricane, which impacted the Florida Keys; Hurricane Andrew in 1992, which impacted south Florida; and Hurricane Michael in 2018, which impacted the Florida panhandle. (Note: It is worth mentioning that the 1928 San Felipe Hurricane made landfall as a Category 5 Hurricane on Puerto Rico)
Camille ranks as the 2nd most intense hurricane to strike the continental US with 900 mb pressure and landfall intensity of 150 knots. Camille ranks just below the 1935 Labor Day Hurricane with 892 mb and 160 knots, while slightly stronger than Hurricane Andrew with 922 mb and 145 knots and Hurricane Michael with 919 mb and 140 knots. The actual maximum sustained winds of Hurricane Camille are not known as the hurricane destroyed all the wind-recording instruments in the landfall area. Re-analysis data found peak winds of 150 knots (roughly 175 mph) along the coast. A devastating storm tide of 24.6 feet occurred west of our area in Pass Christian, MS.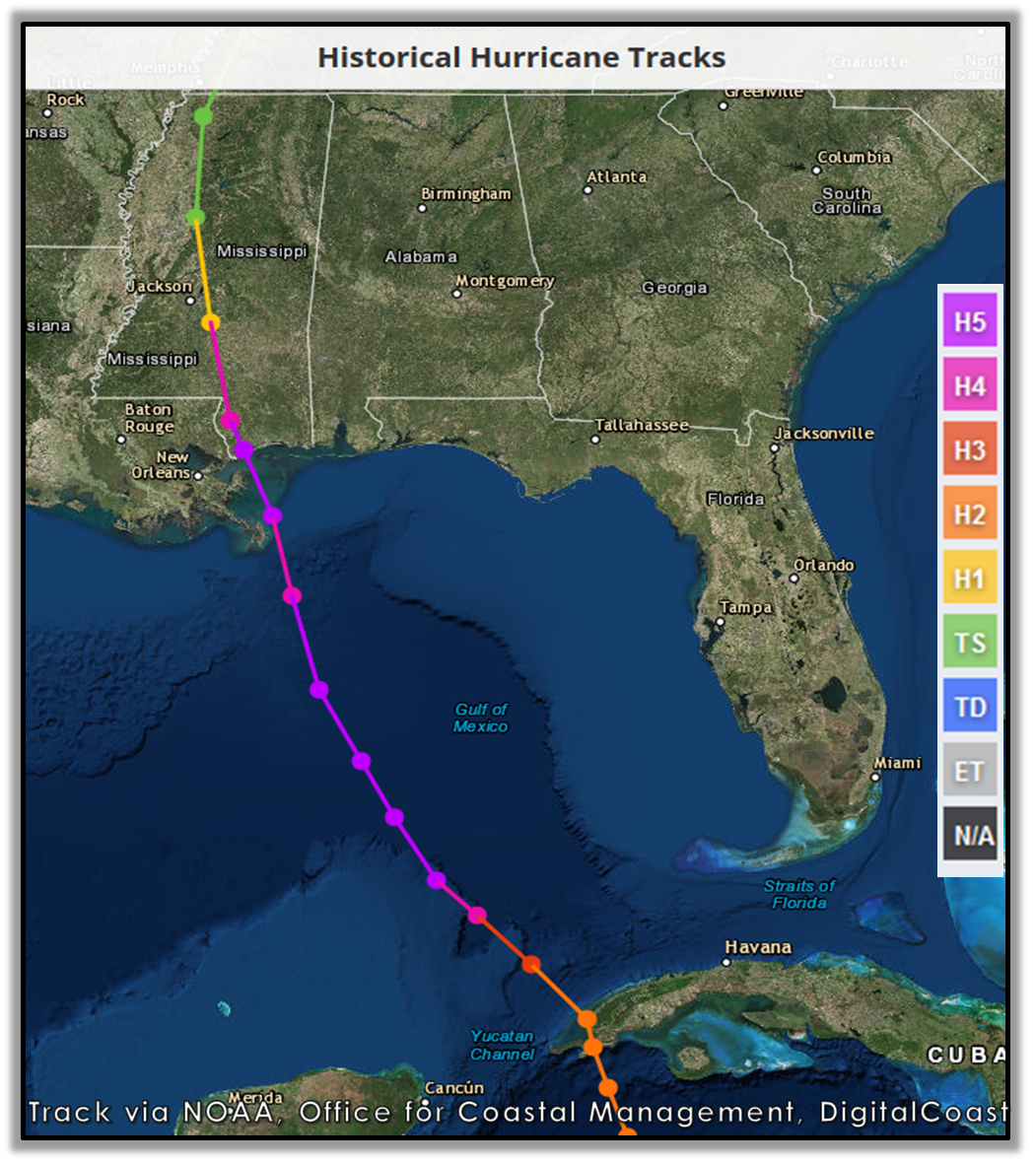 Photo courtesy of NOAA, Office for Coastal Management, DigitalCoast
Hurricane Camille impacted the entire region, especially counties across southeast Mississippi and southwest Alabama in our area. Counties in southeast Mississippi had the greatest damage due to the proximity to Camille's path across the state of Mississippi. Winds gusted to 100 mph across much of southern Mississippi. Moderate wind damage extended inland to Stone and George Counties in Mississippi with minor damage further inland, mainly restricted to fallen trees and power lines. Further east from the path of Camille, hurricane force winds were reported on Dauphin Island and along the coast of Grand Bay and Portersville Bay. No reporting station across the Florida panhandle observed hurricane force winds.

Most property damage along the immediate coast was caused by high water. The water was estimated at nearly 10 feet above the astronomical tide on the night of August 17th through the 18th along Dauphin Island and coastal Mobile County. Further east, the storm tide was estimated at 6.3 feet above astronomical tide in the Pensacola area, 4.5 feet above astronomical tide across coastal Santa Rosa County and 4.0 feet above astronomical tide across coastal Okaloosa County. A few of the high water marks from the US Army Corps of Engineers (USACE) Report on Hurricane Camille in 1970 were
The greatest damage across our area was found in southeast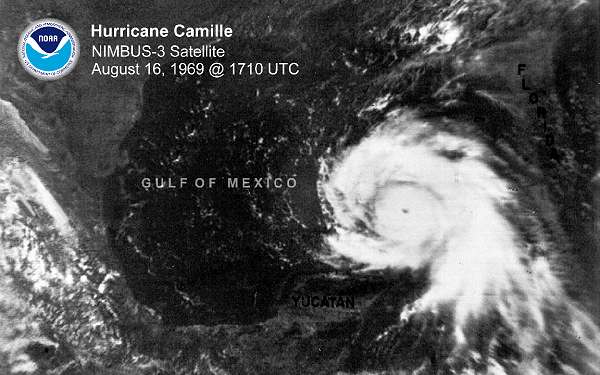 Mississippi, Dauphin Island, the Alabama coastline, and the Mobile metro area. Damage consisted of roof damage, partial destruction of buildings, fallen trees and washed out roads across Mobile and Baldwin Counties in southwest Alabama and Stone and George Counties in southeast Mississippi. Power lines and trees were down across the entire area. There was extensive damage sustained to the motels, restaurants, service stations and fishing camps along the Causeway (Highway 90) over Mobile Bay. Sections of roads in southern Mobile County and on Dauphin Island were completely washed out or covered in sand according to the USACE report.
Crop damage was extensive across southeast Mississippi with the total destruction of many tung and pecan orchards. Crop damage across south Alabama was limited to Baldwin, Mobile and western Washington Counties. Pecans, soybean and corn crops were damaged or destroyed. Pecan damage was extensive and approximately 20,000 acres of corn was flattened. It was estimated that 90% of crop damage across the area was due to the wind while 10% was due to the rain. Total property damage for the Florida panhandle, including beach erosion and crop losses, were estimated near 1/2 million dollars (1969 value, not current conversion value) with the major portion of the damage in Escambia and Santa Rosa Counties.
Based on preliminary data from the NWS, here is a brief timeline of some of the damage and path of Camille:
August 17, 1969
450pm – Hangar wall blown down at the Fairhope Airport in Fairhope, AL
530pm – Tornado reported in Waynesboro, MS
600pm – Streets completely covered with water in Bayou La Batre, AL
630pm – Tornado reported in Pensacola, FL earlier in the afternoon
930pm – Violent winds observed along coast
1000pm – 62 mph wind observed in Mobile, AL
1130pm – Power lines down throughout Mobile County, AL
August 18, 1969
1245am – Eye of Camille moved over McHenry, MS
120am – 74 mph wind observed in Mobile, AL
https://www.weather.gov/mob/camille
The 1969 Atlantic hurricane season was one of the busiest on record, with twelve . This was the highest prior to 2005, when satellite monitoring was capable of picking many smaller storms missed in earlier days.
It was wild month in the UK too, with some exceptionally heavy rain:
https://digital.nmla.metoffice.gov.uk/IO_9385b3aa-df1f-48f1-b2a2-100304bafa0d/