Harrabin's Tipping Point Junk Science
November 28, 2019
By Paul Homewood
 Another day, another bit of junk science from Harrabin.
This is so bad, even climate scientists are rubbishing it!
Critical elements in the Earth's climate may be more likely to break down than previously thought, according to a group of scientists.
Their commentary in the journal Nature says there's growing evidence that irreversible climatic changes could be triggered within a few decades.
The authors claim this could lead to a "climatic emergency" in which one shift amplifies another.
But other researchers say the argument is speculative.
The authors specialise in what's known as Earth Systems Science, which studies the interactions of elements of the climate system.
For several years they have been promoting the theory that the climate may switch suddenly as a result of one climatic shift amplifying other changes.
The Intergovernmental Panel on Climate Change (IPCC) introduced this idea of "tipping points" two decades ago.
The commentary says that at the time these large-scale shifts were considered likely only if global warming exceeded 5C.
The authors argue that information from IPCC reports over the past two years suggests that tipping points could be exceeded even between 1 and 2C of warming.
They say research has shown that the Amundsen Sea bay of West Antarctica might already have passed a tipping point where the meeting point of ice, ocean and bedrock is retreating irreversibly.
One computer model suggests that when this sector collapses, it could destabilise the rest of the West Antarctic ice sheet like toppling dominoes – leading to about three metres of sea-level rise on a timescale of centuries to millennia.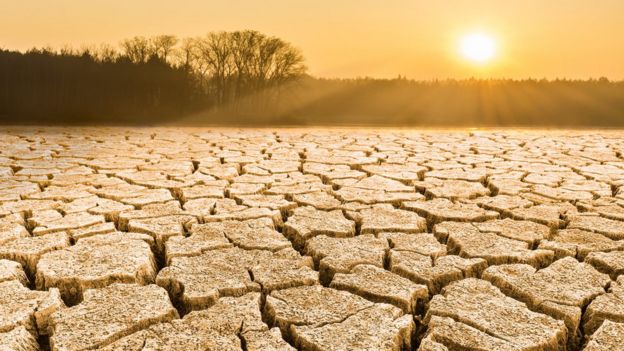 Image copyright Getty Images
The authors also point to the melting of the Greenland ice sheet.
As the elevation of the ice sheet lowers, it melts further, exposing the surface to ever-warmer air in what's known as a "positive feedback".
Some models suggest that the Greenland ice sheet could be doomed to disappear relentlessly if the world warms by just 1.5C.
The commentary says: "Politicians, economists and even some natural scientists have tended to assume that tipping points in the Earth system such as the loss of the Amazon rainforest or the West Antarctic ice sheet, are of low probability and little understood.
"Yet evidence is mounting that these events could be more likely than was thought, have high impacts and are interconnected across different biophysical systems, potentially committing the world to long-term irreversible changes."
Human pressures
Co-author Johan Rockström, director of the Potsdam Institute for Climate Impact Research in Germany, says it is not only human pressures on Earth that continue rising to unprecedented levels.
"It is also that as science advances, we must admit that we have underestimated the risks of unleashing irreversible changes, where the planet self-amplifies global warming," he says.
"This is what we now start seeing, already at 1C global warming.
"This provides strong evidence for declaring a state of planetary emergency to unleash world action that accelerates the path towards a world that can continue evolving on a stable planet."
But not every scientist agrees with the thrust of their argument. One critic is Professor Mike Hulme from Cambridge University, who is disturbed by the talk of planetary emergency.
"Their position is speculative; there are no new research findings presented here.
"Their mathematical 'formula' contradicts everything that social science and humanities scholarship tells us about public emergencies – namely that they result from political argument, reflection and judgement.
"Emergencies are declared by legitimate political actors; they are not calculated mathematically by self-appointed scientists."
Professor Richard Betts from the Met Office says the chances of passing these tipping points increases with the level of global heating.
"Therefore, if we want to keep the risks to a minimum, it is logical that global heating should also be kept to a minimum.
"Even if we do pass a 'point of no return' (or if we have done so already – which may or may not be the case) we still have a chance to limit the damage if we don't overshoot too far."
https://www.bbc.co.uk/news/science-environment-50578516
I'm not quite sure what a photo of some parched land has to do with the story.
Over the years, climate science has moved from "global warming" (who worries about a slightly warmer climate?), to "climate change" (the climate is always changing), to "extreme weather" (except the inconvenient data insists that the weather is not becoming more extreme). Note how the language has also been ramped up – Betts now calls it "global heating", a ludicrous description of a one-degree warming since the 19thC.
So now, desperate to keep their grants flowing, some climate scientists have moved on to the tipping point scam. In other words, it has not hit you yet, but just wait till it does. And if you don't do what we tell you to now, it may soon be too late.
But, as even Mike Hulme admits, it is all just speculation. And speculation that cannot be proved or disproved.
Yet we don't have to "disprove" it. We simply need to look back at history to show that it is all nonsense.
It is well established that the world has been warmer than now for most of the thousands of years since the Ice Age. As I summarised in my post "The Holocene Climate Optimum" last year:
Ice cores show that temperatures in Greenland have been much higher than now for almost all of the last ten thousand years prior to the Little Ice Age
The Greenland ice sheet and glaciers were correspondingly much smaller
The same climatic trends are found across other Arctic regions, such as Canada, Siberia and Iceland
Tree line studies in California indicate higher temperatures until a gradual decline began around 2000 years ago, when some of the Rocky Mountain glaciers we see today began to form.
Similar tree line studies in the European Alps suggest a similar trend, confirmed by the discovery of the remains of 4000 year old forests at the leading edge of a Swiss glacier.
Ice core, glacial and tree line studies in South America again reveal the existence of a much warmer climate there until about 3000 years ago.
And studies of cave speleothems in New Zealand show that the Holocene Climate Optimum was present there as well.
If these imaginary tipping points really existed, the world would have undergone runaway warming then.