BBC Weather Forecasters Don't Like The Truth!
July 29, 2022
By Paul Homewood
Oh dear, how sad, never mind!
Weather forecasters faced unprecedented levels of trolling during this month's extreme heat in the UK, according to leading figures in the industry.
The BBC's team received hundreds of abusive tweets or emails questioning their reports and telling them to "get a grip", as temperatures hit 40C.
BBC meteorologist Matt Taylor said he had never experienced anything like it in nearly 25 years working in weather.
The Royal Meteorological Society condemned the trolling.
Most of the abuse seems to have been prompted as links were made between the heatwave and climate change.
The UK saw record high temperatures on 19 July, with 40C exceeded for the first time. Dozens of locations saw temperatures above the previous UK record of 38.7C and 15 fire services declared a state of emergency because of a surge in blazes.
The Met Office estimated the heatwave had been made 10 times more likely because of climate change.
The BBC's Matt Taylor said: "It's a more abusive tone than I've ever received. I switched off a bit from it all as it became too depressing to read some of the responses."
https://www.bbc.co.uk/news/uk-62323048
Let me be quite clear – any sort of personal trolling is not acceptable at any level. But the examples given by the BBC are certainly not personal criticism, nor are they in any way abuse. Instead they are merely comments on the BBC's weather programmes: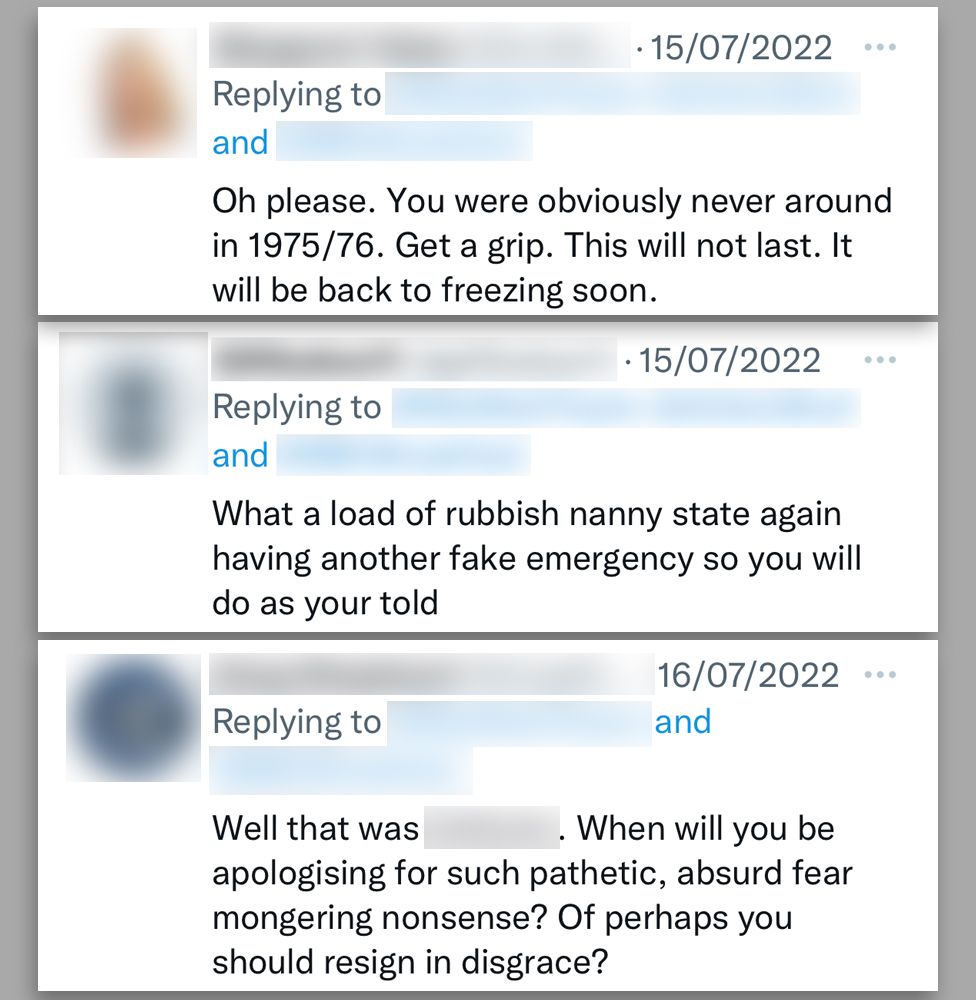 Licence payers are fully entitles to give their opinions on BBC programmes, and many would certainly agree with the sentiments, not least because the BBC weather forecasters now constantly blame climate change for bad weather.
If the BBC does not like the criticism, it could start by dropping the scary reds on weather charts. They could also start pointing out next winter that, before global warming, we had much more extreme cold weather.
A couple of years ago, the BBC's senior management took the decision to build climate change indoctrination into regular programming, including weather forecasts. It is unsurprising that viewers are now reacting.