June NOT The Driest On Record
July 5, 2018
By Paul Homewood
It has been wrongly reported that June was the driest on record in the UK. For instance, the Sun:
JUNE has been the driest ever on record thanks to the scorching heatwave blasting Brits – and it may last until AUGUST.
The mercury nudged 33C in North Wales last week as the UK basked in glorious sunshine – with 35C temperatures predicted for the next few weeks.
https://www.thesun.co.uk/news/6678429/uk-weather-heatwave-drought-august-temperature-record-rainfall/
In reality, there have been eight years with drier Junes since 1910 alone: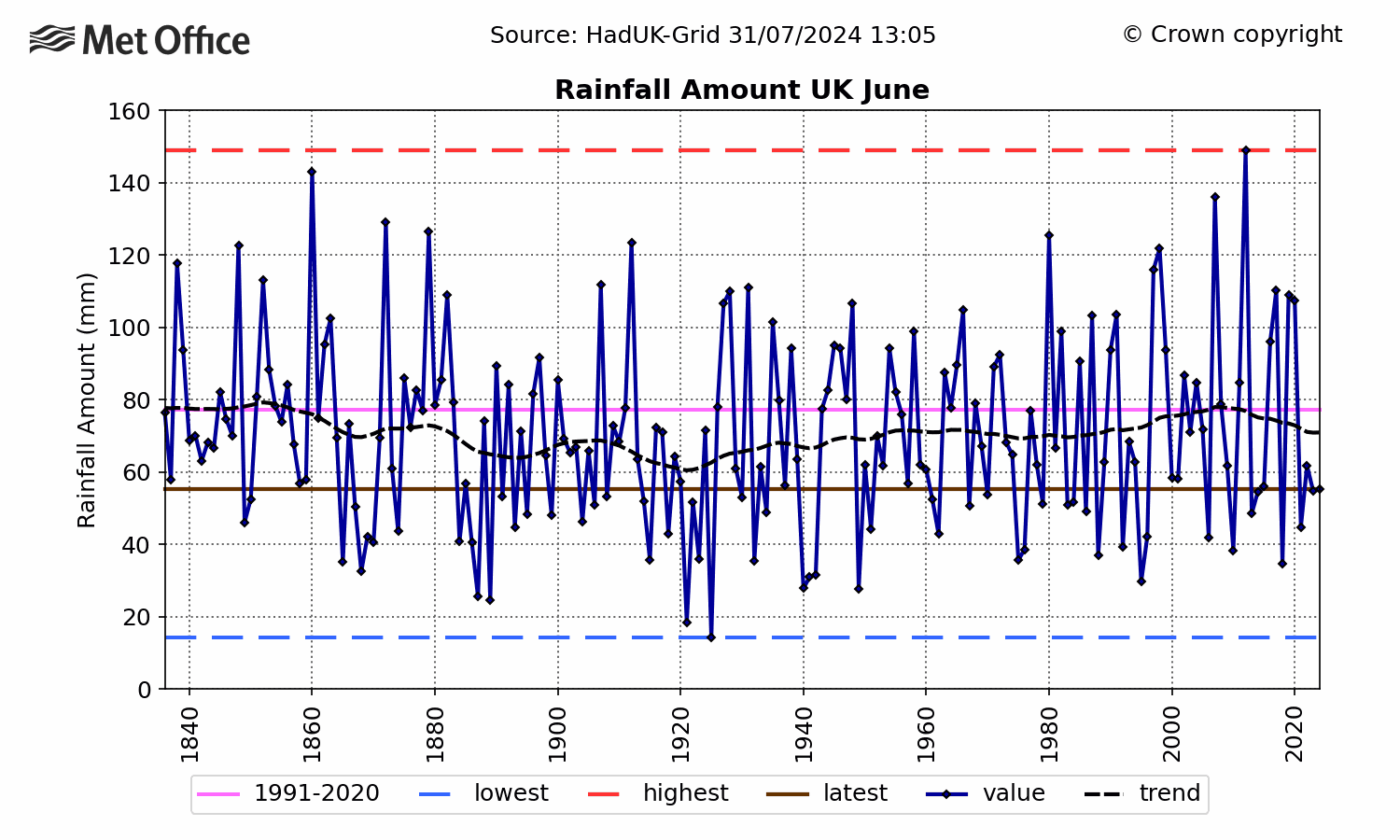 https://www.metoffice.gov.uk/climate/uk/summaries/actualmonthly
It is true that it was the driest June in the South-east and Central Southern England region, although the 3.0mm is not significantly different to the previous record of 3.3mm in 1925.
Amidst all of the talk of drought and empty reservoirs, it is worth looking at the YTD totals for this region, which show 365mm to date, compared with the mean of 346mm.
https://www.metoffice.gov.uk/pub/data/weather/uk/climate/datasets/Rainfall/date/England_SE_and_Central_S.txt
Looking ahead, we seem set for dry weather for another week or so, but looking at the jetstream forecast, there is an indication of low pressure taking a foothold from mid month.
https://www.netweather.tv/charts-and-data/jetstream
 CET
Re the discrepancies in the CET numbers for June, which I highlighted the other day, Tim Legg has now confirmed that the revised figure of 16.1C and a rank of 18th warmest is correct.
He explains in an email to me:
 If you took the average of the 30 days from the "Daily data estimated values" then that would be why you got a different figure than the final/official monthly value.  The estimated values do tend to differ from the official values, typically by fractions of a degree on any individual day but occasionally by up to maybe two degrees.  Thus there usually is a difference between estimated and official monthly values, of up to a few tenths of a degree.  I have noticed that this difference tends to be largest for minimum temperatures, but even having said that, the difference between the two for June 2018 (0.78 degree) was larger than usual
I still fathom to understand why there should be such large changes. The Met Office get daily readings from the three sites used, Stonyhurst, Pershore and Rothamstead, and the weighting is presumably fixed in stone.
As Tim notes, such a large discrepancy is "larger than usual".
Methinks cockup!