UK Autumn 2022–Mild and Wet, But Certainly Not "Extreme"
December 3, 2022
By Paul Homewood
More propaganda from the BBC.
A "chain of significant meteorological events"? They make it sound we are going through some sort of climate apocalypse.
You might have noticed a chill in the air since we entered the winter season at the start of December, but autumn 2022 has been confirmed officially as one of the warmest we have had in the UK.
November 2022 itself ended up 1.8C above average, which has made it the third warmest on record, behind only 2006 and 2011, according to the latest statistics from the Met Office.
It was also wetter than average across the UK in November, with some areas such as south-east England and eastern Scotland seeing exceptional amounts of rain…
Rainfall record provisionally broken
It was wetter than average for all four nations this autumn and it was the wettest one for the UK as a whole since 2000. That year brought episodes of damaging gales and flooding.
Parts of southern England and north-east Scotland had more than double the average rain fall they would expect. Shoreham Airport in West Sussex, Charlwood in Surrey, and Aboyne and Inverbervie in Aberdeenshire have all had their wettest November on record.
https://www.bbc.co.uk/weather/features/63794630
The BBC is confusing weather with climate.
As the BBC article itself admits, the mild weather in November was brought by a persistence of south-westerly winds. It was a similar story in September and October. And going back further the spring and summer were warm because of a preponderance of sunny weather.
None of this has anything to do with climate, it is simply weather.
And as the Met Office data shows, this autumn was nowhere near as mild as 2006 and 2011, so we are hardly in unprecedented territory: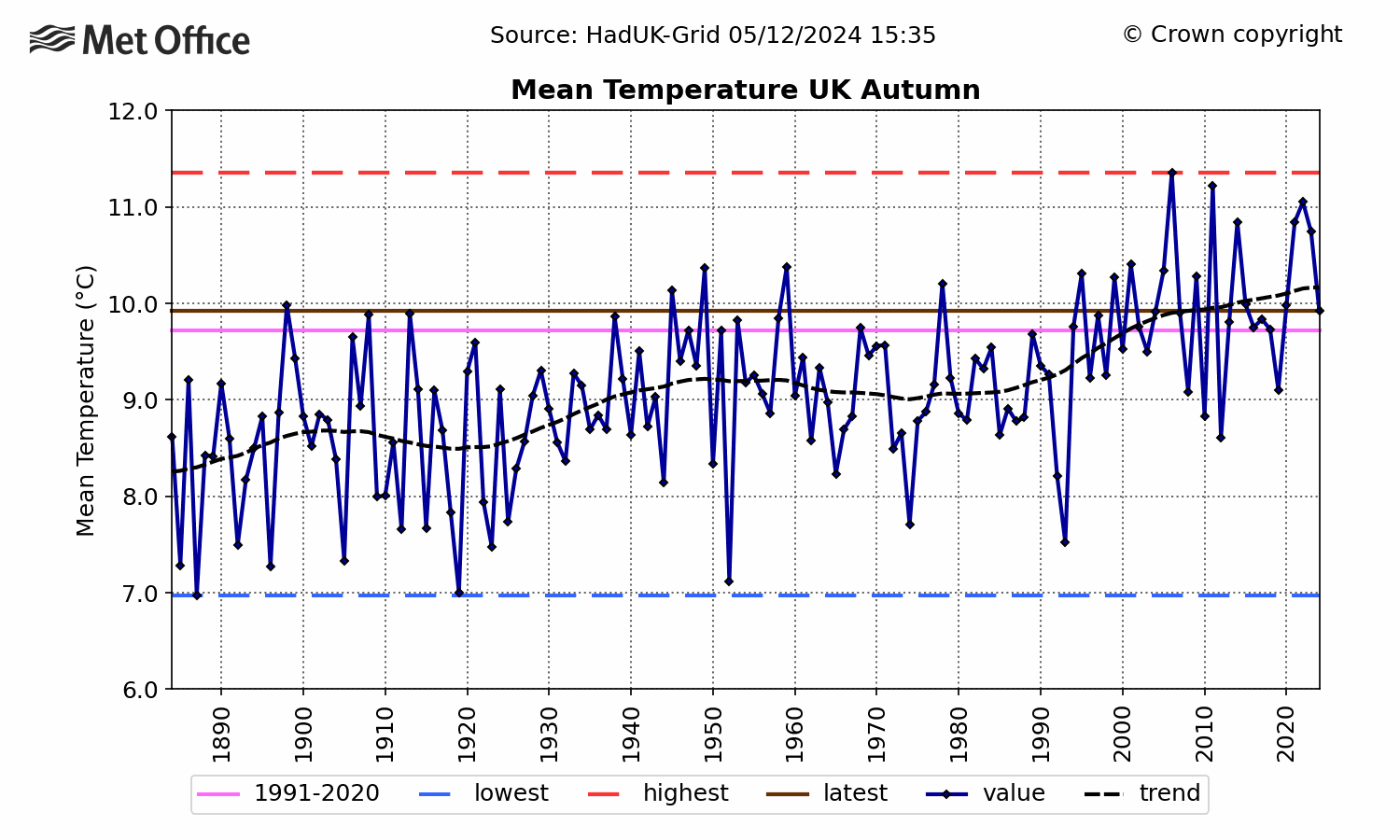 I think most people would be much more alarmed if we had experienced the sort of cold autumns seen regularly in the past.
But I was particularly drawn to the claim of a rainfall record. And note the comparison with 2000, which has been deliberately made to make this autumn sound much wetter than it really was.
In reality this autumn  was only the 13th wettest since 1836, the sort of weather which comes along every few years. The only reason we have to go back to 2000 to find a wetter one is the lack of wet autumns since, not that this year's was unusually wet: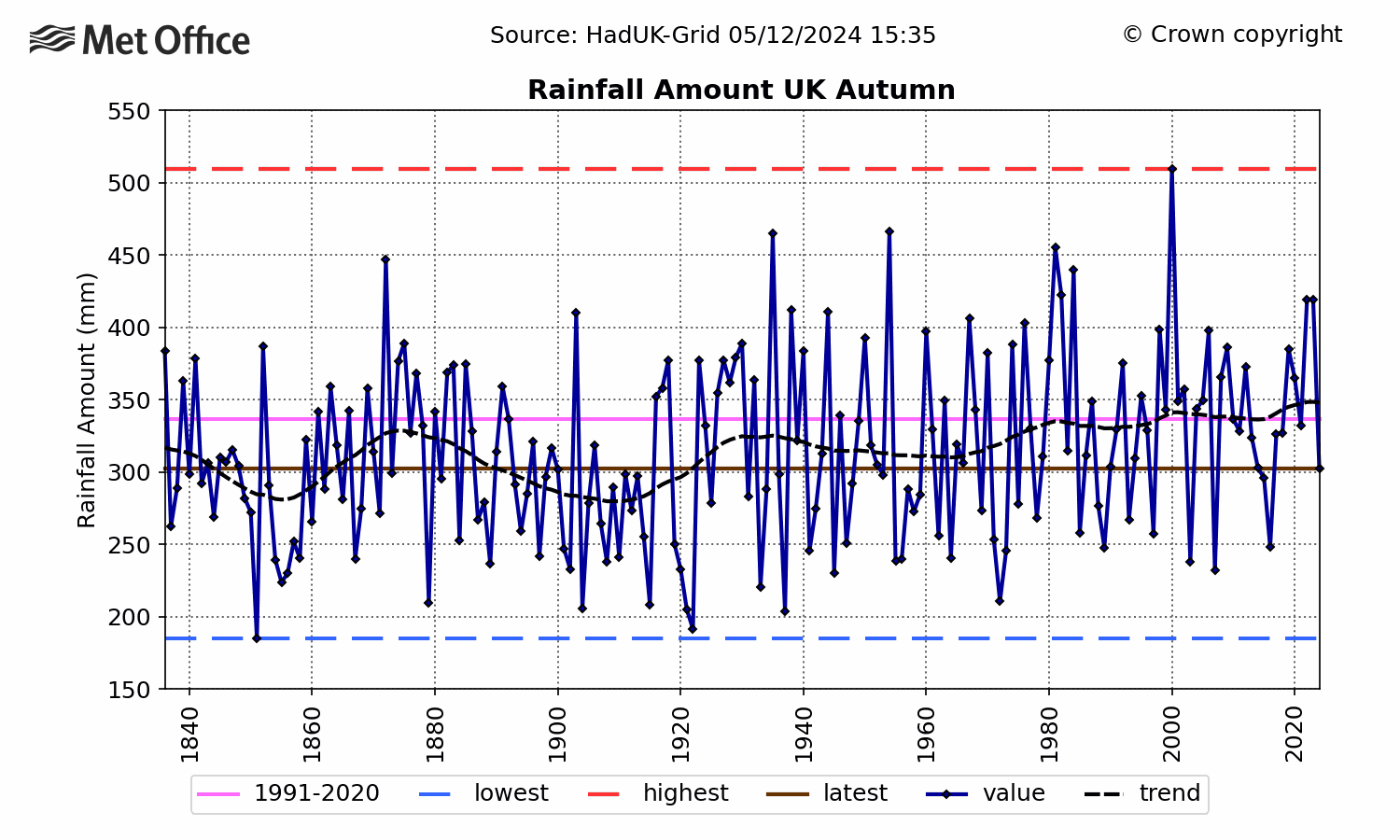 To put this autumn in the same bracket as 2000 is fraudulent.
And neither were any of this autumn's months particularly wet, with none appearing in the list of the top 10 wettest:
The BBC also mention SE England as "seeing exceptional amounts of rain". This is another BBC lie.
The autumn there was only the 9th wettest, and nowhere near as wet as 1841, 1852, 1960 and 2000.
No doubt the BBC/Met Office will try to claim that the sharp transition from a dry summer to a wet autumn is somehow evidence of how unpredictable and extreme our weather is becoming. If they do they will be spouting BS.
Consider the fact that not only was the summer of 1976 was drier than this summer, the autumn of 1976 was also wetter than this year's.
The bottom line is that this autumn was mild and wetter than average. But it was certainly not extreme.
There was no flooding of note, no major storms. In short it has been a pleasant autumn, with weather that we have often had in the past.
UPDATE
The graph of the top 10 wet months has been replaced due to my cock up!