"Natural Variability Was The Dominant Cause Of Recent Winter Floods"– Met Office
December 15, 2017
By Paul Homewood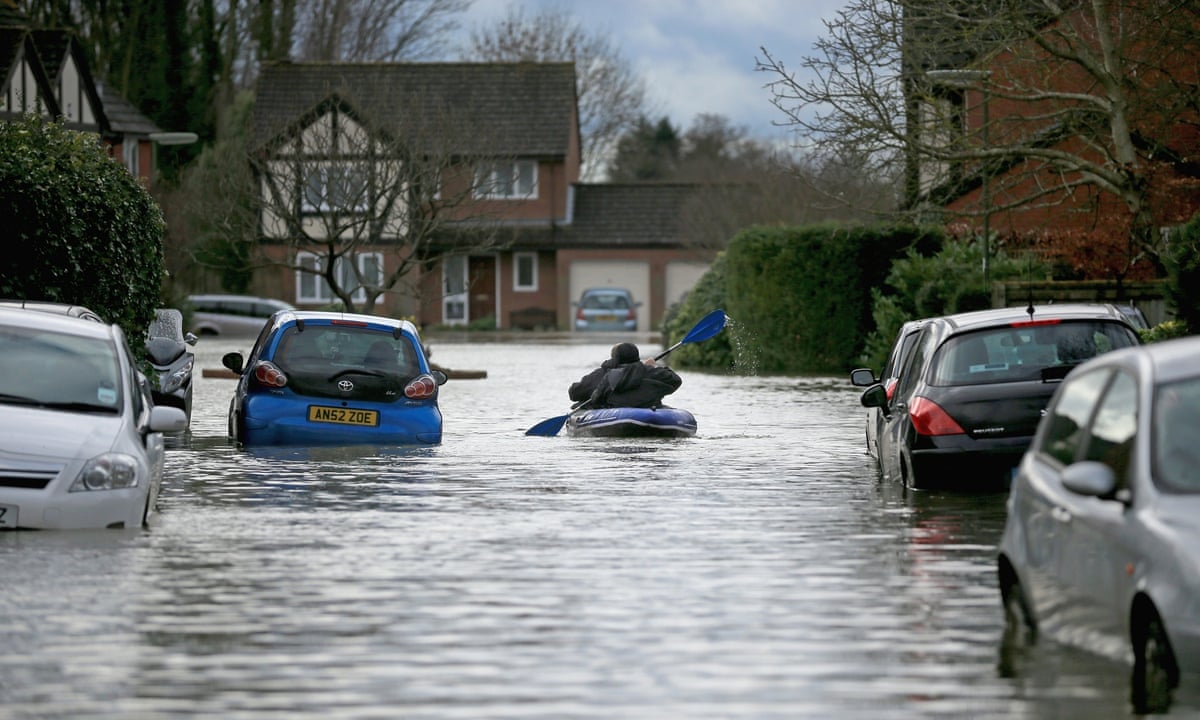 Residents use a boat make their way through floodwater that has cut off their homes on February 11, 2014 in Chertsey. Photograph: Christopher Furlong/Getty Images
I mentioned this in a post yesterday, but it is worth highlighting.
Last year, the Met Office published a report into UK flood resilience, which estimated the potential likelihood and severity of record-breaking rainfall over the UK for the next 10 years.
The Met Office press release is here. It states:
The flooding in 2013/14 and again in late 2015 was driven by large-scale frontal rainfall, a weather pattern that is often associated with river flooding and typically seen in the UK during winter months. The focus of our work was therefore on looking for synoptic weather patterns that give rise to large accumulations of rainfall that are likely to drive high river flows and flooding.

We also assessed whether climate change has played a clear role in recent rainfall and flooding events and concluded that natural variability is by far the dominant cause and will continue to be so for the next 10 years.
https://www.metoffice.gov.uk/research/news/2016/national-flood-resilience-review
To re-emphasise, they found that natural variability was by far the dominant cause. Any claimed effect from global warming was at most minor.
In theory, a warmer atmosphere should be able to hold more water vapour. According to the IPCC, atmospheric water vapour over the oceans is estimated to have increased by 5% over the 20thC.
The 2013/14  winter rainfall in England amounted to 401mm, so even if all of the extra moisture translated into extra rainfall, the extra rain would only have been about 20mm.
Put another way, that winter would still have been extremely wet anyway.
At the time, the floods of both 2013/14 and 2015 attracted the usual "blame it on climate change" hype. David Cameron, for instance, stood up in Parliament and said that he suspected it must be linked to climate change.
And climate scientists who should know better, such as Corrine Le Quere, were also happy to jump on the bandwagon.
Now we know that they were just natural weather events after all.