Ban On Controlled Burning Responsible For Spread Of Saddleworth Fire
July 1, 2018
By Paul Homewood
h/t mud4fun/Dave Ward
As the Saddleworth Moor fire continues to spread, experts blame the fire's severity on the ban on controlled burning:
From the Express:
Fires have been raging on Saddleworth Moor since last Sunday, while another has been burning in Mid-Wales since Thursday.
Forecasters have issued a yellow weather warning for thunder and lightning in the south-west and South Wales.
A spokesman said: "Given the dry, warm conditions obviously the lightning could lead to a wildfire risk. The storm will be quite impactful and will see surface water and potentially localised flooding."
Firefighters declared a "major incident" yesterday, as two blazes converged on the West Pennine Moors above Bolton. More than 80 were deployed.
On Saddleworth Moor in the Peak District, over 160 firefighters and 100 soldiers were tackling the seven mile fire.
Locals blamed a ban on controlled burning for the wild fire. It was issued to improve the scrubland's ability to capture carbon from the air and so reduce pollution.
The practice was vetoed by the Royal Society for the Protection of Birds (RSPB), which manages much of the moorland. It claims controlled burning damages peatland, rivers and wildlife.
But supporters say it creates fire breaks, although the blaze began on land where burning had taken place then spread to areas where it is banned.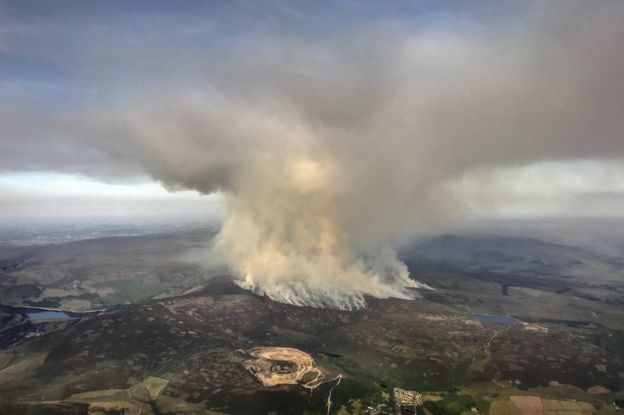 One gamekeeper said: "This has been coming for a long time. They are obsessed by carboncapture and don't want to listen to what most people believe is common sense."
Rob Marrs, professor of applied biology at Liverpool University also claimed the fire would not have spread so far if burning had been allowed.
Patrick Thompson of the RSPB said: "We take the view burning is detrimental to the ability of the land to store carbon.
"Some people disagree, but they are the ones who want to grow heather on what should be a wetland environment."
https://www.express.co.uk/news/weather/982038/lightning-intense-heat-wild-fires-saddleworth-moor
Exactly the same points were made in a 2016 paper, "Prescribed moorland burning meets good practice guidelines: A monitoring case study using aerial photography in the Peak District, UK".
This studied the nearby Howden Moor, and found that:
• Aerial photography provided an effective tool for monitoring prescribed-burning management.

• Over 70% of the burnable area was never burned during the 22-year study period, suggesting fuel accumulation will be high in these areas, with an increased risk of wildfire.

• Burning rates (0.9% per year) were far below current recommendations from the statutory conservation agency (10% per year).

• Annual area burned has increased since 1988 but has fluctuated through time and remains below recommended levels.

• Burn patches were in keeping with the target sizes and the risk of a large or escaped fire was very low.

 

Of course, we have seen similar controversy elsewhere, such as Australia and the US.

In this instance though, I find the attitude of the RSPB gobsmacking. It must now be clear that they place climate change over the protection of birds and other animals.

As for their precious "carbon capture", a lot of good that has done.