Brace Yourself For More Heatwaves Says Young Joe Pinkstone
August 15, 2018
By Paul Homewood
Isn't it time the Mail found young Joe Pinkstone a job he knew something about? Maybe reporting on Justin Bieber's latest concert?
The next four years will be 'anomalously warm' worldwide, scientists have warned.
New research suggests unusual heat will become commonplace until 2022 – leading to more wildfires, drought, and increased probability of 'extreme' temperatures.
Scientists predict that water in the oceans will warm faster than air above land, which increases the risks of floods, hurricanes, typhoons and cyclones worldwide.
These extreme weather events could prove fatal for people across the globe.
http://www.dailymail.co.uk/sciencetech/article-6059391/Scientists-predictanonymously-warm-temperatures-FOUR-YEARS.html
The paper he quotes makes no mention, in the Abstract at least, about floods, wildfires or hurricanes. Presumably they are a figment of Joe's young impressionable mind.
Hurricane activity during the last 12 months has actually been relatively low:
Wildfires in the US used to be far worse prior to the 1950s:
https://notalotofpeopleknowthat.wordpress.com/2014/06/09/wildfires-were-much-worse-in-past/
And according to the National Interagency Fire Center, so far this year wildfires in the US have been nothing unusual:
 https://www.nifc.gov/fireInfo/nfn.htm
And there is certainly no evidence that floods are worse than normal this year.
As for heatwaves, what is the likelihood that the next four years see a return of typical British summers again?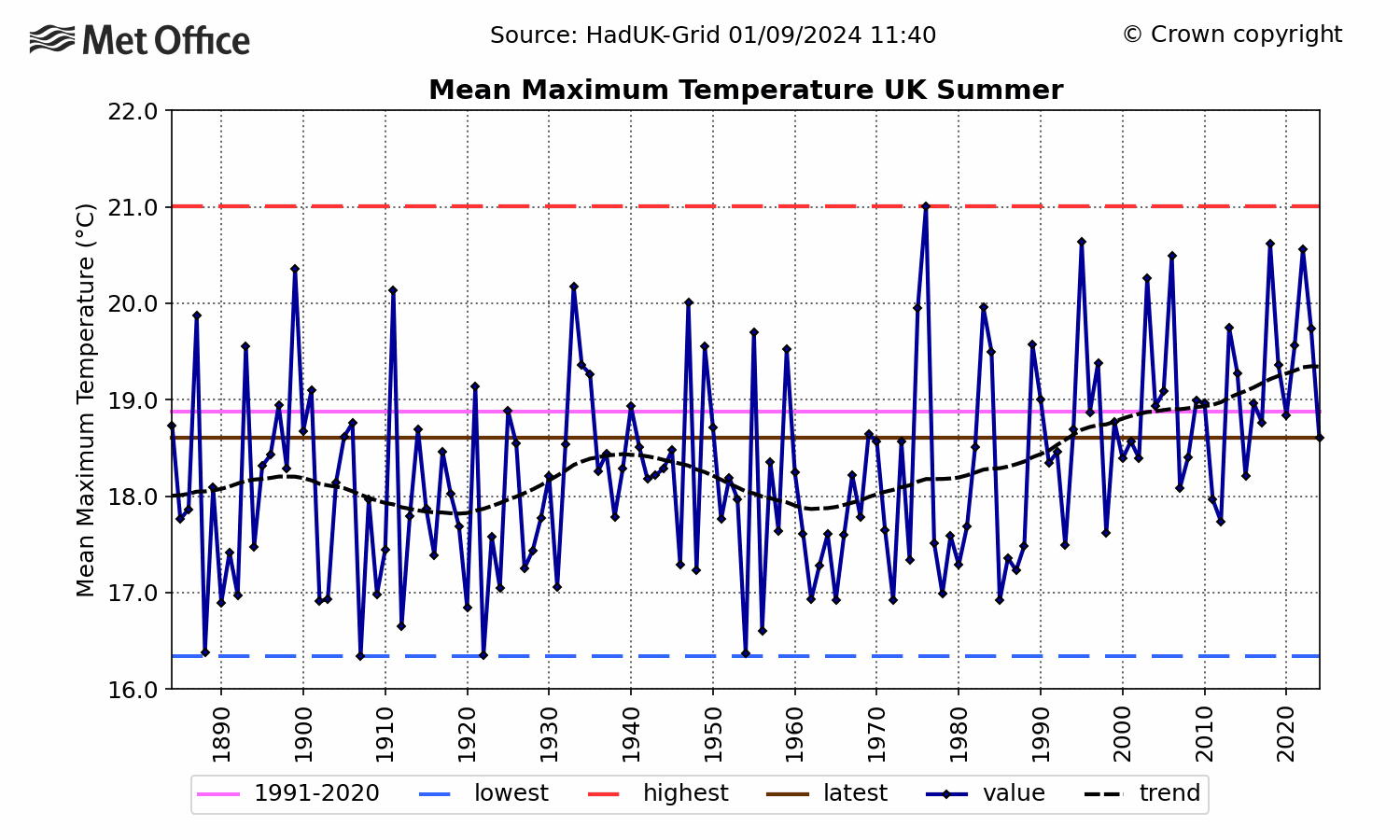 Global temperatures have plummeted since the end of the record 2015/16 El Nino, although residual heat remains:
http://www.drroyspencer.com/wp-content/uploads/UAH_LT_1979_thru_July_2018_v6.jpg
The simple reality is that global temperatures have been at a raised levels since the PDO switched in 1976. Since then the Pacific has been dominated by El Ninos.
Moreover the record El Nino of 2015/16 was not followed by a significant La Nina, which would have seen temperatures dropping further.
 https://www.esrl.noaa.gov/psd/enso/mei/
Add in the fact that the AMO has been in warm phase since the mid 1990s, and it is little surprise that global temperatures are a little bit higher than the start of the satellite record in 1979.
 https://www.esrl.noaa.gov/psd/cgi-bin/gcos_wgsp/tsanalysis.pl?tstype1=91&tstype2=0&year1=1900&year2=2018&itypea=0&axistype=1&anom=0&plotstyle=0&climo1=&climo2=&y1=&y2=&y21=&y22=&length=&lag=&iall=0&iseas=1&mon1=6&mon2=5&Submit=Calculate+Results
Both PDO and AMO are wholly natural cycles, and have nothing to do with CO2 at all.
When they return to cold phase, young Joe will probably be writing about impending ice ages!