India Opens 52 New Coal Mines To Achieve Universal Electrification
February 6, 2019
By Paul Homewood
India has stepped up the opening of new coal mines since Narendra Modi took over.
From the Times of India:
NEW DELHI: The Narendra Modi government has opened 52 new coal mines since coming to power in May 2014 to fuel its flagship village and household electrification programmes without tripping the system, officials told TOI.
These 52 mines represent 86% growth over the number of mines added in the five-year period between 2009 and 2014, when most projects were stuck in red tape, especially pertaining to environment and forest clearances, before the NDA government took over.
The officials said structural reforms in the government's functioning since 2014 made it possible to quickly open such a large number of coal mines, a cumbersome process involving approvals and permissions from various statutory authorities.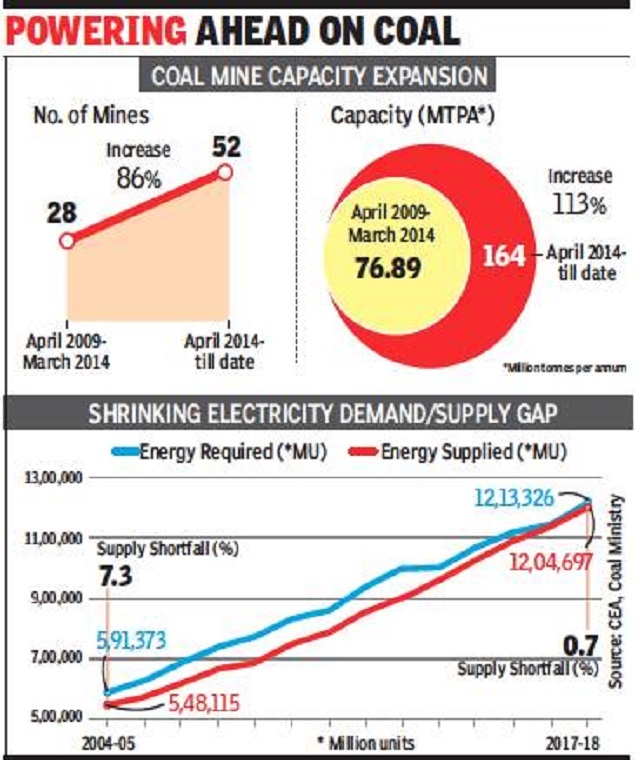 The new mines have added 164 MT (million tonne) to India's annual coal production capacity, marking 113% increase over capacity added during the 2009-2014 period. Since 57% of power is generated in India by burning coal, these mines allowed the government to rapidly move towards universal electricity access without creating shortages.
https://timesofindia.indiatimes.com/india/government-opened-52-coal-mines-to-fuel-pm-narendra-modis-electrification-drive/articleshow/67646776.cms
Coal production in 2017 amounted to 716 Mt, so the addition of 164 Mt new capacity is clearly a very significant proportion.
Meanwhile, figures from India's Central Electricity Authority show that coal consumption for power generation continues its remorseless rise:
http://www.cea.nic.in/monthlyexesummary.html
Part way through this financial year, thermal generation (which is nearly all coal) is up 4.94%, (38 TWh.), compared to a rise of 19 TWh for non-hydro renewables:
http://www.cea.nic.in/monthlyexesummary.html
As we have seen with China, wind and solar simply cannot keep pace with increased demand.