Climate Change Killing Frogs, Say BBC
May 13, 2019
By Paul Homewood
Today's climate junk from the BBC:
Climate change is having an impact on frogs found in British ponds, research suggests.
A deadly frog disease is spreading due to warmer temperatures and in the next 50 years could cause entire populations to vanish, according to a study.
The virus could spell disaster for the common frog, which is a familiar sight in garden ponds and the countryside.
Amphibians have been particularly hard hit by changes in the natural world.
Four out of 10 species are on the edge of extinction globally due to factors such as disease, habitat loss and climate change.
The study provides "strong evidence" of the impact of climate change on wildlife disease and how it might aid the spread of the virus across the UK, said Dr Stephen Price of ZSL's Institute of Zoology.
"Climate change isn't something that's just happening in faraway places – it's something real and present that's already had hard-to-predict impacts on wildlife in our own back gardens here in the UK," he said.
The prospect of entire populations of frogs being wiped out is "a real sadness" given the fond memories many people have of pond dipping and collecting tadpoles, he added.
The research looked at a disease known as ranavirus, which can kill a large number of frogs in a short time. It found mass die-offs matched historic temperature changes, with outbreaks predicted to become more severe, widespread and over a greater proportion of the year within the next few decades, if carbon emissions continue unchecked.
At present, the disease is confined largely to England, but climate change could lead to outbreaks across the UK and earlier in the year. If the disease were to hit tadpoles in spring, then whole populations could disappear "almost overnight", said the researchers.
Prof Trenton Garner of ZSL said that while there were some options for mitigation, this is only a short-term solution. "If we don't eventually slow and reverse human-driven climate change, we unfortunately can only expect things to get worse for our amphibians," he said.
https://www.bbc.co.uk/news/science-environment-48219217
Isn't it interesting that the authors of all of these junk science studies always seems to add a comment about fossil fuels, directly or indirectly?
The ZSL study specifically states:
 The research conducted by ZSL, UCL, Queen Mary University of London and University of Plymouth used a three-pronged approach involving cell cultures, live models and historic data from the Met Office and Froglife's Frog Mortality Project, with the research demonstrating that warm weather where temperatures reach 16°C, dramatically increases the risk of Ranavirus causing a disease outbreak in common frogs.
The findings help explain the seasonality of the disease, with incidence peaking during the hottest months of the summer, showing that climate change could see outbreaks becoming more frequent from April to October. Disease outbreaks in the spring could result in the deaths of large numbers of tadpoles, which could have repercussions for population survival.
The fact that the disease peaks in summer months simply reflects that this is the time when frogs are most active. As for the warmer springs, there is no evidence that these are getting warmer in England: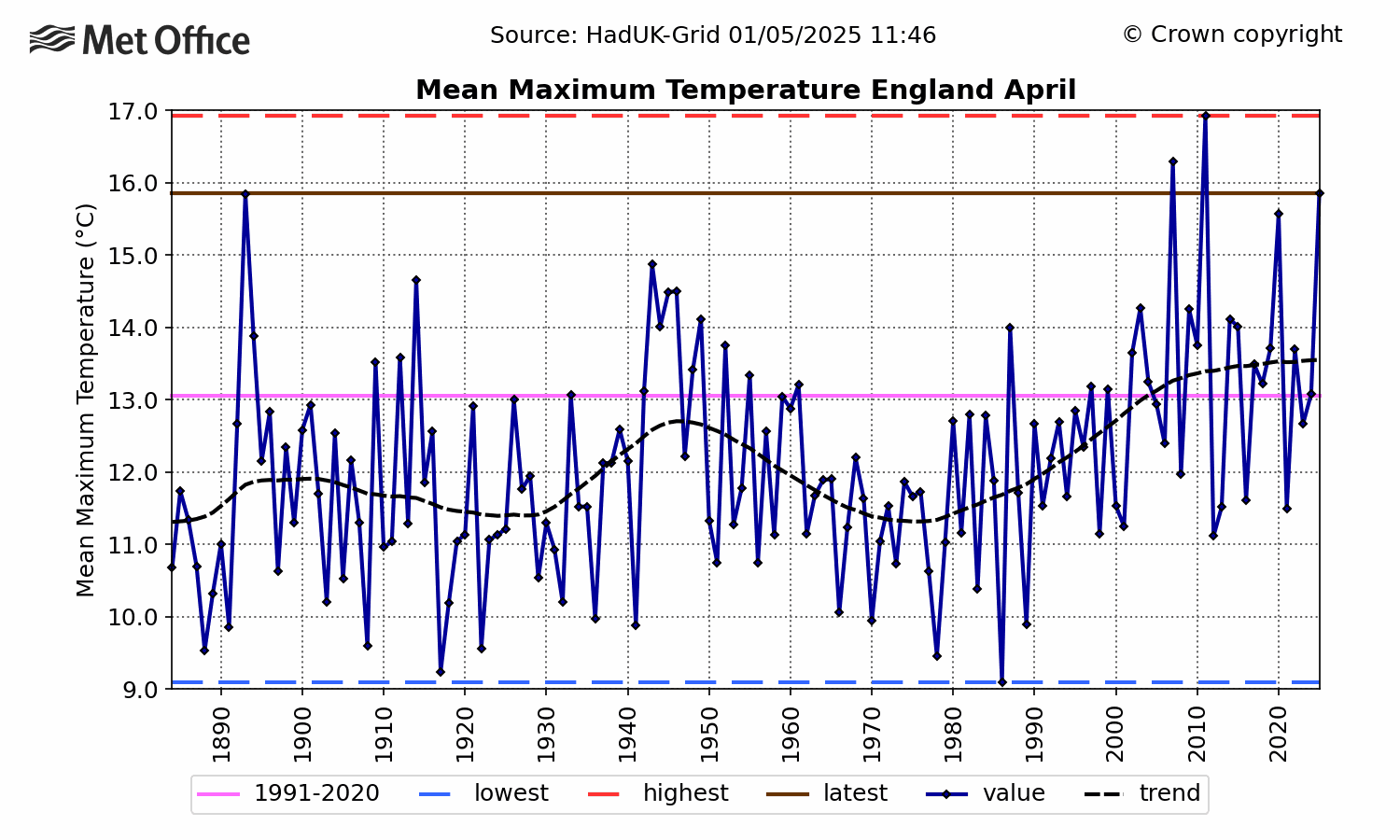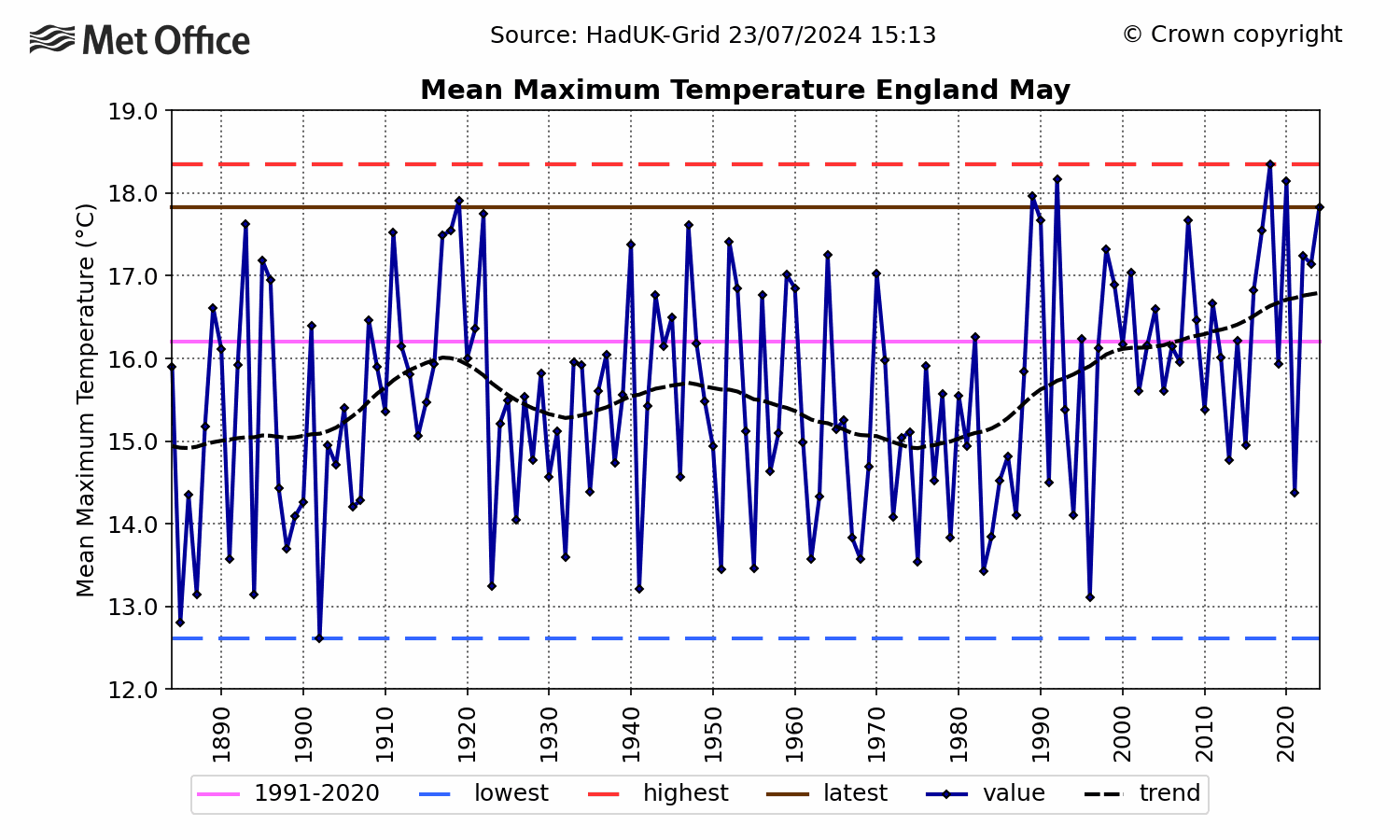 https://www.metoffice.gov.uk/climate/uk/summaries/actualmonthly
Scientists who have already investigated the spread of ranavirus tell a different story, as Frog Life relate:
In the late 1980s a number of unusual Common Frog mortalities were reported to Froglife in the southeast of England. Frogs were found to be suffering from a variety of symptoms, sometimes with secondary bacterial infections. It was found the frogs were suffering from a disease called ranavirus.
After a dramatic increase in cases in the southeast throughout the late 1980s, the Frog Mortality Project was set up to monitor and report on the extent of this disease in the UK.   The project is a joint partnership between the Institute of Zoology (IoZ) at the Zoological Society of London and Froglife. The project has received thousands of disease reports and has collected information on the deaths of over 85,000 frogs. …
Isolation of the virus from a number of garden ponds enabled a comparison with other ranaviruses from around the world and – based on similarities between the viruses – a likely introduction to Britain from North America was suggested.
How this introduction occurred is still not known but suspicion lingers around the involvement of imported amphibian species (e.g. Bullfrogs) as well as goldfish (since some ranaviruses infect fish).
Originally the disease was found in southeast England but since then it has spread across the UK. It's been recorded in Cornwall, Cardiff, Lancashire and Newcastle. There are often 'hot-spots' of disease – clusters of incidents reported in one area – but it's unclear how it jumps from one location to another.
https://www.froglife.org/what-we-do/disease-ranavirus-2/
In other words, as with most diseases, ranavirus is spreading as a result of human activity, in this case probably importing frogs and fish.
The initial outbreak occurred in the southeast, where it dramatically expanded in the 1980s. As is the case with these things, it has inevitably spread further north and west. The new study mistakenly attributes that to climate, but it is really just geography.
Ironically the BBC themselves looked at the matter in 2016, and came to totally different conclusions then:
Garden ponds are playing a role in the spread of deadly frog diseases across the UK, a study suggests.
Ranaviruses can infect amphibians, reptiles and fish. In the UK, they have devastated common frog populations.
This research suggests that the introduction of infected animals from aquatic retailers into ponds or moving species between different ponds may be exacerbating the problem.
The findings are published in the Proceedings of the Royal Society B.
Dr Trent Garner, from the Zoological Society of London (ZSL), told BBC News: "The virus seems to be spreading at a rate that exceeds the ability of a frog to hop, and there seems to be human-aided dispersal of the virus."
To analyse the movement of the disease in the UK, scientists looked at two decades of data recorded by a citizen science scheme called the Frog Mortality Project, which is now coordinated through Garden Wildlife Health.
Genetic records suggested that ranavirus was not always present in the UK, and had probably been introduced to the UK on two separate occasions.
The study also found that while infection is spread by the natural movement of amphibians, garden ponds could also be playing a key role.
Ranavirus is one of the most serious health threats currently facing the UK's amphibian population Dr Stephen Price, UCL
Dr Garner said: "Potentially garden ponds can act as stepping stones for infected animals to move around and reach new sites."
He said that taking frogspawn or frogs from one pond and placing them in another could be helping to spread ranavirus.
"There are also other species that could potentially carry ranavirus – ornamental fish for example. So I do think there is a case to be made to investigate their role in infections."
https://www.bbc.co.uk/news/science-environment-37486904
Note that this is the same Dr Trent Garner, who is now spouting pseudo climate clap trap. Back in 2016, he admitted that the disease was spreading "faster than frogs can hop". The spread of the disease was likely due to human activity.
Garner also admitted that ranavirus was not always present in the UK, and had likely been introduced here on two separate occasions.
As with most viruses, immunity eventually is built up, and there is evidence that this is already occurring in the population of British frogs.
But in the meantime, the disease will doubtlessly spread far and wide, as all diseases do. And it will have nothing to do with climate change.