Welsh Village To Be Sacrificed To Satisfy Global Warming Zealots
May 22, 2019
By Paul Homewood
h/t stewgreen
Apparently Jeremy Vine has been spinning for the climate team on his show today!
https://twitter.com/BBCRadio2/status/1130790359745912832
Understandably the locals are furious:
https://twitter.com/PeterHu65796484/status/1130804309111824386
And, surprise, surprise, the story is lifted straight from the Guardian:
As sea levels rise, Fairbourne, sandwiched between mountains and the beach, is being returned to the waves. But where will its residents go?
It is an almost perfect spring day. The sky is milky blue and there is barely a ripple on the mirror-flat expanse of Barmouth Bay. The sunshine is warm and the mountains are beginning to turn from slate-grey to luscious green. Bev Wilkins, a former businesswoman, launches a ball down the beach for her beloved German shepherd rescue dog, Lottie. In a blur of legs and black fur, the dog dashes into the frothy surf. "It is a lovely spot when the sun comes out," she says, welcoming her dripping pet back with an affectionate rub. "Horrible when it rains."
This is how Wilkins, 67, expected to spend her retirement when she sold her family home in Warwick and moved to Fairbourne, in north Wales, in 2002. For many years it was blissful: she spent her summers swimming in the sea and drying off in the back garden. Winters were harder, although she always had the views of Snowdonia's rugged slopes to lift her spirits. But if Wilkins lasts nearly as long as her mother, who is 98 and also lives in the village, she could be among the first residents to be moved out: Gwynedd council has decided it can no longer defend her home from rising sea levels driven by increasing global temperatures.
"This is a wake-up call for the country," she says, making her way up the steep shingle bank to the wall that protects her white bungalow from the waves. "This is going to happen elsewhere. Sometimes you have to see someone else go through it – we just happen to be the first."
In 26 years – or sooner, if forecasts worsen or a storm breaches the sea defences – a taskforce led by Gwynedd council will begin to move the 850 residents of Fairbourne out of their homes. The whole village – houses, shops, roads, sewers, gas pipes and electricity pylons – will then be dismantled, turning the site back into a tidal salt marsh.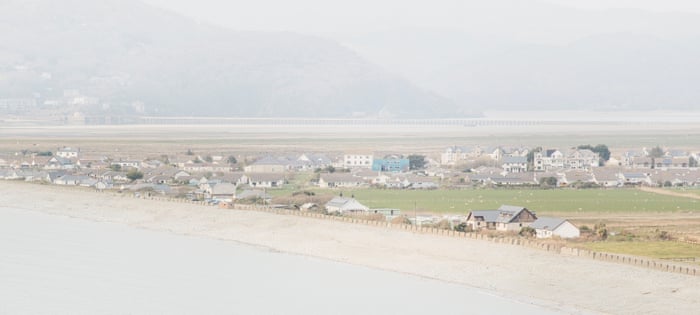 It will become the first community in the UK to be decommissioned as a result of climate change; while other villages along England's crumbling east coast have lost houses to accelerating erosion, none have been abandoned. It may also create hundreds of British climate refugees: the residents of Fairbourne are not expected to receive any compensation for the loss of their homes, and resettlement plans are unclear.
It will not be the last village to meet this fate. Sea levels around the UK have risen by 15.4cm since 1900, and the Met Office expects them to rise by as much as 1.12m from modern levels by 2100, putting at risk communities in coastal floodplains and on sea cliffs, which are found around much of the east and south coast of England. The west of Wales and north-west England are also vulnerable. Even if the world's governments succeed in reversing increasing emissions in line with their Paris climate commitments, sea levels are set to rise for centuries, as the impact of higher global temperature and warmer oceans takes effect.
https://www.theguardian.com/environment/2019/may/18/this-is-a-wake-up-call-the-villagers-who-could-be-britains-first-climate-refugees
This story has been developing for a few years, and I covered in this post in 2016.
I can't do better than re-posting most of it here, with some updated graphs:
Fairbourne is on the West Wales coast, on the edge of the Snowdonia National Park
.
Across the estuary, there is a tidal gauge at Barmouth. It only started in 1991, and there have been some missing months in between. However, it is immediately apparent that there has been little change in sea level in the last decade.
Tide Gauge at Barmouth
https://www.psmsl.org/data/obtaining/stations/1771.php
We find a similar trend at Fishguard, just down the coast.
Tide Gauge at Fishguard
https://www.psmsl.org/data/obtaining/stations/1731.php
And at Llandudno on the north Wales coast:
Tide Gauge at Llandudno
https://www.psmsl.org/data/obtaining/stations/1854.php
What is particularly relevant are the peaks, as these are what will cause potential flooding. These naturally tend to coincide with storm events, and there is no evidence at all that these are getting significantly higher.
At Llandudno, the rate of sea level rise has been 2.16mm/yr, similar to most sites around the UK:
https://www.psmsl.org/data/obtaining/stations/1854.php
The nearest tidal gauge with long term and complete data is Newlyn in Cornwall. Newlyn is a couple of hundred miles away, so there will be some small differences, not least because the land is sinking there at a rate of about 0.5mm/year, whereas the area around Fishbourne is pretty much stable.
Nevertheless, any major changes in the rate of sea level rise would be equally as apparent there. NOAA tell us that sea levels at Newlyn have been rising at the rate of 1.81mm/year since 1915, with no evidence of acceleration.
https://tidesandcurrents.noaa.gov/sltrends/sltrends_station.shtml?id=170-161
By 2045, when the bulldozers are due in, sea levels will have risen by a tiny 47mm at current rates.
Talk of more than a meter of sea level rise by 2100 is highly irresponsible, especially when plans to demolish villages are made as a direct result.
As for the Guardian's stupid claim that coastal communities will soon be at risk around the UK, I say bull. Fairbourne is in a particularly vulnerable position, and cannot be compared to other coastal towns, which are under no threat at all.