Eat Less Meat And Save A Glacier
December 28, 2019
By Paul Homewood
h/t Tony Heller
Laura Tobin is weather girl on Good Morning Britain, which apparently makes her an expert on climate change as well:
https://twitter.com/Lauratobin1/status/1210594797884497920
(BTW – that photo is fraudulent – it is not a "glacier", merely a patch of transient snow)
She even has the solution:
https://twitter.com/Lauratobin1/status/1210591925025329153
Busy pumping out her propaganda however, Laura forgot to tell her twitter followers that Austrian glaciers have been shrinking since the mid 19thC, long before your meat eating had any effect.
Tony Heller found this account in National Geographic: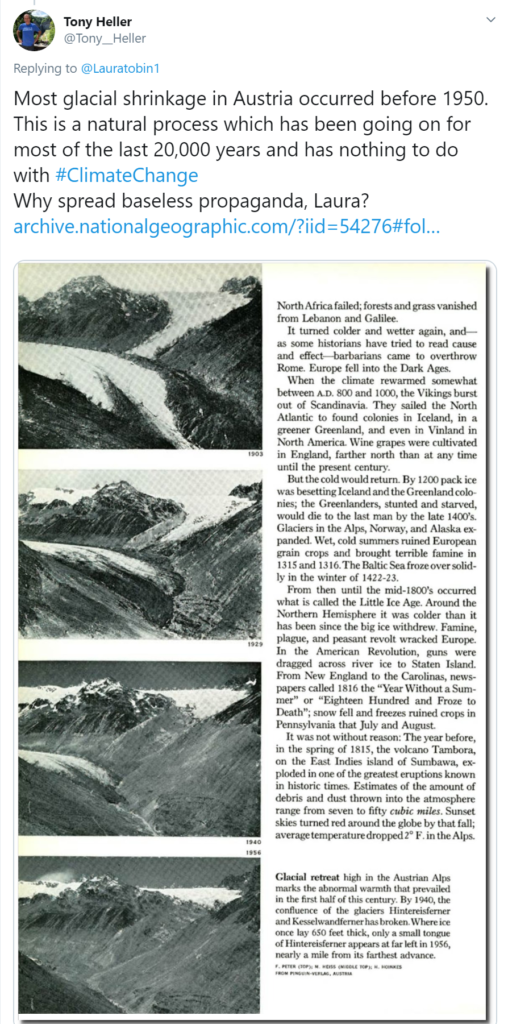 https://realclimatescience.com/2019/12/the-impacts-of-climate-fraud-are-becoming-more-visible/
Better still, the progressive retreat of these glaciers, which lie in the Otztal Alps, have been mapped:
https://www.researchgate.net/figure/Hintereisferner-Kesselwandferner-and-Vernagtferner-in-the-Oetztal-Alps-Austria-All_fig1_329707153
Just as we find with glaciers worldwide, most of the melting took place in the 19th and early 20thC.
As is well known now, European glaciers expanded in leaps and bounds during the Little Ice Age. This has been thoroughly documented by historians, and it was without doubt a terrible time for the inhabitants of Switzerland and Austria.
But climate swings of this nature have been regular events since the Ice Age ended.
For instance, we know from tree line studies that it used to be much warmer than now in the Alps until around 500 BC.
https://notalotofpeopleknowthat.wordpress.com/2018/08/19/the-holocene-climate-optimum/
However, the climate there had already been getting progressively colder since around 2500BC, when glaciers began advancing during what is known as the Piora Oscillation:
HH Lamb: Climate, History and the Modern World
Following a warmer interlude during Roman times, Alpine glaciers made major advances again between AD450 and 850, maybe to their subsequent Little Ice Age maxima, according to Lamb:
Before the Little Ice Age arrived, of course, we had the Medieval Warm Period, when glaciers retreated rapidly. According to Lamb, ancient gold mines in Austria's Hohe Tauern and other high level sites in central Europe were reopened, having been abandoned before the time of Christ.
In short, Alpine glaciers have spent the last 5000 years expanding and retreating. Eating less meat won't stop this pattern continuing.
FOOTNOTE
If this pack of twitter nonsense was not bad enough, Laura Tobin had this bit of film footage on Good Morning Britain, taken of her in Austria:
https://www.itv.com/goodmorningbritain/weather/the-un-declares-a-climate-emergency 
Towards the end, she claims that melting glaciers will lead to half a meter of sea level rise, and, I quote,
Meaning here in the UK, more flooding and severe weather
This is an outrageous lie. There is no evidence at all of melting glaciers leading to severe weather, or causing more flooding, by which she clearly means the sort of river flooding seen recently and shown in her film clip.
Perhaps weather girls should stick to forecasting the weather, and leave climate change to those who understand it.