Four Twenty Seven's Error Strewn Report
April 24, 2020
By Paul Homewood
Four Twenty Seven claims to be the leading publisher and provider of market intelligence on the economic risk of climate change. According to their website:
"Our mission is to catalyse climate adaptation and resilience investments by enabling the integration of climate science into business and policy decisions. In July 2019, Four Twenty Seven received a majority investment from Moody's Corporation."
They have just published this unbelievably amateurish research note on Covid-19 and climate change. It is based around the usual blend of picking a weather event and blaming it on climate change:
http://427mt.com/2020/04/22/the-compounding-challenges-of-climate-hazards-and-covid-19/
To zoom in on the main claims:
CLAIM 1) Last week in the Southern U.S., residents and policy-makers weighed the risks of high winds and flooding alongside the risks of spreading COVID-19, as many evacuated to storm shelters, and 750,000 people lost power across ten states from Texas to West Virginia. The threat of climate-driven extreme weather events takes on new meaning when standard responses such as evacuating to shelters conflict with guidelines for preventing the spread of the disease.
Tornadoes are not "climate driven events", and the start to this year's tornado season has been pretty average:
https://www.spc.noaa.gov/wcm/#data
Meanwhile long tern trends show a marked reduction in the number of tornadoes since the 1970s:
https://www.spc.noaa.gov/wcm/#data
CLAIM 2) Devastating flooding last year disrupted lives, threatened livelihoods and contributed to 19 million acres of cropland going unplanted. Counties in the Midwest are among the most exposed to increasing extreme precipitation due to climate change in the next several decades (Figure 1), where these floods are likely to become a regular occurrence.
There is no evidence that floods are getting worse in the US, as recently confirmed by the US Geological Survey:
Only one of four large regions of the United States showed a significant relationship between carbon dioxide (CO2) in the atmosphere and the size of floods over the last 100 years. This was in the southwestern region, where floods have become smaller as CO2 has increased
https://web.archive.org/web/20120925165837/http://www.usgs.gov/newsroom/article.asp?ID=3006
CLAIM 3) NOAA predicts above-average temperatures for much of the country through July, with no regions expecting below-average temperatures.
According to the Fourth US National Climate Assessment in 2017, the frequency and magnitude of heatwaves across the country have declined sharply in the last century. There has been a similar reduction in cold spells.
In short, US temperatures are much less extreme than they used to be: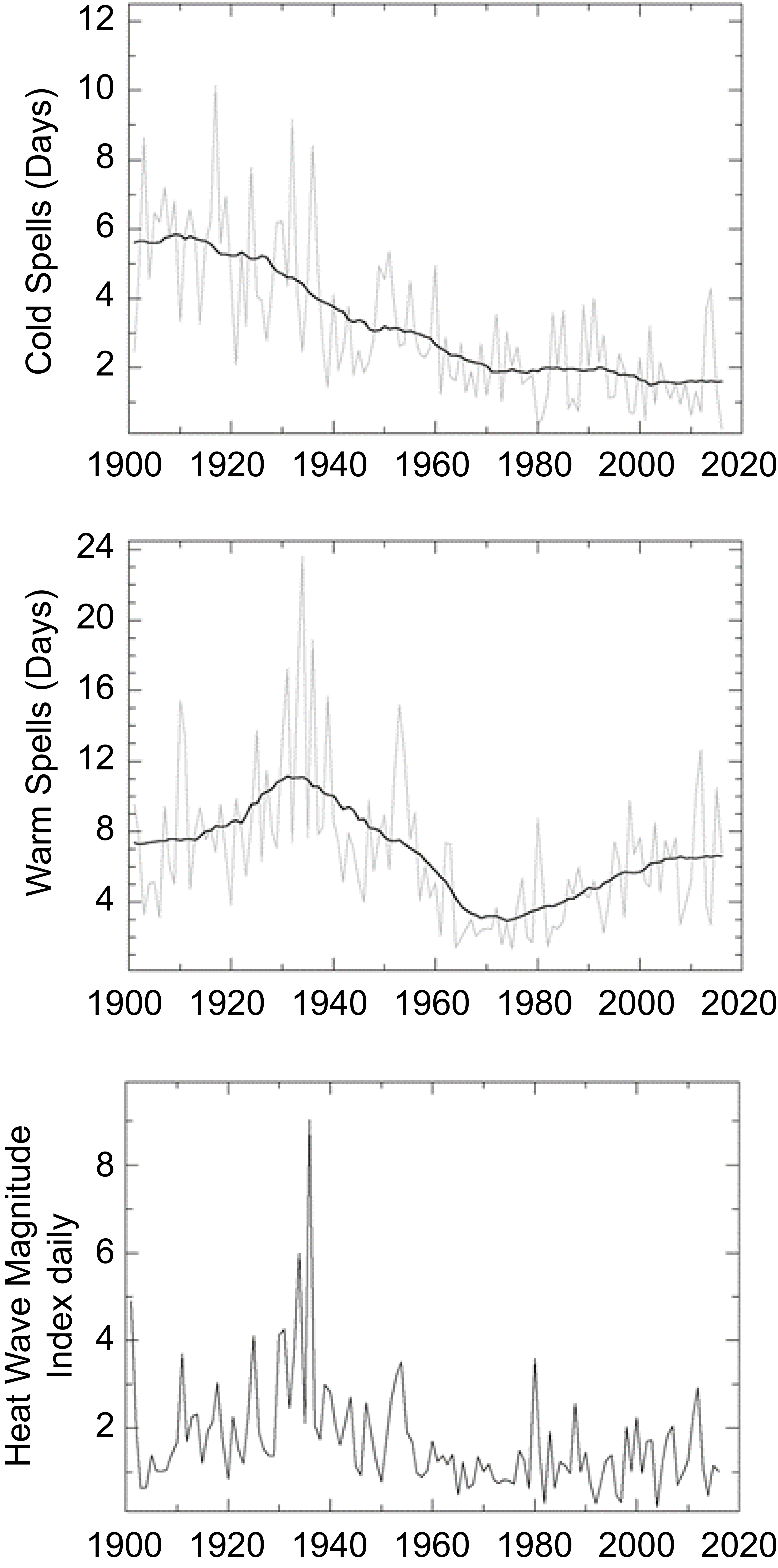 https://science2017.globalchange.gov/chapter/6/
CLAIM 4) Climate change is contributing to more frequent intense hurricanes
Hurricanes are neither becoming more frequent or intense in the US:
https://www.aoml.noaa.gov/hrd/hurdat/All_U.S._Hurricanes.html
CLAIM 5) As climate change contributes to more severe droughts and extreme heat events, wildfire season in the western U.S. has worsened over the past several years
Wildfires have declined substantially since the early 20thC:
https://web.archive.org/web/20140913135647/http://www.fs.fed.us:80/research/sustain/criteria-indicators/indicators/indicator-316.php
For a supposedly professional company, part of the ratings organisation Moody's, to publish such a shoddy, amateurish report as this, full of errors and naive assumptions, hardly does Four Twenty Seven's reputation any good. Nor Moody's for that matter.