Network Rail Blame Climate Change For Stonehaven Tragedy
September 11, 2020
By Paul Homewood
Network Rail's interim report into the Stonehaven crash has just been published:
 https://www.gov.uk/government/news/action-taken-to-improve-resilience-of-railway-following-stonehaven-tragedy
While not exactly blaming it on climate change, the message is loud and clear :
As we shall go on to see, they present little evidence that this is the case.
But first to the accident itself. We learn that50mm of rain fell in the area that day:
As I noted at the time, falls of 50mm are not an unusual event in that part of Scotland, such as Dyce in Aberdeen.
https://notalotofpeopleknowthat.wordpress.com/2020/08/18/stonehaven-derailment-latest-rainfall-data/
Rainfall across Eastern Scotland averaged out at 14.79mm that day, an insignificant amount in comparison to historical data.
https://climexp.knmi.nl/getindices.cgi?WMO=UKMOData/HadESP_daily_qc&STATION=E_Scotland&TYPE=p&id=someone@somewhere&NPERYEAR=366
It is abundantly clear therefore that the weather that day was far from unprecedented, and should not have overwhelmed Network Rail's safety systems.
The report then goes on to purport to show that an increasing number of earthwork failures is connected to higher monthly rainfall since 2003, when proper records began to be kept on failures.
However, look closely and you will see that the top graph is not actual rainfall, but the percentage of the long term average. Quite what relevance this has, I have not got a clue. Clearly it is the AMOUNT of rain which causes problems, not the ANOMALY!
Clearly the chart is intended to mislead, by exaggerating rainfall in February 2020, which, although a record for the month, was not particularly high in comparison with all months.
https://climexp.knmi.nl/getindices.cgi?WMO=UKMOData/HadEWP_monthly_qc&STATION=England-Wales&TYPE=p&id=someone@somewhere
When we plug in the actual rainfall data, Feb 2020 is no higher than several other months since 2003, and the rainfall clearly cannot explain the sharp spike in earthwork failures. This is not to say that rainfall is not the key factor, which it clearly is; simply that failures were far fewer in earlier years with similar or more rainfall.
On the following page, there is a table, which tends to contradict the chart. It confirms that there has been no trend at all in earthwork failures until this year.
Section 4 deals with climate change, but the only evidence for their claim comes from GIGO climate modelling and attribution studies:
Of course, the actual data does not support their assertions. For instance drier summers: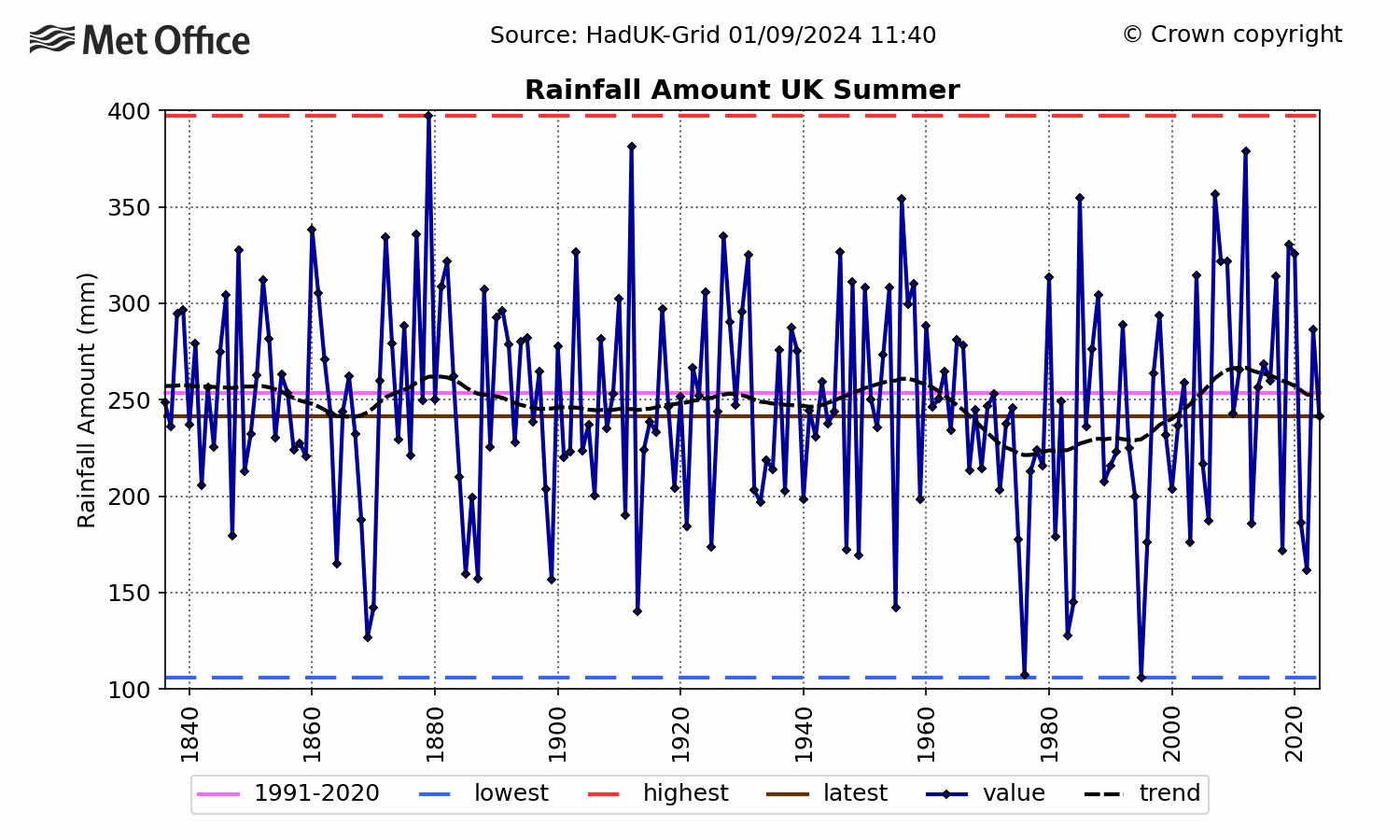 https://www.metoffice.gov.uk/research/climate/maps-and-data/uk-temperature-rainfall-and-sunshine-time-series
Or extreme rainfall:
https://www.metoffice.gov.uk/hadobs/hadukp/data/download.html
It would be shocking if the Network Rail were allowed to cover up their failings by blaming Stonehaven on climate change.
I'll leave you with one final thought.
Network Rail was formed in 2002, since when, according to their graph, earthwork failures have become progressively worse. Some unkind observers might think the two things are connected!