BBC Still Don't Understand Paris Agreement
October 24, 2020
By Paul Homewood
h/t Robin Guenier
The BBC are much like the old Soviets – they lie so much about climate change that they end up believing their own lies:
In this latest piece on Trump, they include the inevitable section on climate:
Stepping back on climate change
It's hard to pin down what President Trump believes about climate change, as he's called it everything from "an expensive hoax", to a "serious subject" that is "very important to me". What is clear is that six months into the job, he dismayed scientists by announcing America's withdrawal from the Paris climate accord, which committed nearly 200 countries to keeping global temperature rises well under 2C.
The US is the second-biggest emitter of greenhouse gases behind China, and researchers have warned that if Mr Trump is re-elected, it may become impossible to keep global warming in check.
Rejecting the Paris agreement, the president claimed it "would have been shutting down American producers with excessive regulatory restrictions". This has been a theme for Mr Trump, who has removed a raft of pollution regulations to cut the cost of producing coal, oil and gas.
Several US coal mines have still closed, however, driven by competition from cheaper natural gas and state efforts to support renewable energy. Government figures show renewable sources generated more energy than coal in the US in 2019, for the first time in more than 130 years.
America's exit from the Paris climate deal formally takes effect on 4 November, the day after the presidential election. Joe Biden has pledged to rejoin the pact if he wins.
Fears that the US pull-out would prompt a domino effect have not been realised, although some observers believe it smoothed the path for Brazil and Saudi Arabia to block progress on cutting carbon emissions.
https://www.bbc.co.uk/news/election-us-2020-54541907 
Evidently the girl who wrote this piece has not read the Paris Agreement, because nowhere does it commit nearly 200 countries to keep global temperature rise under 2C.
The Agreement specifically tells us this is not the case:
https://notalotofpeopleknowthat.wordpress.com/2015/12/12/paris-agreement-will-lead-to-rise-in-ghg-emissions/ 
And even the blinkered BBC finally realised this two years later: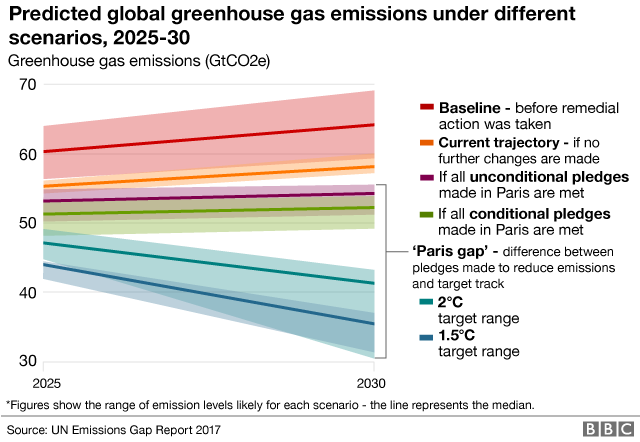 .
The national plans offered up at Paris will actually lead to 3.3C of warming, according to the alarmist Climate Interactive site:
https://notalotofpeopleknowthat.wordpress.com/2017/10/31/bbc-discover-paris-agreement-was-worthless-after-all/ 
And, of course, developing countries have no obligation whatsoever to cut emissions at all, as we shall now see:
The clips below are from an excellent video interview by Canada's Rebel News with Tom Harris, that I suggest you watch here:
The Introduction to the Paris Agreement makes clear that it is following the principles of the UNFCCC, including the "differentiated responsibilities" of different nations:
And the Convention is very explicit about what these differences are:
So, for developing countries, a category which still includes China, India and many other relatively wealthy states, the "first and overriding priority" is "economic and social development and poverty eradication"
 That is why Trump pulled the US out of the Paris Agreement. It is quite disgraceful for the BBC not to make mention of this fact.