Govt's New Energy Strategy
April 7, 2022
By Paul Homewood
Up to eight more nuclear reactors could be delivered on existing sites as part of the UK's new energy strategy.
The plan, which aims to boost UK energy independence and tackle rising prices, also includes plans to increase wind, hydrogen and solar production.
But experts have called for a bigger focus on energy efficiency and improving home insulation.
Consumers are facing soaring energy bills after the Russian invasion of Ukraine pushed gas prices even higher.
Under the government's new plans, up to 95% of the UK's electricity could come from low-carbon sources by 2030.
It outlines, for example, the hope of producing up to 50 gigawatts (GW) of energy through offshore wind farms, which the Department for Business, Energy and Industrial Strategy (Beis) said would be more than enough to power every home in the UK.
The government's energy strategy has been much-delayed, with one of the big points of contention reported to have been the construction of onshore wind turbines.
Key points of the new energy strategy
Nuclear – The government plans to reduce the UK's reliance on oil and gas by building as many as eight new nuclear reactors, including two at Sizewell in Suffolk. A new body will oversee the delivery of the new plants.
Wind – The government aims to reform planning laws to speed up approvals for new offshore wind farms. For onshore wind farms it wants to develop partnerships with "supportive communities" who want to host turbines in exchange for guaranteed cheaper energy bills.
Hydrogen – Targets for hydrogen production are being doubled to help provide cleaner energy for industry as well as for power, transport and potentially heating.
Solar – The government will consider reforming rules for installing solar panels on homes and commercial buildings to help increase the current solar capacity by up to five times by 2035.
Oil and gas – A new licensing round for North Sea projects is being launched in the summer on the basis that producing gas in the UK has a lower carbon footprint than doing so abroad.
Heat pumps – There will be a £30m "heat pump investment accelerator competition" to make British heat pumps which reduce demand for gas.


Environmentalists and many energy experts have reacted with disbelief and anger at some of the measures in the strategy.
They cannot believe the government has offered no new policies on saving energy by insulating buildings.
They say energy efficiency would immediately lower bills and emissions, and is the cheapest way to improve energy security.
A Downing Street source said the strategy was now being seen as an energy supply strategy.
Campaigners are also furious that ministers have committed to seeking more oil and gas in the North Sea, even though humans have already found enough fossil fuels to wreck the climate.
There is a strong welcome, though, for the promise of more energy from wind offshore with speedier planning consent.
The same boost has not been offered to onshore wind.
The decision to boost nuclear has drawn a mixed reaction. Some environmentalists say it's too dear and too dangerous. They ridicule the idea from some politicians that every city could have its own mini reactor.
But other climate campaigners believe nuclear must be part of the energy mix.

'Opportunity missed'
Green Party co-leader Adrian Ramsay said the new strategy "did not serve the needs of people or the climate".
Mr Ramsay suggested that if the government was "concerned about energy bills and taking real climate action, it would be going even further on onshore wind."
Former Ofgem boss Dermot Nolan said: "Most of these decisions will take a long time to have an impact and in the short run we will continue to be dependent on fossil fuels.
He said the lack of focus on energy efficiency, on insulation, on improving the quality of people's homes "is an opportunity missed".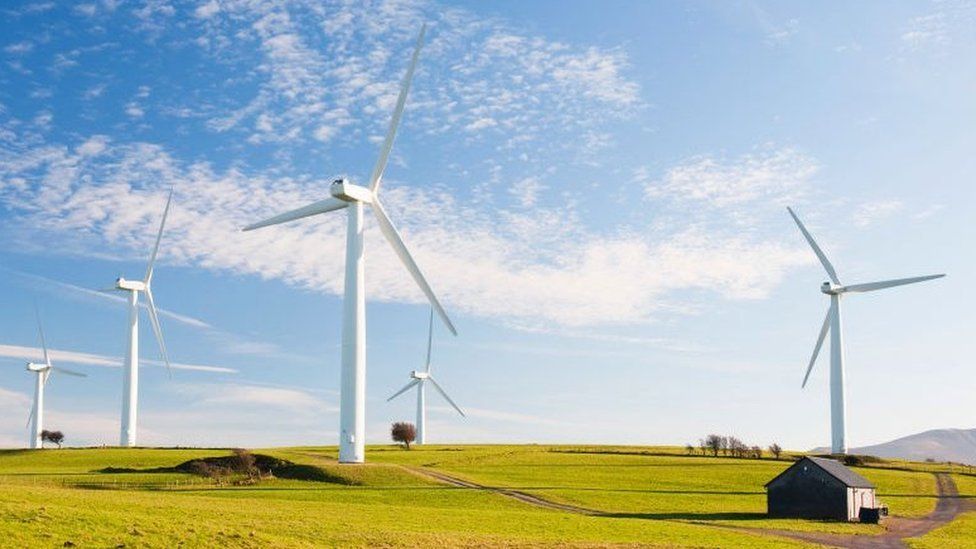 Ed Miliband, Labour's shadow climate change and net-zero secretary, said: "The government's energy relaunch is in disarray. This relaunch will do nothing for the millions of families now facing an energy bills crisis."
Liberal Democrat leader Sir Ed Davey also described the plans as "utterly hopeless", while the SNP's Stephen Flynn called it a "missed opportunity".
Dr Simon Cran-McGreehin, head of analysis at the Energy & Climate Intelligence Unit said: "This is an immediate problem that needs solutions now, and this doesn't do anything on prices.
"It tries to do some things on energy supply, but they're all medium to long-term measures. So it does seem to fail the exam question," he said.
https://www.bbc.co.uk/news/business-61010605
Once again Harrabin irresponsibly pushes the insulation nonsense, without telling us how much this will all cost, never mind who will pay. [Reminder to Harrabin – It is not your job to promote the opinions of you and your "Environmentalists and many energy experts" chums]
As for the idiot Miliband or the guy from  the ECIU, do they think we can magic energy out of thin air overnight?
The one thing missing from this action list is fracking. A restart of fracking is the single most important thing we could have done, which would have yielded results relatively quickly.
And it is a lie that UK shale gas would not bring down retail prices. Cuadrilla and others would need a licence to extract gas and pump it into the gas grid. There is no reason why such a licence should not be conditional on a CfD type agreement, which would guarantee a price, much lower than current levels, both to Cuadrilla and the grid.
Let's take a closer look at some of the key points:
Nuclear
The suggestion is that one new reactor is approved each year. That will mean that it will be the mid 2030s before any new capacity is added to Hinkley Point. begging the question of what we do in the meantime.
There seems to be some confusion between "reactors" and "plants". They talk of 24G  of nuclear by 2050, which would suggest eight plants, and probably sixteen reactors of the size of Hinkley's.
The current strike price for Hinkley Point C is £113.83/MWh. If prices could be reduced to below  £100/MWh, it would make economic sense given current power prices of double that.
There are two issues raised by this strategy:
1) Who will build and fund them?
2) A nuclear strategy rather undermines the case for wind and solar power. With the baseload provided by nuclear, wind and solar power will be redundant much of the time.
And, of course, you cannot simply ramp nuclear up and down to match the vagaries of renewables. Quite apart from the technical issues, the economic case for nuclear depends on 24/7 operation.
Wind
Plans are now for 50 GW of offshore wind by 2030, rather than the previous target 40 GW. The extra 10 GW may supply an extra 35 TWh a year, which is only about 3% of total energy consumption. In contrast, the 24 GW planned for nuclear will generate 200 TWh.
It will therefore make little difference to overall consumption of oil and gas.
Hydrogen
A dead end! Doubling what the BBC ludicrously calls "cleaner energy" will simply increase demand for natural gas, not reduce it.
There is no way that any significant portion of this hydrogen can be produced by electrolysis from renewable energy, as there will simply not be enough renewable capacity built in this timescale.
Solar
I'm not quite sure what difference "reforming rules" will make. If people and businesses want solar panels on their roofs, they will have them anyway.
I suspect what we have here is a reflection of the deadlock between proponents and opponents in the Cabinet and party as a whole. Ditto with onshore wind.
Oil and Gas
It's good to see a bit of common sense.
Heat Pumps
A "£30m heat pump investment accelerator competition" is worthless, purely window dressing.
As even the government must realise now, virtually nobody wants to splash out up to £20000 and more on technology which costs more to run and is not as effective than traditional gas boilers.
This is despite all of the subsidies thrown at buyers down the years.