The Truth Behind Sea Legacy
December 13, 2017
By Paul Homewood
Even the BBC seem to have woken up to the Sea Legacy scam:
It is harrowing footage. An emaciated polar bear searches for food on Baffin Island, north-eastern Canada.
Exhausted, it drags one leg slowly behind it, eventually trying to eat some discarded seating foam among rubbish humans have left.
Polar bears hunt from the sea ice, which is diminishing every year, and the photography team are certain the unfortunate animal died within days.
"This is what starvation looks like," wrote one of the photographers, Paul Nicklen. "The muscles atrophy. No energy. It's a slow, painful death."
Mr Nicklen's colleague, Cristina Mittermeier, said: "We cried as we filmed this dying bear. This is the face of climate change."
The clip has gone viral, widely shared as a warning about the dangers of climate change. But is there more to it?
'Public relations exercise'
Mr Nicklen and Ms Mittermeier are co-founders of the conservation group Sea Legacy, with a declared mission to "use the power of storytelling to create the change we want to see".
Canada's National Post newspaper argues: "These images aren't the work of a scientist, an impartial documentarian or even a concerned bystander. They are part of a very calculated public relations exercise."
This particular animal could also simply have been sick. Biologist Jeff Higdon, writing on Twitter, speculated that it could have some form of aggressive cancer.
"It's not starving because the ice suddenly disappeared and it could no longer hunt seals," he said. "The east Baffin coast is ice free in summer. It's far more likely that it is starving due to health issues." However, he warned that he could not be sure.
Polar bears feed intermittently, often going long periods without food and feasting on huge quantities of seal meat and fat when available.
Leo Ikakhik, who has spent years monitoring polar bears in Canada's Nunavut region, told CBC starving bears were not unheard of.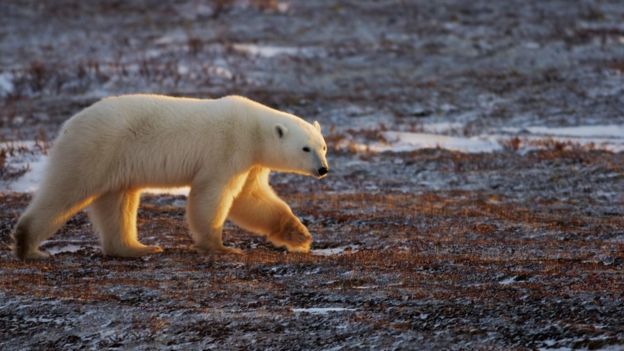 Image copyright Getty Images Image caption Healthy bears – such as this one in Manitoba – weigh about 400kg on average
"I wasn't totally surprised," he told the broadcaster. "These things happen. Everybody probably was shocked to see a really skinny bear, but this is not my first time seeing something like this."
He also speculated that the bear was either ill or suffering from an injury that prevented it from hunting.
http://www.bbc.co.uk/news/world-us-canada-42322346
The National Post has more detail about what was said by Nicklen and Mittermeier:
In an Instagram post, SeaLegacy co-founder Cristina Mittermeier called the bear the "Face of Climate Change." Nevertheless, she acknowledged "we don't know what caused this animal to starve."
In an interview with the Washington Post, SeaLegacy's Paul Nicklen was similarly reported as having "no definitive proof that the bear's condition was connected" to climate change."Why he was dying, I don't know," said Nicklen. 
The Post goes on:
A caribou or a moose is never allowed to get this skinny: Long before it gets close to starvation, a predator has usually  turned them into a meal. But if a polar bear doesn't drown or get shot, it's most likely going to end up looking like the bear in the photo. "Polar bears, they don't have natural enemies, so when they die, it's of starvation," Steven Amstrup, chief scientist at Polar Bears International, said in 2015. And, like many other bears, such as the grizzly, polar bears sometimes go through dramatic cycles of feast and famine. "Bears can respond to improved conditions: We've followed bears that went from bone racks to obese over a few months," said Derocher.
Niko Inuarak lives in Pond Inlet, NU and comes from a family of hunters and guides. He said his father Charlie was "not baffled to see a polar bear in that state" and had seen it often before. In fact, the elder Inuarak had once spotted "two polar bears together one very healthy and the other bear showing the same behaviour as in the video footage," said Niko by email.
These images aren't the work of a scientist, an impartial documentarian or even a concerned bystander. They are part of a very calculated public relations exercise by SeaLegacy, an organization whose stated purpose is to capture photos that drive "powerful conservation wins." The group dispatched five expeditions in 2017, all with the goal to "trigger public and policy support for sustainable ocean solutions."
Terry Audla is a past president of Inuit Tapiriit Kanatami, an advocacy organization representing all Canadian Inuit. In a Sunday tweet, he called the photos a "stunt" that represented a "complete disservice to climate change science." SeaLegacy's social media posts about the bear also failed to mention that the images were taken in August, when ice cover naturally disappears from many polar bear habitats. 
http://nationalpost.com/news/canada/what-everybody-got-wrong-about-that-viral-video-of-a-starving-polar-bear
The initial reports gave the impression that Sea Legacy was just a small outfit, but in fact it has quickly grown into quite a professional organisation, with annual revenue of nearly $1 million.
Their stated mission is "to create healthy and abundant oceans". They are particularly concerned about overfishing and pollution, as well as climate change.
But they don't claim to offer any scientific input, instead relying on "storytelling":
SeaLegacy 2017 Impact Report
In other words, in their fight for what they believe is right facts go out of the window. The only thing that matters is the visual storytelling, designed to impact on human emotion, and in turn raise money.