Worst UK Power Cut For Decades, As Wind Output Surges
August 10, 2019
By Paul Homewood
Facts about the widespread blackout yesterday are still thin on the ground.
This report from Bloomberg pretty much sums up what we know so far:
London and surrounding areas suffered a widespread power outage Friday during the evening rush hour after windpower and natural gas generation levels dropped, according to data from network manager National Grid Plc.
"Today what happened is a major offshore wind generation site and a gas turbine failed at the same time," said Devrim Celal, chief executive officer of Upside Energy in London, which contracts with National Grid to help balance electricity. "There was a significant shortage of generation, and that sudden drop created ripple effects across the country."
National Grid ascribed the power failure to an "unexpected and unusual event", the loss of two generators connected to the U.K. transmission system, which then led to a "fall in the frequency of the electricity system," it said in an e-mailed statement. "The system operated as planned by disconnecting an isolated portion of electricity demand," it said.
Power went out in London and the southeast of England about 4:50 p.m. local time
National Grid said at about 6:30 p.m. that electricity supplies were restored
RWE said its Little Barford gas station, which has a capacity of 730 megawatts, shut down in line with normal practice when demand hit 23,000 megawatts. National Grid and Ofgem need to investigate what was behind the wider system issues, spokesman Lothar Lambertz said.
Windpower capacity plunged about 4:50 p.m.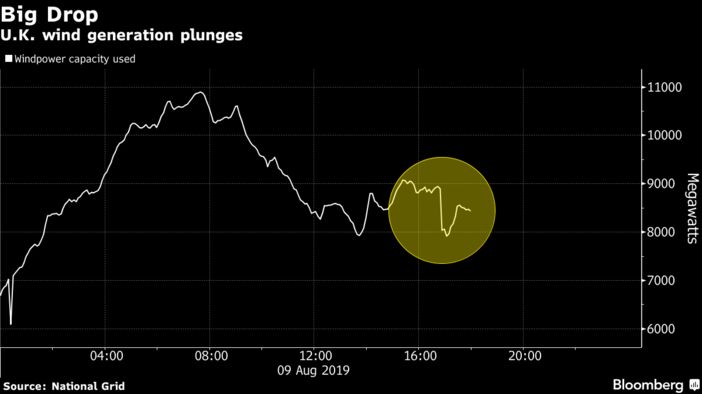 Natural gas generation also fell at about the same time
https://www.thegwpf.com/uk-blackout-blamed-on-drop-in-wind-and-natural-gas-power/
Just to pick out some salient points;
1) The drop in wind generation was much greater than gas.
2) According to RWE, the Little Barford automatically shuts down when demand drops to 23 GW. This implies that there was nothing wrong with their equipment, and that the loss of output should have been easily planned for by the Grid.
3) There seems to have been no explanation forthcoming from Orsted (formerly DONG), who run the Hornsea wind farm.
4) According to the Telegraph, this is the first serious power outage since 2003, which was due to a failed transformer.
Sudden failures of generators have presumably happened in the past, but don't appear to have had such repercussions.
https://www.telegraph.co.uk/news/2019/08/09/major-power-cut-across-country-london-goes-dark-national-grid/
5) The Independent's report gives a clue about the problem:
David Hunter, an energy analyst at Schneider Electric, said the scale of disruption should act as a "wake-up call" for National Grid, as well as for businesses, hospitals and critical national infrastructure to ensure they have fail-safes in place.
"It raises questions in that although this was a very rare event, it was very significant," he told the Today programme.
"National Grid must ensure that its processes for very quick frequency response and backup power generation are being operated exactly as they should."
He said there was a "very high percentage" of wind generation on Friday, and that it was not as effective at absorbing sudden fluctuations in frequency as gas, coal and nuclear power.
Mr Hunter added: "The growing wind part of the energy mix creates challenges that the National Grid must demonstrate it can meet."
https://uk.news.yahoo.com/uk-power-cut-wind-generation-080512636.html
Finally, if we look at the official BM Reports, we can see that both CCGT and Wind output dropped between 15.55 and 16.00 (GMT), ie virtually simultaneously. Coincidence?
https://www.bmreports.com/bmrs/?q=generation/fueltype
But significantly CCGT quickly took up the slack, replacing the lost output within 25 minutes.
It is not clear when Hornsea came back on stream, but wind generation did not return to the earlier level until about 17.30 GMT.
We must now await the investigations by the National Grid and OFGEM