Europe wildfires: Are they linked to climate change?–NO!!!
August 15, 2022
By Paul Homewood
https://www.bbc.co.uk/news/58159451
The BBC would like you to think so, with statements like these:
So far this year, the amount of land burnt by fires across the European Union is more than three times greater than what you would expect by the middle of July.
Almost 346,000 hectares (1,370 sq miles) of land have been recorded as burnt (as of 16 July), according to the European Forest Fire Information System (EFFIS).
Much of Western Europe has been hit by a record-breaking heatwave, which substantially increases the risk of fires….
"Heatwaves and droughts are exacerbated by climate change and are absolutely the defining factor in years with massive wildfire outbreaks, like the present one," Dr Jones says….
"But we definitely see trends in fire weather risk because of climate change.
"The risk is higher in the Mediterranean region than the rest of Europe."
Studies show increasing fire risk for central and southern regions of Europe over the past couple of decades.
Yet tucked away in the same article is this graph which proves all of these have no basis in fact: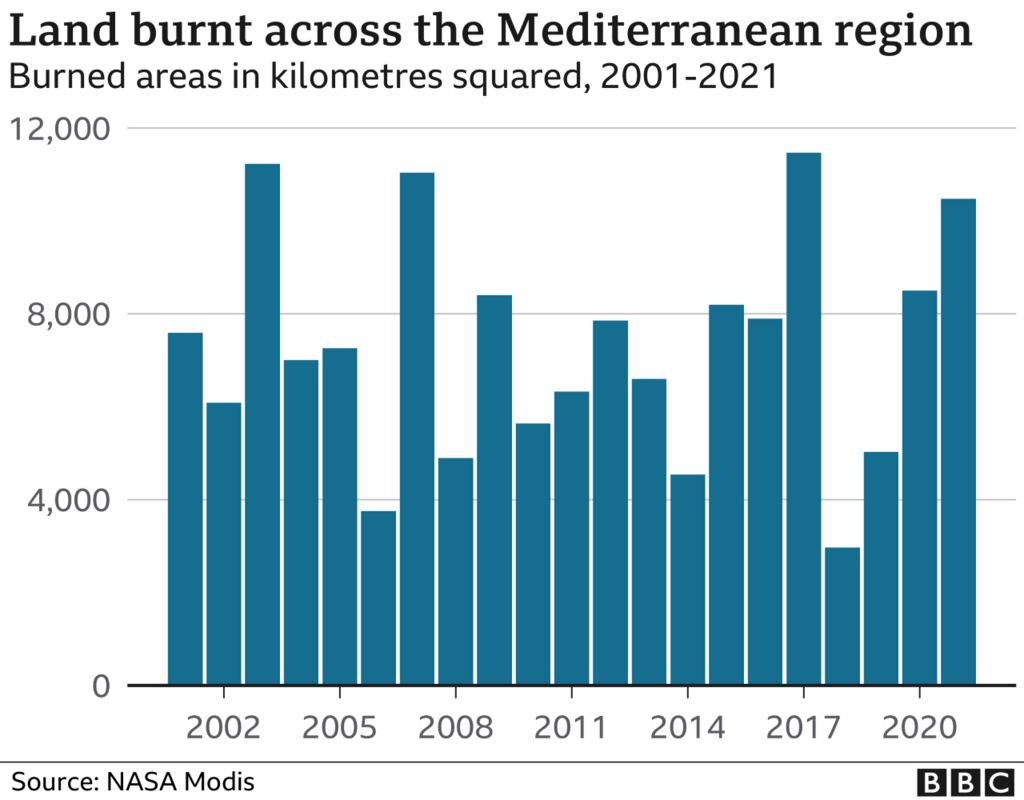 In the last two decades, there has been no trend at all in wildfire acreage, in the Med region at least, which is the BBC's focus. Some years are high and some low, but there is no global warming signal.